Best Place to Buy Silver Bars

Published: September 01, 2023
Updated: September 15, 2023
Table Of Contents:
Table Of Contents:
Finding the right silver bar dealer can be easier than you think. This article will cover all your options when buying silver bars!
Reputable bullion dealers will offer several different brands and sizes of silver bars.
Where To Buy Silver Bars: Professional Bullion Dealers
Why buy silver bars from a professional dealer? Consider it this way: would you rather purchase a car from a vetted dealer or from some random private party advertising on an online marketplace forum?
Sure, online marketplace person may sell you said vehicle for a few hundred bucks less than the big-box dealership, but how do you know you aren't buying a lemon? What happens if you do? Are you sure the car wasn't stolen? A flood car? What's your recourse? If only you bought your car from the car dealer with the recognizable name, 30-day warranty, and customer service department…
And this is where buying silver bars from a professional dealer comes in. You see, silver bullion has become a prime target of counterfeiters and fraudsters – perhaps because bullion is so popular and valuable. There are also plenty of folks out there who fall for what looks like a good deal and end up getting a bunch of fake bars made of silver-plated base metals.
If you think these cases are isolated, you might want to think again. There are reports all the time of people who got hoodwinked by fake silver, buying from some online seller located overseas, or perhaps picking up a few "silver" bars in a cash trade done out of the back of a car in a fast-food parking lot. These aren't fantastical characterizations – these are real scams that go down. Even seasoned buyers have been taken by sophisticated fakes and crafty counterfeits.
Other Options for Buying Silver Bars
Professional bullion dealers are your best option for buying silver bars. However, there are some alternative places you might consider:
Mints: Sometimes you can buy silver bars directly from the manufacturer. These are government mints and private minting companies.
Auction Websites: Platforms such as eBay are a common way to buy bullion, although it will come with added fees.
Swap Meets: You can occasionally buy or trade for silver bars at organized swap meets, flea markets, or gun shows.
Pawn Shops: Your local pawn shop is likely to have some silver bars on hand, but the owner will often not be an expert in bullion.
Avoiding Fake Silver Bars & Frauds
Online bullion companies are some of the best in the industry. There are countless vest-pocket dealers who will bend over backward to sell only legit products and ensure you're satisfied with your purchase.
But you've got to know who you're buying from. You must always take care in buying authentic silver bars from people (or companies) that will back your purchase with their word and a satisfaction guarantee. These aren't just marketing cliches. They're actual policies that good dealers have in place to protect you from losing your money and keep them at the top of your mind for future purchases.
Why would any good dealer worth their salt just risk it all by knowingly selling you bogus bars? What do they stand to gain from this? And what does it serve them if they're selling their products at multiples of fair-market value? Dealers who are really in it to make a difference will make sure you're getting exactly what you expected – or better. And if for some reason something goes awry, the dealer will make it right. That's how you do business, whether selling silver bars or cars!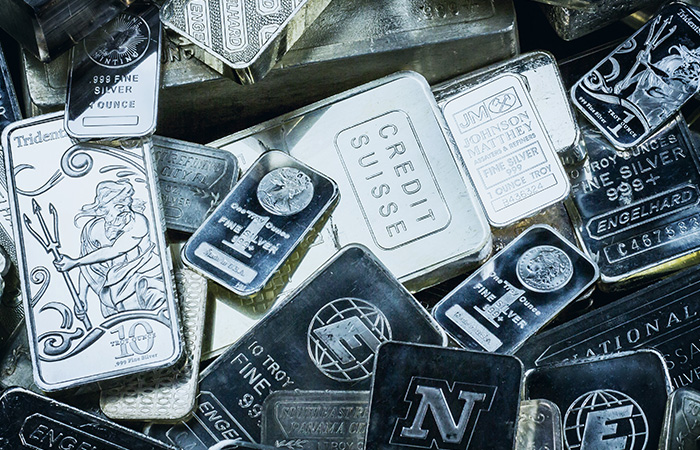 Silver bars are one of the most popular products in a bullion dealer's inventory.
Paying the Right Price for Silver Bars
So, you've decided to buy your silver bars from a professional bullion dealer. Fantastic! But now what? Where do you find cheap silver bars from good dealers?
It's all about knowing fair market pricing. For starters, check out the current silver prices to get an idea as to pricing per ounce. This is not the price you can expect to pay for silver – you'll need to pay a premium for silver bars. The premium is the amount over spot that permits the dealer and others involved in the process of producing and distributing silver bars to make a profit.
How much is too much for a premium? That all depends… Silver bar premiums vary based on the bar, but something in the neighborhood of 10% to 20% is usually pretty fair for most generic bars. If silver is $25 an ounce and there's a 15% premium, that puts the price of the bar right around $28.75.
Of course, that's just an example, and there are some very fair prices that are much higher than that for specialty and vintage silver bars. But at least you now have some idea as to what silver bar prices look like.
What to Look For When Buying Silver Bars
In addition to buying silver bars at fair prices, you want to seek dealers who know their stuff and are good at what they do. Most dealers with many years of experience got where they are for a reason. In the bullion world, business longevity is usually a function of years of honest dealings, good word of mouth, and a reputation for doing the right thing.
But it takes more than experience to be a good dealer. They need to have the inventory you're looking for, and a willingness to both answer your questions and serve as your advocate when buying silver bars – or anything else they sell. A dealer who educates their customers is someone you can rely on to help you buy what you need. They may not be able to predict the price of silver in one year or 10 (nobody can accurately do this), but they can assist you in choosing silver bars that suit your budget, your portfolio goals, and other criteria.
Finally, make sure the silver bar dealer is affiliated with leading industry organizations, such as the National Inflation Association and National Coin and Bullion Association (formerly known as Industry Council for Tangible Assets, or ICTA). Having an A+ rating from the Better Business Bureau is essential. Many positive rankings from actual customers on websites like Google and Yelp is a huge plus.
---
Joshua McMorrow-Hernandez is a journalist, editor, and blogger who has won multiple awards from the Numismatic Literary Guild. He has also authored numerous books, including works profiling the history of the United States Mint and United States coinage.
Read more precious metals buying guides from the experts at Gainesville Coins:
Silver Bar Buyer's Guide: How & Where to Buy Silver Bars
Best Silver Bars To Buy: The Conclusive List
How to Buy Junk Silver Coins: Complete Guide
Buying Silver Buffalo Rounds: Guide to Getting the Best Bargain
The Best Way to Buy Silver: Guide to Buying Physical Silver
Latest Offers, Straight To Your Inbox
Don't be the last to know about the latest deals and new product arrivals. Join us today for FREE!