Buying Silver Buffalo Rounds: Guide to Getting the Best Bargain

Published: June 02, 2023
Updated: July 31, 2023
Table Of Contents:
Table Of Contents:
Buffalo silver rounds are among the most popular silver bullion products on the market. Buffalo rounds are sold at small premiums over their melt value. As a result, they are generally less expensive than silver bullion coins from government mints.
We will go through the background behind these beloved silver rounds and the best place to buy them.
1 oz Silver Buffalo rounds are struck from 99.9% pure silver.
Why Invest in Buffalo Silver Rounds?
Countless Buffalo silver rounds have been sold to bullion investors over the years. They represent an affordable vehicle for buying a modern bullion piece with the classic Fraser design.
Low Premium Silver
Moreover, people love these bullion rounds regardless of whether they are looking for a less-expensive alternative to American Buffalo gold coins. One reason the silver Buffalo rounds are so popular with investors is that they can be purchased for small premiums over their melt value. Plus, they carry a familiar design that is widely beloved as patriotic.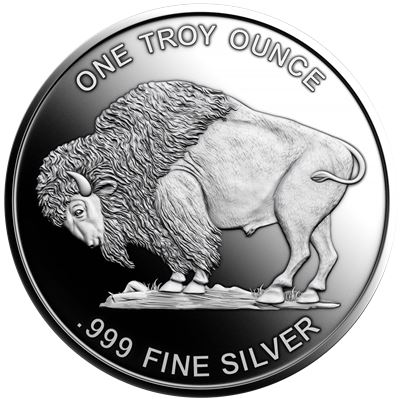 Recall that Buffalo silver rounds are sold at small premiums over their melt value. Thus they are generally less expensive, gram for gram of silver, than monetized silver bullion coins. (Such coins come from the United States Mint or other government mints from around the world.) This is important for investors who wish to maximize their returns with silver rounds that look attractive and are easy to liquidate. That is, they are usually a cinch to sell.
High Liquidity
Another huge advantage of buying Buffalo silver rounds is that they are generally made from a .999-fine silver composition. This is beneficial for a multitude of reasons. Namely the fact that they provide the owner with a vessel of virtually pure silver.
Silver rounds are also trouble free to buy and sell. Little to no paperwork is involved, and these transactions can be completed discreetly. Another of the many benefits in buying Buffalo silver rounds made from .999-fine silver is that they are usually IRA-approved. In other words they can be ensconced within an individual retirement account.
What are the Options for Buying Silver Buffalo Rounds?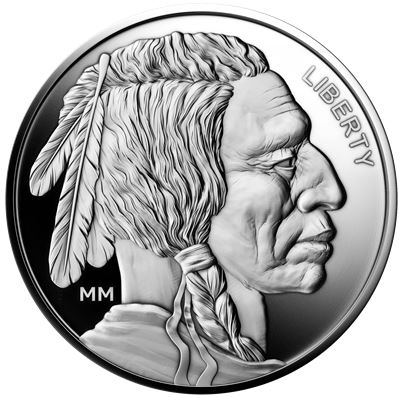 Mason Mint strikes its own 1 oz Buffalo silver rounds.
Variations of the Buffalo round are made by many private mints. Over time, the design has become something of a standard in the world of bullion.
One of the most popular of the privately minted Buffalo silver rounds is produced by Mason Mint. In fact, Mason Mint has released two variations of Buffalo rounds. One includes those carrying the classic vintage-1913 Fraser "buffalo" design (shown above). Another line of Buffalo silver rounds carries the bust of a Native American in a three-quarters profile. This is paired with a similarly innovative reverse of an American bison in a forward-looking view just to the right of center.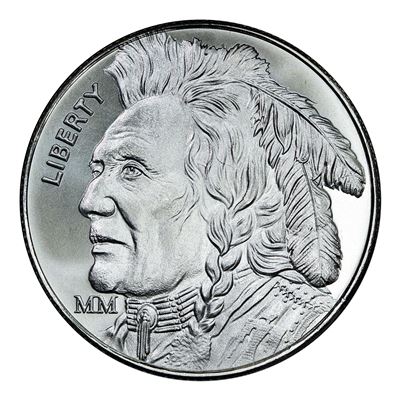 The unique reinterpretation of the "Series 2" Buffalo round theme from Mason Mint.
Those who wish to buy Buffalo rounds can choose their pieces in a variety of formats. These include bullion (business), proof, prooflike, and antiqued finishes. This affords some degree of visual appeal and variety for the silver investor who wants a little flair in their bullion portfolio.
Extrapolating this concept further, the availability of Buffalo silver rounds in an array of finishes and design formats is appealing to collectors. Collectors will frequently build sets around decorative silver rounds.
Where Should You Buy Buffalo Silver Rounds?
Gainesville Coins sells a variety of different Silver Buffalo round designs. They also have the lowest prices on silver rounds anywhere! Their offerings include the classic Buffalo round design as well as the original and new Buffalo silver round from Mason Mint (shown above and directly below).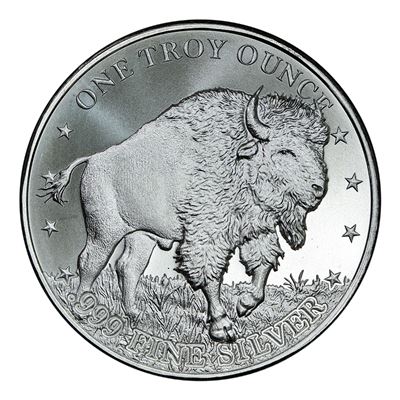 The reverse design of the new Mason Mint Silver Buffalo round also reinterprets the original imagery.
You'll want to make sure you buy your Buffalo silver rounds from a reputable source. While this seems like common sense, many people still try to buy silver rounds from unvetted sources. They may do this because they spot what looks like an unbeatable deal on an ecommerce platform or website. In many cases, such offerings end up being counterfeit! Such pieces are made from silver-plated base metals posing as Buffalo silver rounds.
Don't risk it. Buy your bullion from a reputable merchant who sells authentic products at fair prices. Some of the most trustworthy bullion dealers are affiliated with well-respected industry organizations like the National Inflation Association and National Coin and Bullion Association. These businesses also carry stellar ratings from the Better Business Bureau. They boast great uncompensated customer reviews on sites like Google and Yelp.
Beyond this, a bullion dealer who really cares for their customers will do their best to educate their customers. They help them understand what they are buying, and will make sure each customer is completely satisfied with their purchases. This extra degree of protection will help ensure you are buying authentic Buffalo silver rounds. It will provide you with invaluable peace of mind. And it's no stretch to say that peace of mind, both now and in the future, is what drives so many people to invest in precious metals.
You can shop for Silver Buffalo rounds below from Gainesville Coins:
People who like Silver Buffalos also enjoyed these products:
Story of the Beloved Buffalo Silver Rounds
Many bullion investors love Silver Buffalo rounds. This makes them popular items among precious-metals speculators. They are modeled after the Buffalo nickel. This coin was designed by James Earle Fraser and produced by the United States Mint from 1913 through 1938.
Buffalo silver rounds found a large audience in the years after the U.S. Mint resurrected the iconic Fraser design on gold bullion coins in 2006. Known as American Gold Buffaloes, these U.S. Mint bullion coins carry faithful reproductions of the Native American obverse and American bison (or "buffalo") reverse by Fraser. They became one of the best-selling U.S. Mint coin programs of the early 21st century.
However, given that these U.S. Mint Buffalo bullion coins are struck from gold, they are also very pricey. This makes them financially out of reach of many people who wish to invest in precious metals. Therefore, several private mints began striking silver rounds carrying a design very similar in appearance to the Fraser design on the U.S. Mint American Buffalo gold coins. It is these privately minted silver rounds with the Fraser "buffalo" design that we covered in this article.
---
Read more precious metals buying guides from the experts at Gainesville Coins:
Silver Premiums Explained: Insider Shares Knowledge!
Silver Bar Buyer's Guide: How & Where to Buy Silver Bars
How To Buy American Gold Eagle Coins: Complete Guide
Most Asked Questions About US Mint Coins: Buyer's Guide
Best Place To Buy Silver Eagles
PAMP Suisse Gold Bars Buyer's Guide
Latest Offers, Straight To Your Inbox
Don't be the last to know about the latest deals and new product arrivals. Join us today for FREE!