How To Buy American Gold Eagle Coins: Complete Guide

Published: August 16, 2022
Updated: August 03, 2023
Table Of Contents:
Table Of Contents:
American Gold Eagles are among the most popular types of bullion coins both in the United States and around the world. They are struck by the United States Mint and have been in production since 1986, making them one of the longest-running gold series around. They have been the prime choice for bullion collectors and investors for going on two generations. Their preeminence in the marketplace and investment portfolios will surely continue as the years go on.
The American Eagle gold bullion coinage is monetized, meaning that they have a face value and are legal tender. This also means the purity and fineness of the gold are backed up by the full faith of the United States government. In other words, the coin has a second means of built-in value. Therefore, in the unlikely but possible scenario the market price of gold was to plummet to levels unseen for decades, American Gold Eagles would still be worth at least as much as their face value.
2010 proof American Gold Eagle
Where To Buy American Gold Eagles
Looking for American Gold Eagles? These aren't the kinds of coins that will just show up in your pocket change, and you won't even find them at most banks or financial institutions. Instead, you will need to seek out a coin dealer or bullion broker.
Coin dealers and bullion brokers have the specialized knowledge and resources to purchase large amounts of American Gold Eagles and other precious-metals coins. That gives you the biggest selection of bullion coins and the best prices. Gainesville Coins consistently offers the lowest prices when you buy American Gold Eagles! Compare prices online with our competitors and see for yourself.
We will discuss a bit more about seeking out a good coin dealer and how to score the best deal on American Eagle coins later in this article.
What Are The Best Types Of American Gold Eagles to Buy?
This is a question best answered by evaluating your finances and considering your short-term and long-term investment goals. Before we break down the best types of American Gold Eagles to buy, it's important to know there are two types of American Gold Eagle coins, which are available in four sizes and denominations. These include:
Two Types Of American Gold Eagles
Bullion / Brilliant Uncirculated
Proof
Both types are eligible for inclusion in a self-directed IRA (also called a Gold IRA), unlike rare coins.
The proof Gold Eagles are struck at the West Point Mint. They beat a "W" mint mark and are available directly from the U.S. Mint. These are explicitly collectible coins but many investors also buy them with the plan to sell gold later.
Bullion Gold Eagles, on the other hand, can generally only be purchased at Authorized Distributors for the mint. They are sold individually, in tubes of 20 coins, or in "monster boxes" of 500 coins. Unlike the collectible proofs, the uncirculated coins are priced at a small premium above the market value of their gold content (i.e. the gold spot price).
Four Weights (Sizes) Of American Gold Eagles
One-Ounce (1 oz), $50 face value
Half-Ounce (1/2 oz), $25 face value
Quarter-Ounce (1/4 oz), $10 face value
Tenth-Ounce (1/10 oz), $5 face value
The 1 oz size measures 32.70 mm in diameter, with a gross weight of 33.931 grams. All versions of the Gold Eagle are 22-karat gold (91.67% gold) with a balance of 3% silver and 5.33% copper. They are all struck from gold mined in the United States.

Size differences between the various Gold Eagle coins for sale from bullion dealers
American Gold Eagle Design
Each of the sizes shares the same design. From 1986 to 2020, a depiction of a family of eagles created by artist and sculptor Miley Busiek is used for the reverse side of the coin. One eagle carries an olive branch flying toward the family nest. Inscriptions include the motto "E PLURIBUS UNUM."
A new reverse design was first introduced beginning in 2021. It shows a close-up view of an American bald eagle. The new design celebrates the 35th anniversary of the Gold Eagle series, and is now a permanent fixture.
The common obverse design was created by the famous Augustus Saint-Gaudens in 1907. Lady Liberty is seen carrying a torch in her right hand and holding an olive branch in her left hand. The U.S. Capitol Building is visible in the distance in front of the rising sun. Roman numerals were used for the date between 1986 and 1991.
How to Choose Between Each Gold Eagle Product Type
Decisions, decisions! But what does all of this mean for you? In a word, cost. Let's begin with the bullion/uncirculated versus proof decision.
Proofs are beautiful coins. They are struck using polished blanks and are made with specially prepared dies on high-tonnage presses to impart the best, crispest finish possible. However, proof coins don't come cheap, especially when talking about American Gold Eagles. They come at a hefty numismatic premium and cost much more, gram for gram of gold, than a bullion strike. The bullion versions are really the better value for your money if you're looking at the purchase of American Gold Eagles strictly from the standpoint of bullion investment.
Let's now look at this from another angle: the size of the American Gold Eagle. The least-expensive type of bullion American Eagle gold coin from the out-of-pocket cost standpoint is the tenth-ounce option. They are the absolute cheapest because they contain the least amount of precious metal. They are ideal for new gold investors who want to get in on the ground floor of bullion investing for the lowest nominal cost.
However, there is a catch: tenth-ounce gold eagles have the highest cost, gram for gram. Generally, the larger your bullion coin, the lower the cost of obtaining the metal in the coin from the gram-by-gram basis. So, if you're looking for the best overall deal on buying American Gold Eagles and you want to ensure you're paying as little as possible for the gold in the coins, the 1 troy ounce version is truly your best bet.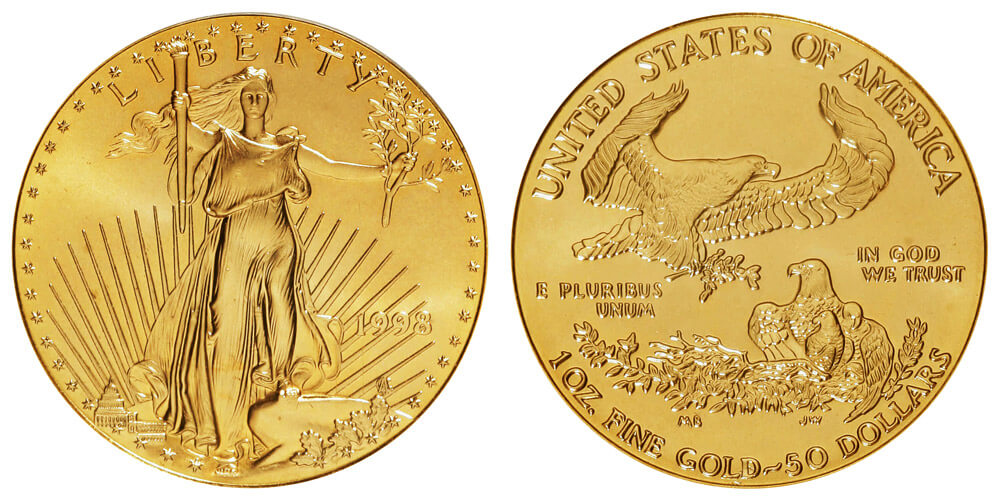 1998 1 ounce American Gold Eagle
The Buying Process for Gold Eagle Coins at Gainesville Coins
American Gold Eagles are relatively easy to buy. Most dealers and bullion brokers can sell them to you in a short transaction that usually does not involve much paperwork. Some dealers and brokers require you to pay for your bullion with cash or checks, though others like Gainesville Coins allow you to use a bank wire, credit card, or cryptocurrency, as well. Some payment method types may have an additional nominal fee.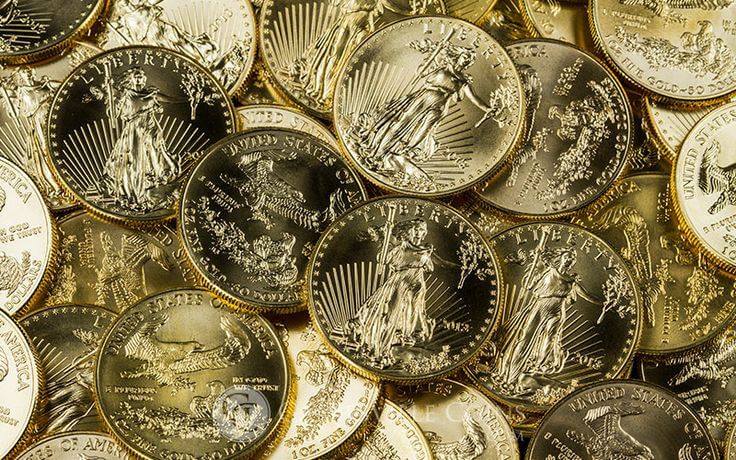 Large pile of American Gold Eagles
You can buy your bullion either in-person at a bricks-and-mortar dealer or online. With a purchase at our physical store, you could obtain your American Gold Eagles on the same day as purchase. Meanwhile an online transaction is much more convenient and can be more discreet. Your price is locked in at the time your payment is received. However, that will mean waiting for your coins to ship—a process that could take a few days or longer depending on the shipping service and distance between you and our main location in Lutz, Florida (just north of Tampa).
How To Find The Best Deal On American Gold Eagles
Shop around for a fair price on American Gold Eagles—not necessarily the cheapest price. While it may be instinct for some to seek cheap Gold Eagles, this can ultimately be a dangerous route. No business is just giving away gold, so what incentive would a retailer who advertises Gold Eagles below spot have?
Think about it… Be wary of too-good-to-be-true deals. They almost always are. Imagine winding up with stolen or counterfeit gold coins—you'll be out money and possibly end up in court having to explain yourself before a judge and jury.
Seek out a knowledgeable, reputable gold coin dealer or broker who has many years of experience. This is by far your best option. Choose a seller who is affiliated with numerous industry organizations (such as the National Inflation Association and National Coin and Bullion Association), and offers a vast inventory at reasonable prices.
You're sure to get the best all-around deal when working with such coin dealers. Gainesville Coins is proud to offer satisfaction guarantees and the peace of mind that you purchased authentic American Gold Eagles at a fair and honest price.
Other Options For Buying Physical Gold
Let's take a step back for a moment and look at buying gold products from the holistic perspective. Yes, American Gold Eagles are among the most popular vehicles for buying gold. But they certainly aren't your only option! Other avenues include other gold coins, gold rounds, and gold ingots / bars.
The various mints around the world produce a wide variety of gold bullion coins, each enjoying an audience on their own merits. Among the other well-traveled options are the Canadian Maple Leafs, South African Krugerrands, Mexican Libertads, Chinese Pandas, and Austrian Philharmonics. However, all gold coins (and this includes the American Gold Eagle) usually come with the highest overall price tag when looking at gold price on the gram-for-gram basis.
Cheaper alternatives are gold rounds and gold ingots / bars, usually in that order. Just like silver rounds, gold rounds are non-monetized circular discs of gold that contain designs or other aesthetic elements. Many are quite collectible, and for this reason they do present a premium cost. However, this extra fee, if you will, is usually much lower than those found with gold coins, regardless of type.
Less expensive still are gold bars / ingots. They are generally non-descript rectangular units of gold that will bear weight and purity inscriptions and are emblazoned with a brand name. While gold bars are the cheapest class of gold bullion, some vintage bars are considered collectible and will thus carry premiums over the prices of more common modern gold bars. The same is true for silver bars and older silver coins.
Gold jewelry and art represent other routes for obtaining gold. These can represent some aesthetically pleasing means for buying precious metals. However, most gold jewelry and art usually costs significantly more than the value of the precious metal within. As a result, it's not necessarily an economically viable method of investing in gold from the bullion standpoint.
---
Check out more gold and silver products for sale at Gainesville Coins by following the links below:
Buy Platinum Coins and Platinum Bars
Shop Daily Deals at Gainesville Coins
Latest Offers, Straight To Your Inbox
Don't be the last to know about the latest deals and new product arrivals. Join us today for FREE!