How To Buy Physical Gold Bars: Buyer's Guide

Published: December 28, 2020
Updated: August 26, 2022
Table Of Contents:
Table Of Contents:
Are you looking to buy physical gold bullion? Buying physical gold bars is a popular way to diversify your assets with precious metals.
But there are a few essential things you should know before buying your first gold bar. Why buy gold bars? What type should you buy? How do you find the best deal? And where should you buy gold bars? These are all questions we'll answer below!
Gold bars are virtually always the most cost-effective way, gram-for-gram, to buy gold. The legal tender status of gold bullion coins like the American Gold Eagle and Gold Maple Leaf make them popular and trusted in the marketplace. But compared to gold coins, pure gold bullion bars have much lower premiums. (More on that in a moment.)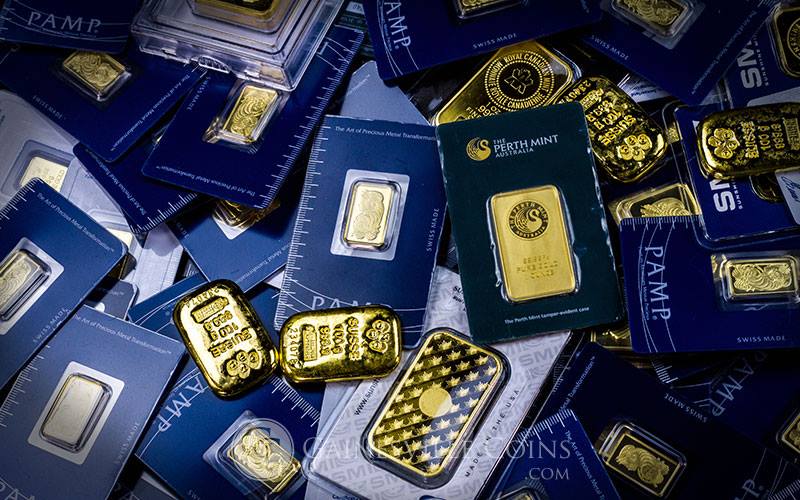 Assorted name brand gold bars
Where to Buy Gold Bars
Finding the best gold bar prices isn't just about paying the lowest price—it's also about getting the best quality and service for what you're paying. A gold bar is nothing if it's not guaranteed to be what it is.
Avoid Shady Gold Sellers
In this day and age, counterfeit gold bars are becoming ever more sophisticated and deceiving. Unfortunately, a great many of these fake gold bars are being hawked online by shady "companies" with no physical address or phone number. They are frequently sold via backdoor transactions in a parking lot. Such outfits may claim their low gold bar prices are due to paying no storefront overhead. In reality, they're profiting by selling knock-off gold-plated "bars" filled with copper or tungsten.
Perhaps worse still? Even if the gold is real, such "deals" can often involve stolen goods that could land you in legal hot water for possessing them.
Sadly, many gold bar buyers who think that they've made a great deal by buying from these sort of people, find that their investment is worthless when they try to sell them.
Gainesville Coins Inc. Showroom
Find a Trusted Gold Dealer
It's safest for your pocketbook and peace of mind to buy gold bars from a trusted coin dealer or bullion firm. Follow the link to view gold bars for sale at Gainesville Coins.
Choose one run by bullion professionals with a solid reputation, who sell a wide variety of high-quality gold bars at fair market prices. Such bullion dealers are usually ranked well by the Better Business Bureau or other consumer protection advocacy groups.
They should have affiliations with professional organizations such as the American Numismatic Association or Industry Council on Tangible Assets. They may also serve as an authorized distributor for the United States Mint, Royal Canadian Mint, and/or other world-renowned bullion product manufacturers like PAMP SA.
Kilo PAMP Suisse gold bar
What are the Best Types of Gold Bars to Buy?
There are many gold bars available on the market, but which types are the best for your investment needs?
The first thing you will notice is that most of the gold bars online or in shops are perfect rectangles. These gold bars are minted just like gold coins, with exact dimensions. This allows for mass production at lower costs. This is also the only way to efficiently make smaller gold bars.
Smaller gold bars are popular with investors who want to regularly invest in gold to spread out the cost.
Popular Small Gold Bars By Size
1 gram
2.5 gram
5 gram
10 gram
20 gram
1 troy oz
50 gram
100 gram
Most Popular Gold Bar Brands
PAMP Suisse gold bars are among the most popular fractional gold bars on the market. The one gram PAMP Suisse Fortuna gold bar dominates the market for the smallest pure gold bars.
The success of these tiny gold bars has sparked competition from some well-known rivals. Valcambi was the first to compete with their Combibars. They come in solid grids of 20 or 50 one gram bars that must be broken off. The 20 x 1 gram sheet is about the size of a credit card.
Gold buyers who value the assurance that comes from a government mint have gold bar options as well. The Royal Canadian Mint and Perth Mint (among others) also produce popular gold bars.
The Royal Canadian Mint gold MapleGrams are tiny one gram legal tender Gold Maple Leaf coins. These come in 25-coin blister packs. Each gold MapleGram coin can be detached from the rest, protected in its own blister pack.
Hand-poured gold bars made by Australia's Perth Mint
Old-fashioned poured gold bars are also available, though rarely offered in sizes smaller than 1 troy oz. The premiums on poured bars tend to be higher than minted bars. Poured bars are more labor-intensive, since they're made by pouring melted gold into individual molds.
Both minted and poured gold bars are available in large weights, up to 1 kilogram. Those wealthy enough to buy gold bullion by the kilogram often prefer the aesthetics of the poured version.
No matter the size, shape, or weight, modern retail gold bars are made with .9999 pure gold. This means they are made up of a composition of 99.99% pure gold. This is also referred to as ".9999 fine gold."
Nearly all gold bars come with serial numbers and assay cards. These cards show the certified weight and purity of the bar, and its serial number. For one ounce gold bars and smaller, the assay card is usually encased with the bar in tamper-proof packaging, as shown below.
Modern gold bar designs run the gamut from those stamped with little more than a brand name with weight and purity, to beautiful gold art bars. Major names include PAMP Suisse, Credit Suisse, Perth Mint, Royal Canadian Mint, Valcambi, and Argor Heraeus.
PAMP Suisse 1 oz gold bar with VeriScan anti-counterfeiting technology
PAMP Suisse introduced the decorated gold bullion bar with their PAMP Suisse Fortuna design. This popular design is the standard design on PAMP bars. Gold PAMP Suisse Lunar bars are also available. Credit Suisse gold bars for the US market are emblazoned with the Statue of Liberty. Smaller Perth Mint gold bars feature a kangaroo.
Then there are the vintage gold bars from refiners Johnson Matthey and Engelhard. These two titans of the industry set the standard for retail precious metals in the 1970s and '80s. Engelhard gold bars and Johnson Matthey gold bars have not been made for decades. This has made their surviving gold and silver bars prized as valuable collectibles.
How to Find the Best Deal on Gold Bars
For starters? It pays to be aware of the latest bullion prices. Check out the bullion price tickers for up-to-the-moment gold spot prices. Knowing the current price of gold will help you get a better idea of what a fair price is for gold bars.
Use these prices as a baseline gauge, so you're aware of where the market stands when you're ready to buy gold, but don't go into the bullion marketplace expecting to pay spot price.
Buying precious metals always means that you will pay a nominal amount over the spot price. In the industry it's called a premium or mark-up. Fair market value for a gold bar varies, but you can expect to pay anywhere from 2% to 5% over spot at a minimum.
This is mainly due to refining costs, distribution costs, and—of course—a minimal amount going to the gold bar dealer or bullion broker to cover their overhead operating expenses. Those thin margins over spot are still better than the relatively higher premiums over spot you could expect to pay for gold coins (which, by the way, offer their own advantages—but that's a different topic for a separate article!).
Royal Canadian Mint (RCM) gold bar
The Buying Process for Physical Gold Bars
The process of buying a gold bar is straightforward. Reputable gold dealers will generally offer you the choice of discreet, insured shipping to your address or local pick-up at their storefront.
Legitimate sellers will also usually accept several different forms of payment, whether cash, check, credit card, bank wire, or cryptocurrency.
Always check to see if a dealer or independent seller lists their policies or terms and conditions of doing business. When you're making transactions that are often thousands of dollars, you want to be sure you're dealing with someone trustworthy and accountable. Clear policies on refunds or cancelled orders help protect the buyer from fraud just as much as it protects the seller.
Avoid buying gold bars as part of a "subscription plan." These pre-paid plans usually offer little transparency as to what you're paying for each gold bar. They often end up costing the investor much more in the end.
Stick with buying gold bars on a per-transaction basis, which will give you more control over what you're buying. You should ensure you know how much you're paying for each gram of gold you acquire at any one time. Any buying process that makes the per-gram or per-ounce cost unclear should be regarded with suspicion.
Sometimes the best "deal" in the bullion industry is the one in which, after the transaction is complete, and you can feel wholly confident you've simply paid the right price for gold.
The Best Gold Bar For You
Deciding the best gold bar for you depends on how much you want to spend, your investment goals, and how you plan to liquidate your gold eventually. Fractional gold bars (less than 1 troy ounce), much like fractional gold coins, allow for precious metals investing on a budget. Bear in mind that the smaller the gold bar, the more you'll pay gram for gram. No matter the size of a gold bar, the labor costs are much the same. These small bars are, however, far more affordable in terms of an upfront cost than the larger ones.
Meanwhile, artistic and vintage collectible bars from brand names cost more than basic modern gold bars. Still, they can bring higher sales prices and will often be easier to sell to a broader array of buyers.
However, so long as you're buying quality gold bars, you really can't go wrong. Each type of gold bar offers its unique blend of marketplace merits. You simply need to gauge which combination of these benefits will be most advantageous to you and your investment objectives.
You can check out our gold bars infographic below for more on the different types of gold bars.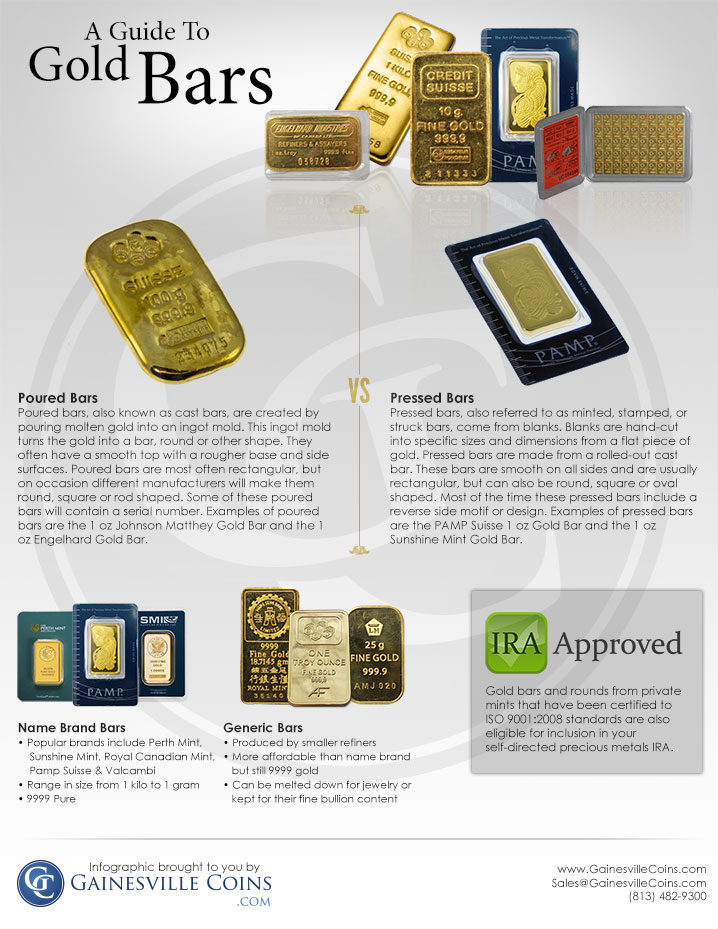 Other Options for Buying Physical Gold
Keep in mind: If you are buying gold bars for inclusion in a self-directed individual retirement account (Gold IRA), then the bars must be stored in a vault. Aside from considering storage options, there are also other ways to buy physical gold that are worth discussing briefly.
Gold Coins
Gold coins are a very common way for investors to get exposure to gold in their portfolio. Some collectors prefer pre-1933 gold coins, while others focus on modern gold bullion coins. In either case, gold coins tend to be more expensive than bars of the same weight. This is due to coins' higher costs of labor and manufacturing, their potential collectible appeal, and their status as government-issued legal tender.
Gold Rounds or Gold Medals
Rounds, also called medallions, are privately-minted bullion that has the same round shape as a coin. The only difference is that rounds are not legal tender issued by a government. Gold medals are issued by government mints, but likewise carry no legal tender value.
Gold rounds and medals are less commonly seen on the gold market than bars or coins. They offer a novel alternative to more traditional forms of gold investment.
Gold Jewelry or Artwork
Works of art and fine jewelry that are made of gold are also sometimes investments. However, the value of such items is very subjective. Most gold jewelry is not a high enough purity to be considered bullion or "investment grade." Yet jewelry prices are marked up far above their actual melt value.
Jewelry and vintage art should be considered an entirely separate kind of investment than gold bullion, even if the items happen to be composed of gold.
---
Joshua McMorrow-Hernandez is a journalist, editor, and blogger who has won multiple awards from the Numismatic Literary Guild. He has also authored numerous books, including works profiling the history of the United States Mint and United States coinage.
More buying guide articles from Gainesville Coins:
The 3 Best Ways to Buy Gold: A Definitive Guide
How to Buy Silver Coins: Step-by-Step Guide
Top 15 Coins to Collect: A Definitive List
Best Silver Coins to Buy: Top 10 List
Best Silver Bars to Buy: The Conclusive List
Latest Offers, Straight To Your Inbox
Don't be the last to know about the latest deals and new product arrivals. Join us today for FREE!