How To Buy Gold Coins: Ultimate Guide to Buying Gold Coins Like a Pro

Published: March 08, 2021
Updated: February 28, 2023
Table Of Contents:
Table Of Contents:
You'll be glad to know that buying gold coins is simple, safe, and can often be done with minimal paperwork. There are a few things you should know about buying gold coins before you get started. This article will explain how much should you pay for gold coins and what the shopping process is like. It will also discuss how and where you can buy gold bullion coins safely for investment. **If you're already ready to [buy gold coins](/category/2258/gold-coins), follow the link to browse our inventory.** ##Why Buying Gold Coins Is a Good Investment## Any reputable gold dealer will say this: as with any investment, there is never a guarantee that you'll make money. However, countless investors have been quite successful in buying gold coins, particularly those who trade portions of their holdings when it is favorable to do so. While any savvy investor won't put all their eggs in one basket, building a robust portfolio that contains gold coins can be a very prudent move.
American Gold Eagles
It's also important to note that owning physical gold shouldn't be looked at only as an investment. Rather, it is a commodity that is perhaps better viewed as insurance against inflation and bad economic times. Fiat currencies (legal-tender money that holds no intrinsic value) lose value during times of high inflation. Gold tends to retain value because it isn't tied to any nation's currency. Gold has been a treasured asset for some 5,000 years. It has outlived virtually every currency ever conceived. Gold coins are fantastic vessels of the precious yellow metal. When included in one's diversified portfolio, they can provide sustained value for the investor over a period of months or years. For more reading about [the best type of gold to buy](/blog/best-gold-to-buy), follow the link. ##The Types of Gold Coins You Can Buy## As introduced, gold coins come in a wide variety of shapes and forms. Vintage gold that was once used as everyday money has its niche in the marketplace, as does gold bullion—the type of gold coin designed especially for modern-day investors. The range of weights and sizes of vintage gold coins is virtually endless. It would be impossible to illustrate them with any depth here in this article. In contrast, bullion gold coins made today for investors are a little more uniform in scope. Governments usually mint gold coins in limited quantities. An outstanding selection of modern gold coins on the market ensures there's something affordable for just about everyone. Here are the common weights and sizes in which modern gold bullion coins are most typically sold: * 1/25th ounce * 1/20th ounce * 1/10th ounce * 1/4 ounce * 1/2 ounce * 1 ounce Modern bullion coins are minted in either troy ounce or gram weights, no matter their country of origin. Most are struck to .999 or .9999 fineness, though some use the old 22K gold purity. This standardization of weights and purity make it easy to track your total gold holdings. Rather than single coins, many mints also offer annual sets that include the 1/10 oz, 1/4 oz, 1/2 oz, and 1 oz gold coins within a single package together. ###Popular Gold Bullion Coins### Some gold bullion coins enjoy worldwide popularity. The American Gold Eagle and the Canadian Gold Maple Leaf are the most famous examples. Others, like the Gold Britannia and Austrian Gold Philharmonic, have more of a regional following. Unlike old silver coins that tend to be sold in bags, modern gold coins (especially gold proofs) may come with certificates of authenticity in their original government packaging (OGP).
AMERICAN GOLD EAGLE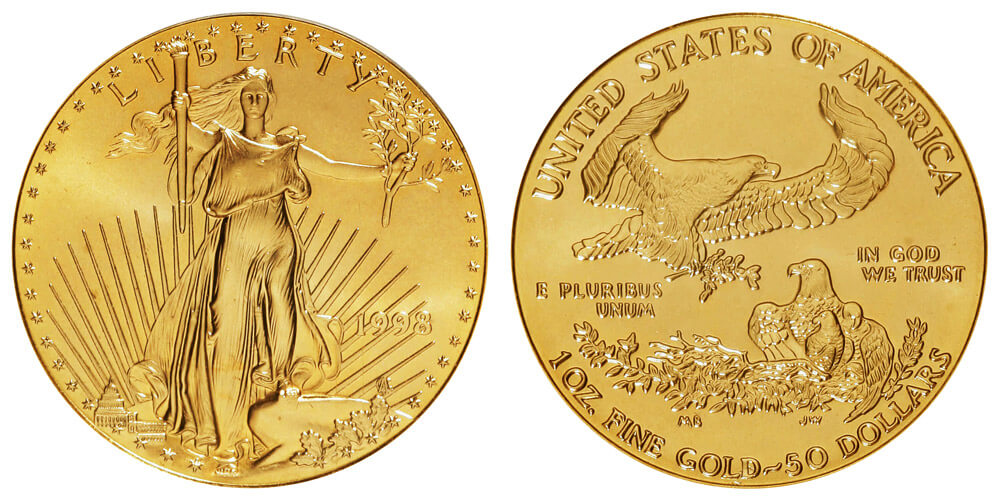 1998 1 oz American Gold Eagle
The [American Gold Eagle](/category/14/buy-gold-eagle-coins) coin is produced at the United States Mint. This coin and the American Silver Eagle were the first two types in the American Eagle coin series authorized by the 1986 Bullion Coin Act. Many wonder how to buy gold coins from the US Mint. Only the gold proof coin (collectible) version of the Gold Eagle can be purchased directly from the mint. The regular bullion coins are sold through a network of authorized distributors. The [American Gold Buffalo](/category/10/gold-buffalos) also deserves an honorable mention as a popular one ounce gold coin from the mint.
CANADIAN GOLD MAPLE LEAF
2013 Canadian Gold Maple Leaf
The [Canadian Gold Maple Leaf](/category/414/canadian-gold-maple-leafs) coin is produced by the Royal Canadian Mint (RCM). Introduced in 1979, the Gold Maple Leaf was the first 24K gold bullion coin. They feature Queen Elizabeth II's portrait on the obverse. Maple Leaf coins were also the first coin to challenge the Krugerrand in the gold bullion market. The RCM is also known for its gold bullion bars, which are 99.99% pure gold but bear no face value as legal tender.
SOUTH AFRICAN GOLD KRUGERRAND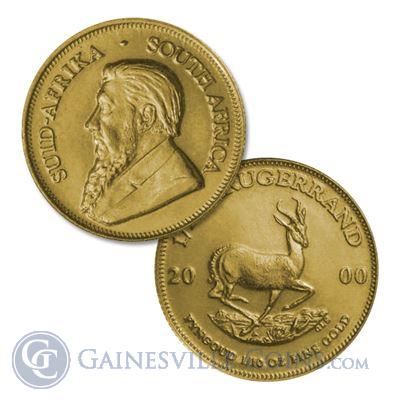 1/10 oz South African Gold Krugerrand
The [South African Krugerrand](/category/507/south-african-gold-krugerrands) is the world's first gold coin to have exactly one troy ounce of gold. The gold Krugerrand was introduced in 1967 to global acclaim. It is still the longest running gold bullion coin program. Gold investors of a certain age will remember pop culture villains in books and movies demanding ransoms be paid in gold Krugerrands. In some cases, Krugerrands offer a way to buy gold coins from a bank.
BRITISH GOLD BRITANNIA
Gold Britannia
The [Gold Britannia](/products/160260/1987-1-10-oz-gold-britannia) is produced by the Royal Mint of the United Kingdom. The Gold Britannia was originally struck in 22K (.917 fineness) gold. The Royal Mint increased the coin's purity to .9999 pure gold in 2013. This was to improve its competitiveness against other gold bullion coins.
AUSTRIAN GOLD PHILHARMONIC
Austrian Gold Philharmonic
The [Austrian Gold Philharmonic](/category/418/austrian-gold-philharmonic) coin is struck at the Vienna Mint. It is favored by many investors, both in Europe and worldwide. This gold coin is named for the image of the Grand Organ of the Vienna Philharmonic Orchestra displayed on the obverse.
AUSTRALIAN GOLD KANGAROO (NUGGET)
The [Australian Gold Kangaroo](/category/743/australian-gold-coins) is struck at the [Perth Mint](/category/303/australian-perth-mint). It was first released in 1987, a year after the American Gold Eagle. Originally called the Gold Nugget coin, Kangaroo gold coins featured famous giant gold nuggets found in Australia. In 1990, the coins began featuring kangaroos in an attempt to improve demand.
CHINESE GOLD PANDA
2016 Chinese Pandas coins, both silver and gold
The Chinese Gold Panda is the official gold bullion coin of the Peoples Republic of China. These coins feature a new panda design each year, giving them a numismatic value over their gold content. The weight of the Gold Panda changed from 31.1 grams (1 ozt) to 30 grams in 2016, when the sizes of Chinese bullion coins were changed from troy ounce to gram weights. ###Popular Gold Circulated Coins### In contrast to bullion coins, the gold content of formerly circulated gold coins depended on their nation's monetary system. A [US Saint-Gaudens double eagle](/category/220/20-saint-gaudens-gold-coins-certified) has 30.09 grams (0.9675 troy ounces) of gold content to keep the gold weight per dollar constant across denominations. A British gold sovereign has 7.332 grams (0.2354 troy ounces) of gold to match its gold value to the British currency system. Purity of circulating gold coins ranged from .917 fine (22K) to .900 fine and even lower. This means that tracking your gold holdings in vintage coins takes a little effort. What you give up in convenience, you more than make up in beauty and history with vintage coins. They were made in a fantastic array of sizes, weights and designs. They provide investors with bountiful options in choosing the right pieces to suit their budgets and taste. Besides the previously mentioned Saint-Gaudens double eagles, there are many other historic gold coins that once circulated as money.
BRITISH GOLD SOVEREIGN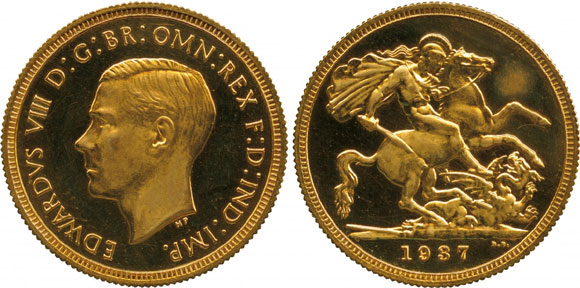 British Gold Sovereign
The [British gold Sovereign](/category/549/great-britain-gold-coins) was the most famous gold coin of the international Gold Standard. Much like the US dollar is today, the British sovereign was the global trade currency of the 1800s. With a famous St. George and the Dragon design and a size 1/4 that of the double eagle, the Sovereign is less expensive and just as appealing as the larger US coin.
FRENCH 20 FRANC GOLD ROOSTER
French 20 Franc Gold Rooster
The [French 20 franc gold coin](/category/497/french-gold-coins) was used as a template for gold coins of several European nations to facilitate trade. Common date 20 franc gold coins from France, Switzerland, Belgium, and Italy are often seen as interchangeable, since they have the same gold content. The 20 franc Rooster was slightly smaller than the sovereign, weighing 6.45 grams compared to 7.98 grams.
MEXICAN 50 PESOS (CENTENARIO de ORO)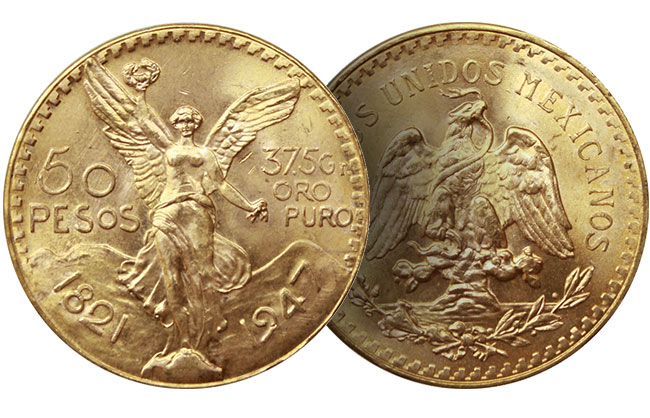 Mexican Gold 50 Pesos
The huge [Mexican Centenario 50 pesos gold coin](/category/417/mexican-gold-pesos) was issued in 1921, the 100th anniversary of Mexican Independence. Larger than even the American double eagle, the Centenario boasts more than 1.2 troy ounces of gold content (37.50 grams). Bearing images of the Angel of Independence monument and the Mexican eagle, the Centenario sells at modestly low premiums. A similar design is now seen on modern Mexican Gold Libertad coins, as well. ##What to Expect When Buying Gold Coins In Person## Many investments involve a bevy of paperwork and documentation to complete the sale. Certainly, buying real estate can be a heady process that takes weeks, even months to finish. Stocks, cars, and other popular investments also entail a great deal of time and paperwork. Buying gold coins is about as simple as buying a book or kitchen utensil at a brick-and-mortar store or on an e-commerce website. Unless you buy more than $10,000 in gold bullion at one time, you can purchase gold with little fanfare. (Gold purchases totaling $10,000 or more require that federal forms be filled out.) That's one of the attractive things about buying gold coins and other bullion products: The transaction involves little paperwork other than an ID card and your payment. Cash, credit cards, checks, even bank wires and cryptocurrency—they're all acceptable forms of payment with many gold coin dealers! Are you looking to sell gold coins? That's a pretty simple process, too. If you've decided the time has come to sell your gold coins, they can be sold with little fuss and muss. And because gold coins generally have a wide marketplace and an expansive pool of willing buyers, you shouldn't have any trouble unloading it when you want to. It surely beats listing that investment property with a Realtor! ##What Do Gold Coins Cost?## The price of gold coins depends on several things. The [spot price](/charts/gold-spot-price), their condition, and whether they trade based more on their bullion value or their numismatic merits. While gold coins tend to cost more, gram for gram, than gold bars or gold rounds, there are several advantages to coins when purchasing gold bullion. The weight and purity of gold coins are guaranteed by their issuing governments. Additionally, gold coins are monetized as legal tender. This allows governments to punish purveyors of fake gold coins under strict counterfeit laws. Some gold coins also see numismatic demand, which enhances the premiums you can receive when selling them. Consider, for example, the ever-popular Saint-Gaudens gold double eagle. Regarded by many to be the most beautiful US coin design, this $20 gold piece circulated from 1907 to 1933. Its fame enhances its desirability compared to other vintage gold coins. Even so, common date Saint-Gaudens cost a relatively small premium over melt. Rare dates and varieties can sell for many thousands of dollars, as their numismatic value outshines their bullion value. Similar market factors play into the appeal of many other gold coins struck throughout history at various mints around the world. ##Where to Buy Gold Coins## There are several [places where you purchase gold coins](/blog/best-place-to-buy-gold-coins). These include: * coin shows, or any events/conventions where dealers gather * auction platforms * sellers who advertise on TV * peer-to-peer meet-ups Buying gold coins is best done by working with a reputable, established gold coin dealer, either
online
or
in person
. Without question, the way to buy gold coins online is through a professional dealer. Unfortunately, many folks try saving a buck. They will seek gold coins from online swap-meet websites or backdoor deals that almost always seem better than they are. The sad reality is many people who buy cheap gold coins end up getting scammed with gold-plated base-metal fakes. Of course, these buyers have no recourse because the seller has skipped town or can't be traced. The money is gone, and you're up the creek with counterfeit goods on your hands. It's always safer to pay fair market value and invest in gold coins with the peace of mind that comes from shopping at an established retailer. Stick with a [gold coin dealer](/info/why-choose-gc) who guarantees the authenticity of the items they sell, and has reasonable prices. Reputable dealers will be members in good standing with the Better Business Bureau (BBB). Membership in industry organizations such as the American Numismatic Association (ANA) is also a plus. ###1. Buying Gold Coins In Person### Shopping for gold coins at an actual coin shop allows you to hold the coin in your hand before deciding to buy or not. Another advantage is being able to ask the owner questions about collecting gold coins. Building a relationship at your [local coin shop](/info/aboutus) sometimes means that the owner will help you in obtaining a certain coin. They could hold that coin back if it comes in the store and let you know it's available. A brick-and-mortar dealer can also show you how to buy gold coins for an [IRA](/ira). You can search "buy gold coins near me" to easily see all of the gold dealers in your area. ###2. Buying Gold Coins Online### Buying gold bullion online can give you access to a greater selection of gold coins than your local brick and mortar coin shop. Bulk purchases of precious metals are usually easier when buying from a large online distributor as well. Many gold bullion coins will have price breaks when buying in quantity. Another advantage to shopping for gold coins online is that large bullion dealers are also set up to accept bank wires or major cryptocurrencies, in addition to cash, checks, or credit cards. Browse from Gainesville Coins' list of best sellers for some of the most popular gold coins for sale:
No matter what method you choose, keep in mind that there is virtually [no way to buy gold coins at spot price](/blog/why-you-cant-buy-silver-at-spot-price). This is also true when you buy gold bars. Don't be fooled by a deal that's too good to be true! ---------- *Joshua McMorrow-Hernandez is a journalist, editor, and blogger who has won multiple awards from the Numismatic Literary Guild. He has also authored numerous books, including works profiling the history of the United States Mint and United States coinage.* **Read more about gold coins, silver coins, and the precious metals market:** [How to Buy Silver Online: 6 Simple Steps for Buying Silver](/blog/how-to-buy-silver-online) [Inflation Is Here. Why Isn't Gold $3,000 an Ounce Yet?](/blog/inflation-and-bullion) [Why You Can't Buy Gold and Silver at Spot Price](/blog/why-you-cant-buy-silver-at-spot-price) [Best Way to Buy Silver: Guide to Buying Physical Silver](/blog/best-way-to-buy-silver-guide) [Silver Premiums Explained: Insider Shares Knowledge!](/blog/silver-premiums-explained) [10 Most Valuable Canadian Coins and What They're Worth](/blog/most-valuable-canadian-coins)
Latest Offers, Straight To Your Inbox
Don't be the last to know about the latest deals and new product arrivals. Join us today for FREE!