How To Buy Silver Rounds: Complete Guide

Published: May 03, 2021
Updated: November 22, 2023
Table Of Contents:
Table Of Contents:
Many investors buy silver rounds because they have the lowest price on physical silver. These products offer the cost advantage usually associated with buying non-legal tender bullion. Hence they are similar to silver bars. Yet they also provide the buyer with a plethora of artistic designs and collectability more akin to coins. But how do you buy silver rounds? What should you look for when purchasing silver rounds? And where should you buy them? These questions and many others will be addressed in this article.
Already ready to shop for silver rounds?
Follow this link
to browse Gainesville Coins' wide inventory of silver rounds available for sale. ##Silver Rounds: What Are Your Options?##
The Silver Buffalo round is a collector favorite.
There are seemingly endless varieties of silver rounds out there, varying in design, style, size, and much more. Your interest may be in collecting silver rounds for their artistic merits. Perhaps you wish to assemble a set of rounds based on a particular design or theme. Anyone can throw a little flamboyance into their bullion portfolio with an array of splashy, exciting designs. You've got plenty of choices—more than ever, really.  Nearly all rounds are .999 fine silver. This means they are made of 99.9% pure silver, also called "investment grade silver." In some cases, you may come across sterling silver rounds, which are 92.5% pure. Rounds will have a higher purity than the
junk silver coins
you can find at any local coin shop. So, who is making these silver rounds? Many private mints and government mints produce silver rounds, including the United States Mint, Royal Canadian Mint, Perth Mint, Sunshine Mint, and even exclusive silver rounds sold only by specific bullion dealers such as
Mason Mint
. These names are well known and trusted for their quality and reputation, which are key when buying silver rounds. ##Popular Silver Round Designs##
A variety of 1 oz silver round designs.
You can still find silver rounds on the precious metals market that date back to the 1970s. More modern rounds tend to be replicas of the designs on classic silver and gold coins. Here are a few prominent examples: * Walking Liberty design, based on the U.S. half dollar from 1916 to 1947. *
American Silver Eagle
design, based on the silver bullion coin from 1986 to 2021. *
Silver Buffalo round
, based on the U.S. nickel (five-cent coin) from 1913 to 1938. Oftentimes these classic designs are also available as fractional silver rounds—those that weigh less than 1 troy ounce. Today's market offers an almost limitless number of new round designs. There are also more generic silver rounds available for much lower premiums over the
silver spot price
.
##Why Choose Silver Rounds Anyway?## Many folks want to know what the advantages are of buying silver rounds. We've already touched on the many beautiful silver rounds produced by trusted mints around the world. But silver rounds offer so much more than attractive design options! Rounds provide investors and collectors a superb vehicle for buying cheap silver. The price of a typical silver round, gram for gram, is usually lower than the cost of buying
silver coins
of equivalent size and purity.  Silver rounds also allow investors to diversify their bullion portfolios further. As any seasoned, successful precious metals speculator would tell you, you shouldn't put all your eggs in one basket. It's a good idea to include various bullion products in your portfolio to capitalize on the potential growth performance of different bullion marketplaces. This also mitigates the risks should one sector of the precious metals arena falter. What's more, approved silver bullion rounds qualify for inclusion in
individual retirement accounts (IRAs)
.  ###The Difference Between Silver Rounds and Silver Coins### The biggest distinction between a round and a coin is legal tender status. Coins are legal tender: they are made by government mints and have a face value. Coins can be spent as money. Silver rounds are not legal tender. Instead, they are valued for their precious metal content. In other words, the primary value of a round is how much pure silver it contains. You can
read more about the difference between coins and rounds
by following the link to our comprehensive guide on the topic. That having been said, there are some obvious similarities between rounds and coins. Of course, they have the same shape. Their designs may be similar, as well. (This is especially true with the "classic design" silver rounds mentioned above.) Both rounds and bullion coins are typically struck from .999 fine silver—meaning the same 99.9% pure silver. Finally, silver coins and silver rounds can both become sought-after collectibles or simply held as investments. ##How to Buy Silver Rounds## So, you've decided you want to buy silver rounds, huh? You're making a wise choice, as they offer versatility, aesthetics, and affordability all in one convenient package. So, how do you buy them?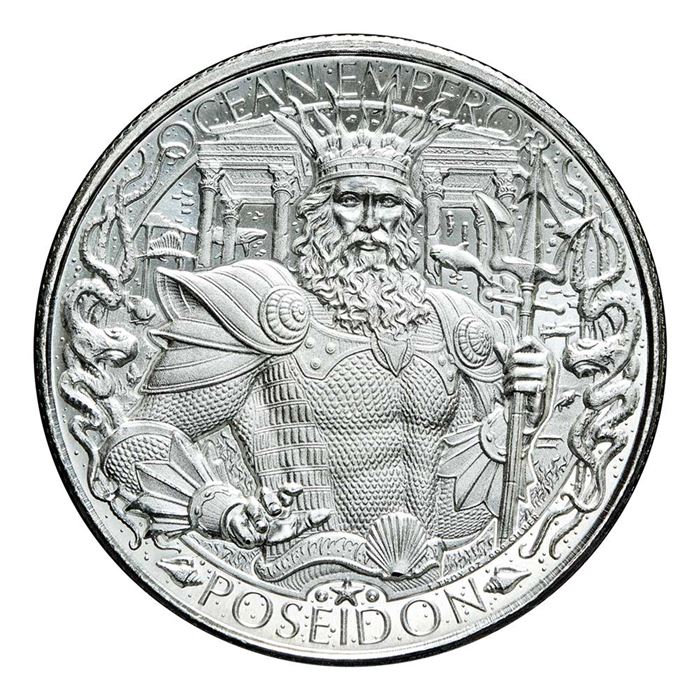 Culture and mythology is another popular design theme, like the Atlantis silver round
One of the best ways to buy silver rounds is through a silver dealer. They will usually allow you to buy silver rounds online, as well. These professionals purchase silver rounds and other bullion products directly from the private and government mints that make them. Unsurprisingly, many people wonder why they can't just buy these products directly from the mints themselves.  The simple answer is that, in so many cases, there is no way for the public to buy silver rounds from the mints that produce them. These and other silver bullion products are generally sold only to authorized distributors (ADs). In turn, the ADs sell them to individual collectors and investors. This is ideal for the retail client because many silver dealers offer a vast array of silver products, all available at a glance and ripe for the picking in one place. In other words, even in cases when mints do sell silver rounds directly to the public, you'll still need to hop around from mint to mint. You'll potentially wait many days, weeks, or even longer to receive the silver products you wish to buy. But when you shop at a silver dealer, you can buy all the silver rounds you want and receive them much more quickly—and if buying them in person, you can take them home the same day! ##Where to Buy Silver Rounds## You now know that you'll need to buy your silver rounds from a silver dealer. But which one do you choose? It may seem that they're all more or less the same, but in reality, they're not. Each is different from the other by the selection they offer, their physical location, their dealer and distributor network (i.e., their connections with mints and wholesalers), customer service, return policies, and so on. And, unfortunately, some of these dealers aren't necessarily people you want to be dealing with. 
Vintage Daytona Beach silver rounds.
What should you be looking for when choosing a silver dealer to buy silver rounds? A little bit of legwork now will save you many headaches and maybe even tons of hard-earned cash later. So it's worth taking the time to check out the following from any gold and silver dealer you consider working with:  *
Selection –
It may seem obvious to some, but let's not gloss over the importance of choosing a silver dealer who offers the silver rounds you want. What's the point in spending time with a silver dealer who doesn't offer you what you're looking for? If you don't see what you want off the bat, ask! Chances are the dealer can get you what you're looking for or may even already have the items in inventory but hasn't listed the products yet.  *
Location –
In the day and age of express shipping, this may be a little less important than it used to be. But it's still a good idea to choose a dealer who has physical locations and distribution points in the same region of the world where you're located. Some of the best silver dealers have locations in multiple nations to serve an increasingly global marketplace. They can offer shipping deals that are fast and secure. *
Professional affiliations –
Who you know matters, especially in the world of bullion! A well-connected silver dealer can offer you a deep selection of silver rounds. But affiliations mean more than just finding the silver rounds you want. A silver dealer with many
professional affiliations
is also usually well respected. Look for dealers connected to organizations such as the National Coin & Bullion Association and National Inflation Association and are a member of the Professional Coin Grading Service or Numismatic Guaranty Corporation.  *
Customer service –
For some reason, it seems this isn't something that is often mentioned, but it should be. Let's face it—some silver dealers may be great at offering good products for reasonable prices but lack people skills. This is more than a deficit of social etiquette. Poor customer service can lead to your not getting the products you want, or being unable to readily ask essential questions (and get the answers you need to make buying decisions). Look for an honest, professional dealer whose team strives to provide you with courteous service and thorough information.  *
Return policies and product guarantees –
The phrase "peace of mind" isn't just a cliché. It's an integral part of buying silver rounds. When you buy bullion products through a silver dealer who offers a
satisfaction guarantee
, provides fair return policies, and stands by the products they sell, you can rest assured that you're not stuck with items you don't want. With guarantees and customer recourse, you never need to worry about being scammed out of your money with counterfeit products or stolen goods. You can take a deep breath knowing you've made a smart move in buying silver rounds from a trustworthy dealer who will be there to serve you in the future.  **Below you can shop for some of the most popular silver rounds for sale at Gainesville Coins:**
---------- *Joshua McMorrow-Hernandez is a journalist, editor, and blogger who has won multiple awards from the Numismatic Literary Guild. He has also authored numerous books, including works profiling the history of the United States Mint and United States coinage.* **More information on buying silver bullion from Gainesville Coins** [Investing in Silver: Guide for 2021](/blog/invest-in-silver-guide) [How to Buy Silver Online](/blog/how-to-buy-silver-online) [The Best Way to Buy Silver: Guide to Buying Physical Silver](/blog/best-way-to-buy-silver) [Best Place to Buy Silver Eagles](/blog/best-place-to-buy-silver-eagles) [Best Silver Bars to Buy: The Conclusive List](/blog/best-silver-bars-to-buy) [Gold and Silver IRA Guide](/blog/gold-ira-guide)
Latest Offers, Straight To Your Inbox
Don't be the last to know about the latest deals and new product arrivals. Join us today for FREE!