How To Sell Gold: Step-by-Step Guide

Published: November 09, 2021
Updated: May 03, 2022
Table Of Contents:
Table Of Contents:
Selling gold requires three main considerations:


Where will you sell your gold?
How much is your gold worth?
What are the tax implications?
We'll walk through these three steps below.
If you're already prepared to start the process, you can follow the link to sell your gold to Gainesville Coins.
Understanding how to sell your gold safely is an often overlooked aspect of the process of investing in precious metals. Accumulating gold in the first place is obviously important, but knowing what to expect when the time comes to liquidate is equally crucial.
1. Decide Between Your Options: Where to Sell Gold
Your best bet among all options is to sell your gold to a professional bullion dealer. This may simply be one of your local coin shops.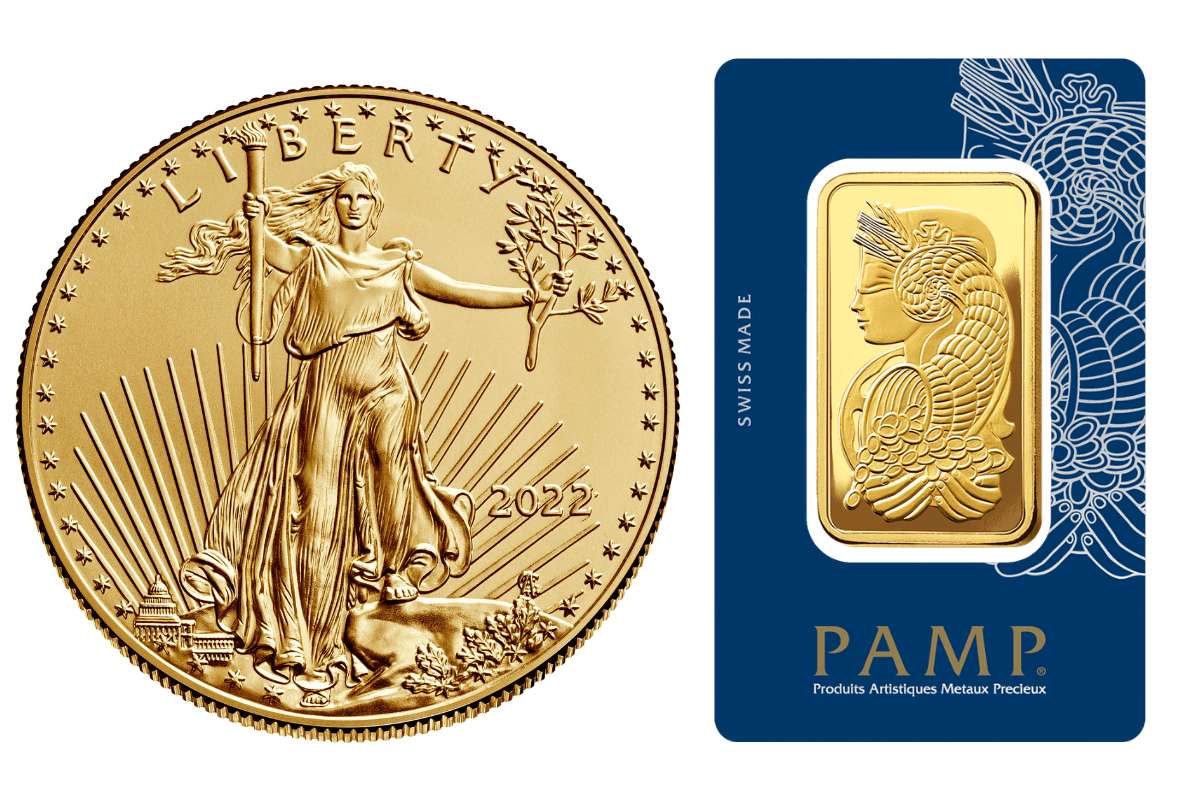 American Gold Eagle PAMP Suisse Gold Bar (1)
Professional dealers will pay you more for your gold than any of the alternatives. They are also by far the safest and most secure place to sell gold. Valid identification—like a driver's license or passport—is required, but it's well worth the protection and peace of mind.
Safety and trust are absolutely critical qualities to find in whomever you're selling gold to. You can rest assured that a coin dealer will always buy back any product they sell themselves at a fair price. Ideally, they should also be a member of the Better Business Bureau (BBB). Sadly, the risk of theft or fraud are an ever-present concern with a high-value asset like gold.
You may be thinking, "Okay, but aren't there other ways to sell gold?" Indeed, there are many places to choose from.
Your worst option is a peer-to-peer sale or arranged meet-up with a stranger. There are simply too many scams that operate through these channels. If you have a close friend or family member who wants to buy your gold, that's a fine choice; but trusting the good faith of a random stranger is not advisable.

The next-worst option for selling gold is an online auction site. These services take a hefty "seller's fee" of more than 10% from your final sale price (while you assume the liability for shipping and insurance). More importantly, there are no protections against cancelled purchases in the "fine print." In these cases, you lose out on the fees and have to start the process over with less money.

Another route you can go is a pawn shop or cash-for-gold operation. While these options are less bad from a safety standpoint, they will rarely offer the best price for your gold. By the nature of their business, pawnbrokers tend to capitalize on the seller's desperation and quote a lower price. Always be willing to walk away and wait for a better price from the right buyer.

You may choose to sell your gold at a coin show or convention, particularly if you have gold coins with added numismatic value. Keep in mind that the buyers in these settings are the dealers themselves. As a rule, coin dealers never bid against one another. Don't be surprised if they are annoyed at any attempt to haggle!
Choose a Physical Location or Sell Your Gold Online
If you've chosen to sell gold to a bullion dealer, the next step is to choose between selling in person or online. Thanks to the modern convenience of the internet, many dealers will allow you to sell gold online to them. You will probably need to photograph the items, fill out a sales form, and give the dealer adequate time to make an offer.
If your gold is in the form of rare or collectible coins, you'll likely want to stop by the dealer's physical location. That will give them the best chance to closely evaluate the condition and appearance of the coins. This is less of a concern with generic products like gold bars.
Depending upon which state or country you live in, selling gold online may be the easiest option. This allows you to shop around between multiple online buyers, as well.
2. Get Your Gold Appraised
Knowledge is power when it comes to the value of your gold. It's a good idea to know roughly what your gold is worth before you sell it. How else can you know if you're getting a good deal?
The first thing to check is the current spot price of gold, which is constantly changing throughout the day. You can also check gold futures to see if the current market value of gold is expected to rise or fall in the short-term.
Both futures and spot prices are measured per troy ounce (31.1 grams). When you sell gold bullion, a reputable buyer will always reference the spot price at the moment. The price of gold moves based on supply and demand at major trading hubs like the London Bullion Market Association (LBMA). The same is true for silver prices.
Bullion coins will be worth slightly more than generic gold bars. Both are highly pure gold and considered liquid assets, but there are slight liquidity differences between bars and coins. The latter are legal tender and typically a bit easier to sell, and thus command slightly higher prices. If you sell gold bars with a serial number from a name brand, they may be worth more.
It's important to have an idea of roughly what your gold is worth before selling.
If you have collectible gold coins (i.e. numismatic gold coins), it's a good idea to do a little research into their value. Bear in mind that the values listed in any price guide are a rough estimate. A gold dealer will pay you close to full amount, but must leave a little room to make money from resale profit.
Some reputable dealers such as Gainesville Coins will offer a free appraisal of your gold. The service is free of charge whether you choose to sell or not.
You can also consult this helpful gold and silver melt value calculator if you're unsure how much precious metal your coins contain.
3. Understand Tax Implications
This is undoubtedly the most frequently asked about topic when it comes to selling gold. Understandably, everyone wants to know how to sell gold without paying taxes.
Alas, as The Beatles so accurately explained on the opening track to Revolver, there's no escape from the taxman. Paying taxes on the gold you sell is an unavoidable fact of life.
Gold sales are taxed and the capital gains rate. It's really no different than selling shares of stock. When you cash in on any investment, the Internal Revenue Service (IRS) is going to come for their "pound of flesh."
Any potential buyer who advertises a way to avoid taxes when selling gold should be viewed with suspicion. This is a huge red flag that something unlawful is going on. As unpleasant as it is to fork over a tax payment, it's better than being in hot water with the IRS.
Sadly, there's no avoiding taxes when you sell gold.
Frequently Asked Questions About How To Sell Gold
Is gold difficult to sell?
Not at all! It's simply a matter of finding a gold bullion dealer with a good reputation. If you bought your gold from a professional dealer in the first place, you should always be able to sell your gold back to them.
How can I sell my gold online?
Selling gold online isn't much different than selling it in person. All you need to do is find a trustworthy gold dealer with a website. There you should find information about the process of selling gold online. Using the information in this guide, you can judge for yourself if they are a reputable gold buyer.
You will need to know what kind of gold products you're trying to sell, however. A dealer can't make you an offer until they know what specific items you have. This is why doing some research about what type of gold you have is a wise decision.
How much do you get for selling gold?
It depends on how much gold you're selling in terms of weight, and what the gold price is at the time you sell. This hand melt value calculator can help you calculate how much gold you have.
You can read more about how much a gold bar is worth on the Gainesville Coins blog.
How much money do gold dealers pay for gold?
Gold dealers will normally pay at least 98% to 99% of the melt value for your gold. This is a standard practice in the gold market. In the case of a collectible (numismatic) gold coin, the dealer may pay more.
Can gold be sold for cash if I need quick cash?
Yes, but not in all cases. You should check with a gold buyer beforehand to see if they offer payment in cash. It's more common to be paid by check.
Can I sell my gold to the bank?
Generally, no. Although in some countries (such as Russia and India) you can still buy and sell gold coins at commercial banks, this is rarely the case in much of the world, including the United States.
Can I sell gold jewelry to a bullion dealer?
No, most bullion businesses will not buy your old jewelry or scrap gold. The one exception is if you have 24 karat gold (24K gold), but this is rather uncommon. (Gold chains or engagement rings are more likely to have a lower gold purity such as 18K gold.) The best place for selling gold jewelry and silver jewelry is your local jeweler or jewelry store.
Is it a good time to sell gold in 2021?
There's really never a bad time to sell gold. It simply depends on whether or not you need the money for other purposes.
Gold prices do tend to rise over time. This is the whole point of holding gold for the long-term. Yet there are also periods where the price of gold simply remains the same, sometimes for years at a time. So there's no definitive answer to the best time to sell gold.
With this in mind, it's prudent to sell only a portion of your gold rather than every last gram, if possible.
Sell Gold Online at Gainesville Coins
Click to following link to sell your gold online to Gainesville Coins.
We pay top dollar for your gold bullion and will appraise your gold totally free of charge! We also buy silver bullion as well as platinum and palladium coins.
In addition to being an online gold buyer, Gainesville Coins also operates a luxury showroom storefront. You can always visit our showroom to sell your gold in person, or call us at (813) 482-9300 with any questions about selling gold and silver.
---
Learn more about buying and selling precious metals from the experts at Gainesville Coins:
Beginner's Guide to Investing in Precious Metals
How to Invest in Precious Metals Like a Pro
The 7 Benefits of Investing in Precious Metals
Gold and Silver Stacking: Expert Guide
Investing in Gold: What You Need to Know Before You Buy Gold
Investing in Silver: Guide for 2021

Everett Millman
Managing Editor
|
Analyst, Commodities and Finance
Everett has been the head content writer and market analyst at Gainesville Coins since 2013. He has a background in History and is deeply interested in how gold and silver have historically fit into the financial system.
In addition to blogging, Everett's work has been featured in Reuters, CNN Business, Bloomberg Radio, TD Ameritrade Network, CoinWeek, and has been referenced by the Washington Post.
Latest Offers, Straight To Your Inbox
Don't be the last to know about the latest deals and new product arrivals. Join us today for FREE!