How To Sell Gold Online: Best Places to Sell Gold Safely

Published: February 23, 2023
Updated: March 01, 2023
Table Of Contents:
Table Of Contents:
Selling gold online is something that's done every day, and if you do it the right way you're sure to make bank. But you can also get rooked really easily when you sell gold online. We're going to provide you with expert tips on how to safely sell gold online so you can maximize how much money you make.
American Gold Eagles are commonly sold at a slight premium above their melt value.
Why Sell Gold Online?
Let's face it—buying and selling things online is so much easier, faster, and more convenient than going to a physical bricks-and-mortar storefront, isn't it? We're almost spoiled by how easy it is to just point and click at something we want to purchase and have it shipped right to our home in just a few days.
Selling things can be just as simple today. Thankfully it's really easy to sell gold online. Most gold dealers and coin dealers have a website these days. With just a few taps of the finger, you can arrange a deal to sell your gold to a bullion dealer and make some quick cash.
In addition to the convenience of selling gold online, it can be more secure than walking into a coin shop or other storefront with gold bullion and walking out with a check.
How To Sell Gold Online: 3 Simple Steps
Before you click a few buttons and drop your gold off in the mail, you need to think about a few things first. Namely, is this the right time to sell your gold? When should you liquidate it? What is the selling process? How much is the gold content even worth?
1. Find out how much your gold is worth
You can find the current price of gold by following the link. We also have articles covering all kinds of gold coin values, which can help you get a better idea as to what your gold may be worth.
2. Decide when to sell your gold
As for deciding when to sell, this comes down to many factors. If you're in a pinch and need some fast money, it might not even require a second thought about whether or when to sell gold. But if you're holding gold as a precious-metals investor and hope to make the most profit from it, deciding when or if to sell may require a little more strategy.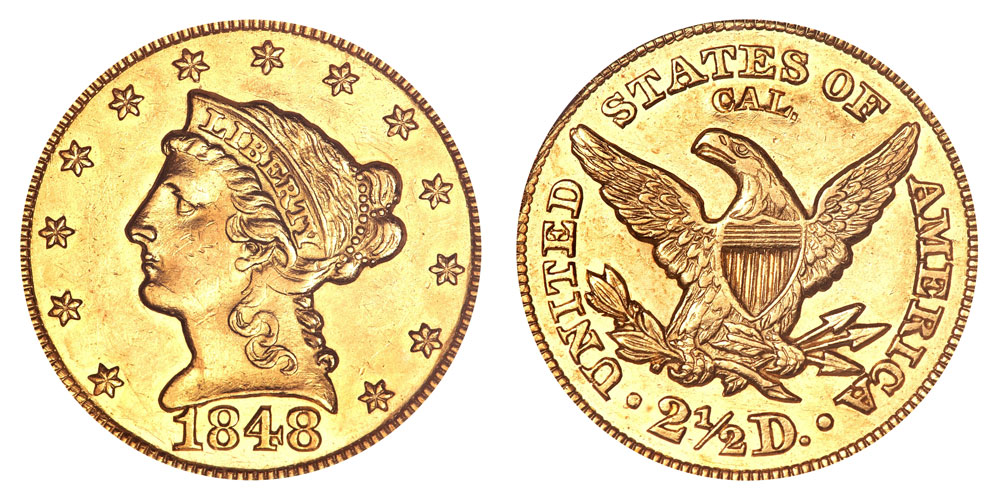 For old gold coins, they contain gold worth much more than their monetary value (face value). This Liberty Gold Quarter Eagle coin had a face value of $2.50!
Ask yourself: Have you met your minimum threshold profit goal in terms of personal finance? You bought gold at $1,000 an ounce and were waiting to make 50% or more on it, and now it's worth $1,850 an ounce? If you find yourself in a scenario like that, it may make sense to sell your gold while you're sure you can guarantee meeting your profit goals.
But if you're a gold investor and are simply waiting for the highest selling price you can ever hope to achieve from the yellow-colored bullion metal, making this decision can be especially troubling. Have gold prices really peaked—or already hit their peak? Will the price of gold ever go so low again and maybe you should hold it? You'll spend forever and a day trying to find some expert—or website—that will accurately predict the price of gold tomorrow, next week, or next year. Nobody can accurately predict the price of gold.
3. Choose the right place to sell your gold to
Once you have a general idea of how much your gold is worth, and when you plan to sell it, the final step is to choose a place to sell. Not every seller will offer you the same amount of money for your gold. (This is sometimes called the "Bid price.") They should all be relatively close, but we encourage you to shop around.
The best advice we can give is to do your homework on the history of gold prices and what generally drives gold prices up and down. (High demand plays a role, but it can be a volatile market.) Keep your finger on the pulse of the domestic economy and global markets, such as interest rates and the stock market, and make the best choices you can make.
We'll cover your different options for selling gold in the next section.
Best Places to Sell Gold Online
If you sell your gold to Gainesville Coins, you can rest assured that you're working with experts who have many years of experience selling gold and buying gold. They are reputable gold buyers who will facilitate a safe, discreet sale and quickly pay you the best, fairest price around.
The professionals at Gainesville Coins will make sure you are satisfied with the deal and are treated with complete honesty and integrity. They are a business that proudly carries an A+ rating with the Better Business Bureau and affiliations with the most important bullion industry organizations, including the National Inflation Association and National Coin and Bullion Association. When you sell gold online to Gainesville Coins, you'll even get an appraisal value for your gold content sight-unseen.
There are other options for selling your gold, including online auction firms and bullion-trading forums. No matter who you choose to sell your gold to, be your own advocate and do your homework. Many people get scammed when selling their gold, especially those who are not experienced in trading bullion and don't know what to look out for.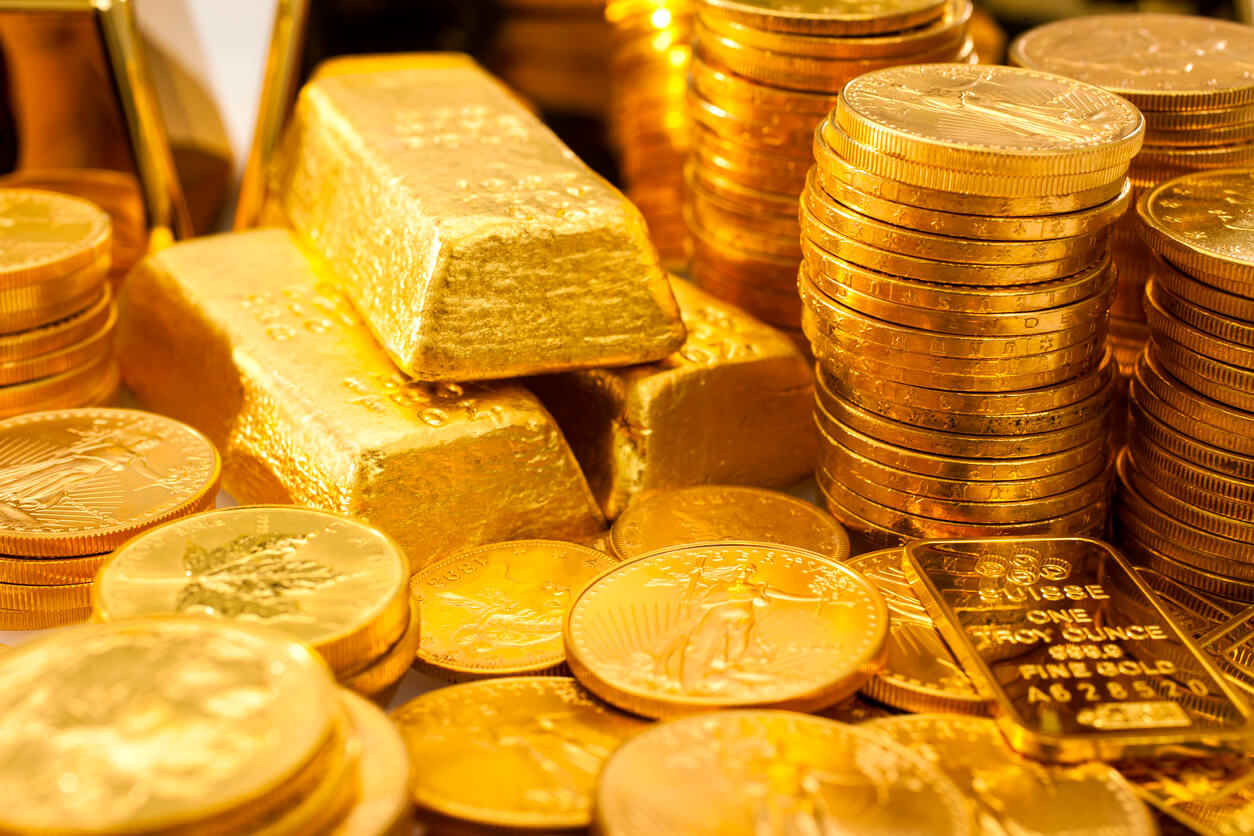 Gold's purity determines if it is considered gold bullion. Many modern gold bars are 99.9% pure gold, meaning they are 24 karat gold.
Always be wary of any deal that requires you to meet in a parking lot and avoid dealing with unvetted individuals who are looking to pay you by check. Even with the latest technology in the digital realm of the 21st century, bad checks remain a big problem. A cash deal may sound safer—unless the cash is fake.
Not all bad transactions happen under the dark of night or a covered back alley. In fact, a person selling gold might get the short end of the stick selling their precious metals at a long-established storefront. While most pawn shops, jewelers, and cash-for-gold outfits are totally legitimate businesses, they aren't necessarily going to pay you the most money for your gold items.
Sometimes this is because they're trying to maximize their profits. But often people aren't paid what their gold is really worth because the merchant just doesn't have the knowledge necessary to know what they're looking at when making an offer. This is most frequently the case with rare or collectible gold items—rare coins, fine jewelry, art, etc.
Sure, they might pay you what the gold in those items is worth (the melt value of their gold weight), but they may not pay you the collectible premiums because they simply aren't cognizant of how rare or coveted those goods may be in the eyes of collectors beyond the intrinsic gold value. And this where it pays to sell your gold to true experts—people who really know the full value of what your gold items are worth. That being said, pawn shops or jewelry stores are fine places to sell gold jewelry and scrap gold.
When selling your gold bars, rounds, gold coins, and silver coins, choose Gainesville Coins. Their experts know the true value of your items and will always pay you what they're really worth.
Sell Your Gold and Silver for Current Market Value at Gainesville Coins
---
Joshua McMorrow-Hernandez is a journalist, editor, and blogger who has won multiple awards from the Numismatic Literary Guild. He has also authored numerous books, including works profiling the history of the United States Mint and United States coinage.
Learn more about buying and selling precious metals from the gold experts at Gainesville Coins:
Current Gold Spot Price and Silver Prices
How to Buy Physical Gold Bars: Buyer's Guide
What Is Silver Bullion? Everything You Need to Know
Silver and Gold Futures Contracts 101
Starting a Coin Collection: How To Guide for the Beginner
Gold vs. Real Estate: Investment Analysis
Latest Offers, Straight To Your Inbox
Don't be the last to know about the latest deals and new product arrivals. Join us today for FREE!