Is Saudi Arabia Selling Oil to China for Gold?

Published: April 18, 2023
Updated: April 25, 2023
Table Of Contents:
Table Of Contents:
Rumors are making rounds that Saudi Arabia is selling oil for yuan, which it converts into gold on the Shanghai International Gold Exchange (SGEI). Such a development would make sense as large parts of the world want to de-dollarize, but the renminbi is not suitable to be used as a reserve currency. China has a closed capital account and a weak rule of law. Not using the dollar could be done by using the renminbi as a trade currency and converting yuan revenue into gold on the SGEI. If the rumor is true, Saudi Arabia is buying 1 Kg bars as there is virtually no trading in 12.5 Kg bars on the SGEI. The benefit of 1 Kg bars is that they are more fitting for fully allocated trading.
The Kingdom of Saudi Arabia remains one of the world's leading producers of crude oil.
The SGEI was set up in 2014 for foreigners to access gold trading on the Shanghai Gold Exchange Main Board in the Chinese domestic gold market and trading on the International Board in the Shanghai Free Trade Zone (SFTZ). Foreigner entities can't load-in and load-out gold into and from Main Board certified vaults, but they can load-in and load-out gold into and from International Board certified vaults (and thus import into and export from the SFTZ).
The objective of the International Board is to facilitate "offshore" gold trading in renminbi in the SFTZ, which has almost no effect on China's current account. This is comparable to offshore gold trading in US dollars in London (offshore dollars pricing internationally traded commodities). Through the SGEI China wants to increase the role of the renminbi in the global economy.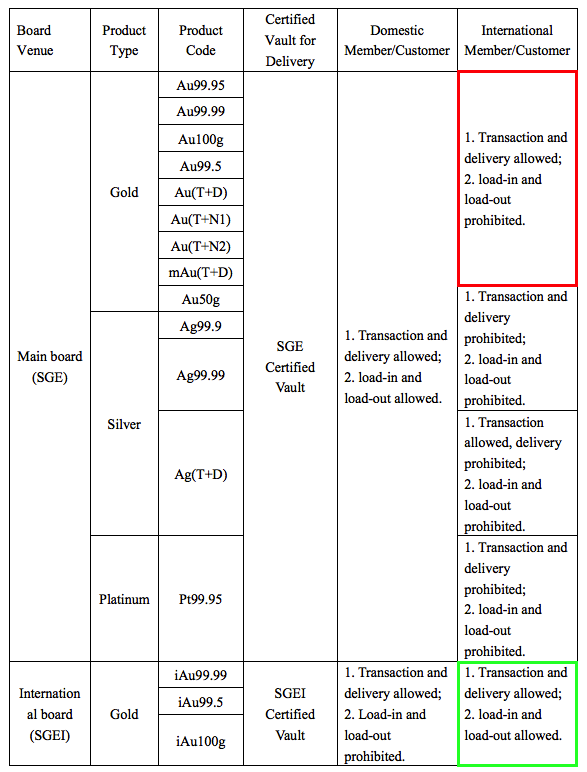 Overview from a few years ago on domestic and foreign clients' SGE(I) trading privileges (source: Spot Trading Rules of the Shanghai Gold Exchange). I can't find an update of this overview on the SGE(I) website, but I don't expect the essence has changed. As you can see, the SGEI is the International Board and the SGE is the Main Board. Both exchanges fall under the same umbrella.
Investment possibilities for foreigners in Chinese financial assets are limited, but there are no restrictions to converting yuan into gold on the SGEI. I will write more on the mechanics of the Chinese gold market in a forthcoming article because this will be important in the coming years with respect to de-dollarization.
Last week, Christopher Wood from Jefferies mentioned in a note that the Saudis might be converting yuan into gold on the SGEI.

Source: Chris Wood from Jefferies, Greed and Fear, April 2023. H/t VBL Gold Fix and @LukeGromen.
If Saudi Arabia would convert yuan into gold on the SGEI, I would expect them to buy large bars weighing 400 ounces (12.5 Kg). Data from the SGE and SGEI, though, reveals there has practically been no trading in 12.5 Kg bars since the SGE was erected in October 2002.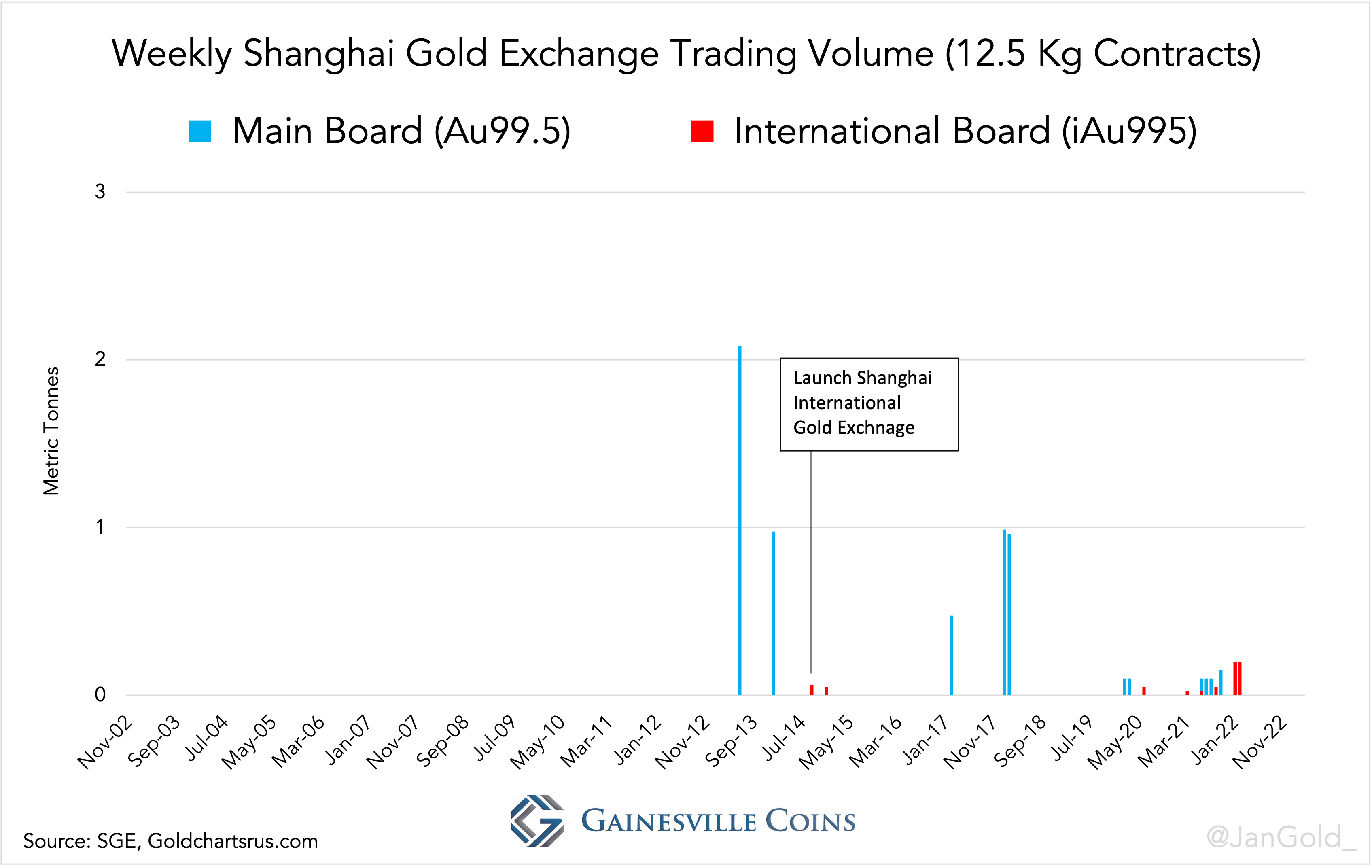 Weekly Shanghai Gold Exchange trading volume (12.5 Kg contracts)
In the above chart volume is shown for exchange trading of 12.5 Kg contracts. Not shown, over-the-counter (OTC) trading in the 12.5 Kg contract on the International Board was zero in the past year. OTC trading in the 12.5 kg contract on the Main Board isn't reported, which makes me think it's not existent. All in all, large bar trading on the SGE(I) is extremely low.
Based on 12.5 Kg contract trading volume on the SGE(I) it's hard to prove the rumor is true, which doesn't mean it can't be true. Saudi Arabia can also buy 1 Kg bars on the SGEI (and SGE, but it wouldn't be able to export gold traded on the Main Board). Trading in 1 Kg contracts on the SGEI (iAu9999) and SGE (Au99.99) is not subdued. Although, there hasn't been a significant uptick in trading of iAu9999 recently.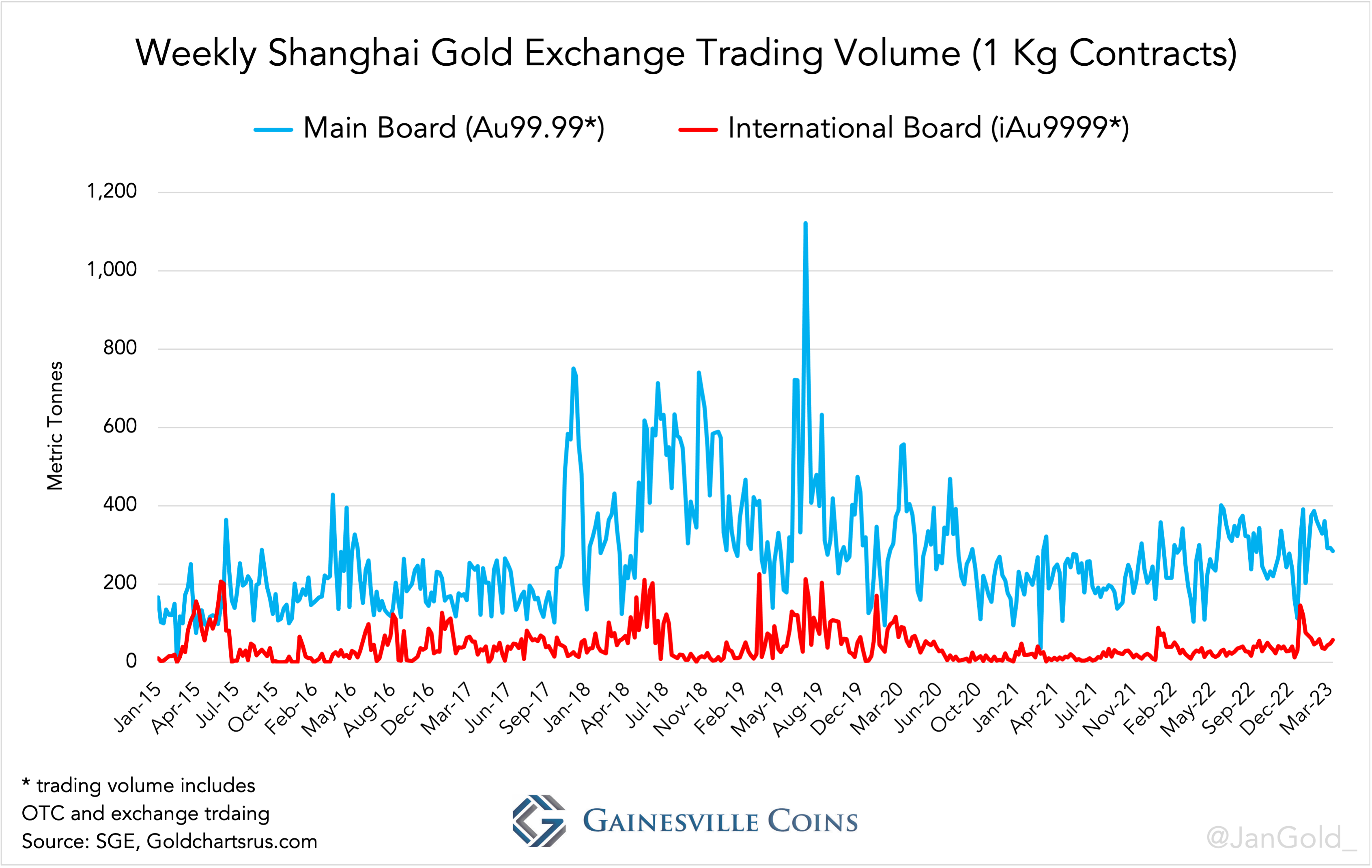 Weekly Shanghai Gold Exchange trading volume (1 Kg contracts)
Interestingly, according to my sources, in China's foreign exchange market (CFETS) all gold traded is settled and cleared through the SGE and is fully allocated. One of the reasons for this is because the underlying assets are the SGE 1 Kg (9999 fine) and 3 Kg (9995) contracts. In Western foreign exchange markets, the underlying for gold trading is usually the LBMA Good Delivery bar that weighs approximately 400 ounces, which is more convenient to trade on an unallocated basis. As an example, exchanging exactly 20,000 ounces in London is easy on an unallocated basis, while it's difficult to collect a batch of large bars that together weigh precisely 20,000 ounces. Perhaps Asia is shifting to an alternative benchmark and that's why the Saudis are buying 1 Kg bars? Time will tell.
Xi Jinping, President of the People's Republic of China, visited Saudi Arabia in December 2022 where he pledged to continue buying oil and gas from Gulf Cooperation Council (GCC) nations, and proposed these trades to be settled in yuan. From Xi:
China will continue to import large quantities of crude oil from GCC countries, expand imports of liquefied natural gas, strengthen cooperation in upstream oil and gas development, engineering services, storage, transportation and refining, and make full use of the Shanghai Petroleum and National Gas Exchange as a platform to carry out yuan settlement of oil and gas trade…
Shortly after, in January 2023, Saudi Arabia shared it's open to discussions about trade in currencies other than the US dollar, according to the kingdom's finance minister.
The Wall Street Journal wrote in March 2023 that, "Saudi Arabia is in active talks with Beijing to price some of its oil sales to China in yuan."
These statements tell us there is a will in both countries to de-dollarize. Selling oil for yuan and then converting those into gold would be a logical step, given the renminbi's shortcomings as a reserve currency. But I would like to see more evidence before confirming this trend.
A few months ago, a person familiar with the matter but who prefers to stay anonymous told me Saudi Arabia is covertly buying gold, though he refrained from saying where it was bought. Perhaps the Saudis are slowly working on a transition; de-dollarization isn't done overnight.
---
Read more about the international gold market from the author:
How a Central Bank in the Caribbean Recently Used Its Gold Revaluation Account to Cover Losses
The Hierarchy of Money and the Case for $8,000 Gold
Zoltan Pozsar, the Four Prices of Money, and the Coming Gold Bull Market
Is the Gold Price at a Turning Point?
Europe Has Been Preparing a Global Gold Standard Since the 1970s. Part 2
The West–East Ebb and Flood of Gold Revisited
Latest Offers, Straight To Your Inbox
Don't be the last to know about the latest deals and new product arrivals. Join us today for FREE!