10 Most Valuable Canadian Coins & What They're Worth

Published: February 17, 2023
Updated: September 19, 2023
Table Of Contents:
Table Of Contents:
Canadian coins offer a plethora of fascinating collecting opportunities for numismatists who love coins from the Great White North. Most Canadian coinage is categorically inexpensive and easy to obtain from dealers who specialize in this material.
However, some pieces are quite rare and valuable, with many of Canada's most sought-after coins commanding four or five figures. A few pieces even fetch more than $100,000! Needless to say, you won't find these high price tag coins your pocket change. So, what are they? We're going to share with you eight of the most valuable Canadian coins and what they're worth.
1. 1936 King George V Dot Cent: $300,000+
Canadian Dot Cent coin. Image: NGC Coin Explorer
The 1936 Dot Cent is a widely known Canadian rarity. It was minted in early 1937 after the death of King George V in January 1936 and the constitutional crisis caused by the sudden abdication of his successor, King Edward VIII, in December 1936. The need for new coinage was so great in late 1936 and early 1937 that there was no time for mint officials to prepare a new effigy for a King George VI design soon enough to begin production of new one-cent coins bearing his likeness at the start of the year.
Therefore, to indicate that the 1936-dated King George V cents were 1937 emissions, a tiny, raised dot was punched into the new dies just below the "1936" date. Mint records show that 678,823 of the 1936 Dot one-cent pieces were struck as legal tender for general circulation. To date, only five are known—and they sell for a pretty penny, too! For example, one of the most recent examples to cross the block took $312,000 in 2019. Along with their historical significance, they are clearly one of Canada's rarest coins.
2. 1921 King George V 5 Cents: $4,500+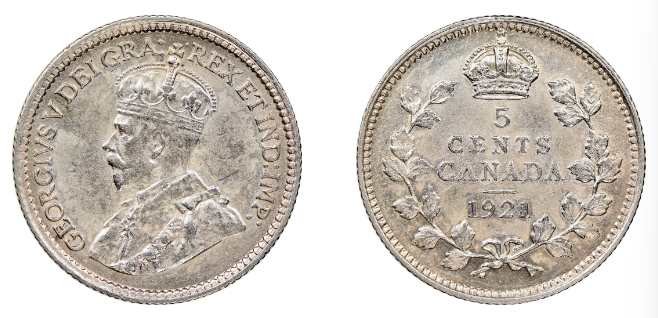 Canadian 5 Cents coin. Image: NGC Coin Explorer
For decades, Canada's five-cent coin was a small, lightweight piece made from a silver composition. Beginning in the early 1920s, Canadian legislation called for the replacement of the silver five-cent coin with a physically larger, heavier issue made from nickel (with no precious metal content). By the time this transition happened the production of silver five-cent coins dated 1921 was already well underway.
That run of silver 1921 five-cent coins was stopped and production of the 1922 nickel five-cent coins began, with the Royal Canadian Mint melting nearly the entire batch of 1921 silver five-cent coinage. Only 400 to 450 examples are known to have survived, and these are worth around $4,500 and up, even in well-worn grades.
3. 1965 Queen Elizabeth II Large Beads 5 Cent: $2,000+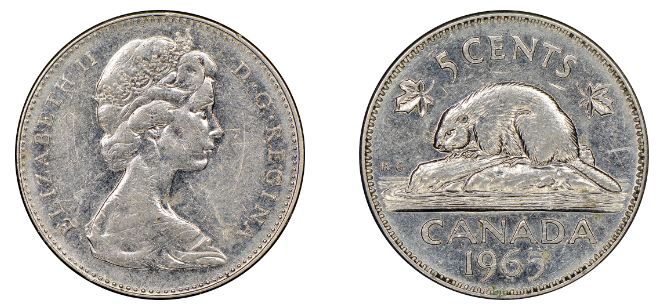 Canadian Large Beads 5 Cent coin. Image: NGC Coin Explorer
In the mid-1960s, Canadian coinage was undergoing something of a small but significant revamping of the ornamental beads around the rim of the nation's coins. This resulted in a variety of interesting issues from the period that sport small-size, medium-size, or large-size beads. Some of these varieties are run-of-the-mill examples of their type while others are quite rare.
In the case of the 1965 Queen Elizabeth II five-cent coin, an example donning large beads is considerable rarity worth more than $2,000 in uncirculated grades. Its new obverse design of Elizabeth II is also one of the early uses of the young Queen's portrait on Canadian money.
4. 1921 King George V Half Dollar: $30,000+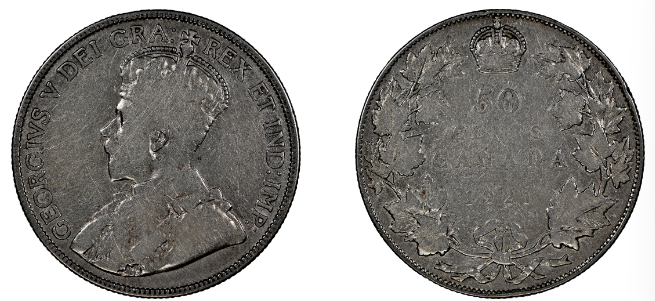 Canadian George V Half Dollar coin. Image: NGC Coin Explorer
A recession during the early 1920s caused demand for larger-denomination coins, such as the half dollar, to founder. The mintage of the 1921 half dollar was a respectable 206,328 pieces, but virtually all of these pieces were withheld by the mint and eventually ended up at the smelter. Silver from those coins was used to strike half dollars in 1929, when demand necessitated new coinage.
As a result, very few 1921-dated half dollars survive—estimates suggest fewer than 100 specimens exist. Prices for the exceedingly rare 1921 half dollar start at around $30,000.
5. 1947 King George VI Curved Right 7 Half Dollar: $1,000+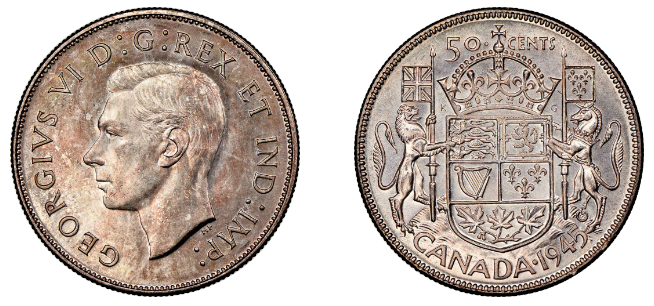 Canadian George VI Half Dollar coin. Image: NGC Coin Explorer
Small variations in the way a design or inscription is rendered on a coin (such as a "small date" vs. "large date") can seem like minor matters to some. But to the most ardent numismatic enthusiasts these features can mean the difference between a common coin worth little over face value and a rarity worth hundreds or even thousands of dollars.
There are several varieties among the 1947 half dollars, including one involving a curved, or short "7" in the date. This is an extremely rare variety that commands more than $1,000 for uncirculated pieces.
6. 1911 King George V Pattern Dollar: $500,000+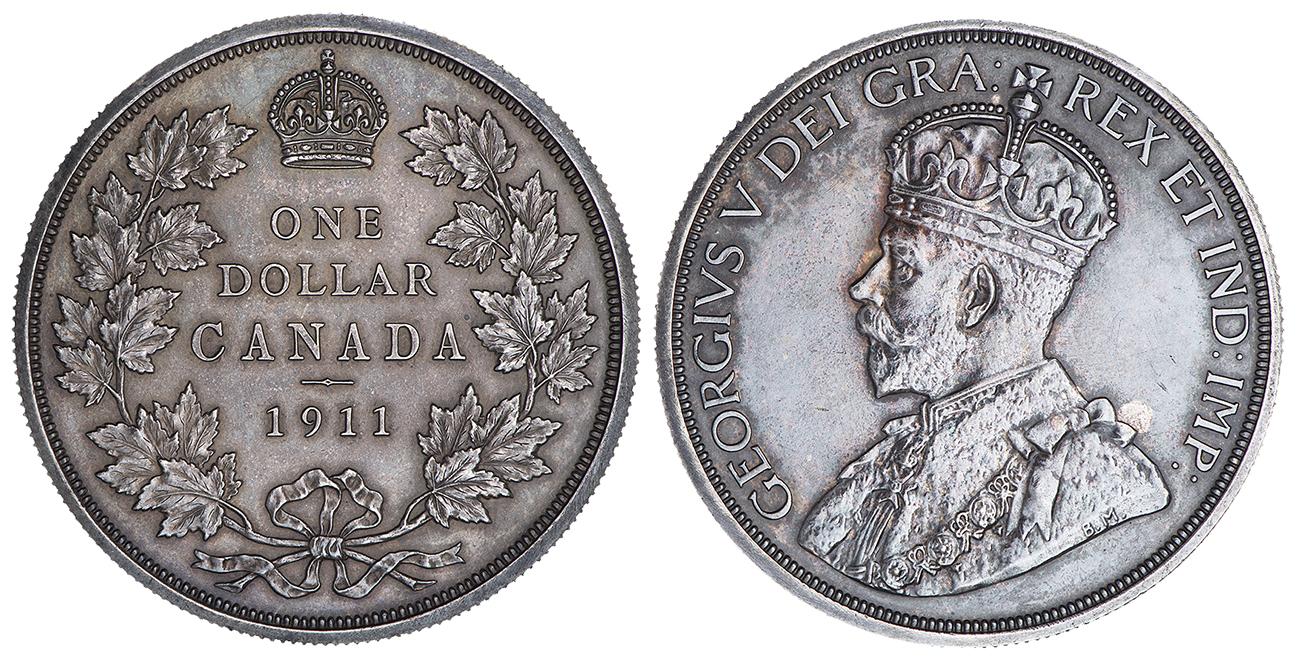 1911 Special Edition Silver Dollar pattern coin. Image: Bank of Canada Currency Museum
The Canadian Currency Act of 1910 provided for the production of silver dollars in a .925-fine silver format, known as sterling silver. A handful of new dollar coins were produced as specimens, with two known in silver and one in lead. While presentation cases for specimen sets were created with a portal for the new silver dollar, the Canadian government decided to abandon the production of any further silver dollars.
The 1911 specimen dollars, numismatically classified as patterns since none of these coins were produced as business strikes, are now considered the biggest prize in Canadian numismatics. The proposed coin design is thought by many to be the King of Canadian Coins in the collecting community.
The lead pattern and one of the two silver patterns are housed in public collections, meaning just one example of the 1911 silver dollar specimen is available in the private market. This ultra-rare coin has inspired fervent bidding on the occasions it has crossed the block, with its showing by Heritage Auctions in 2019 drumming up a final bid of $552,000.
7. 1948 King George VI Dollar: $750+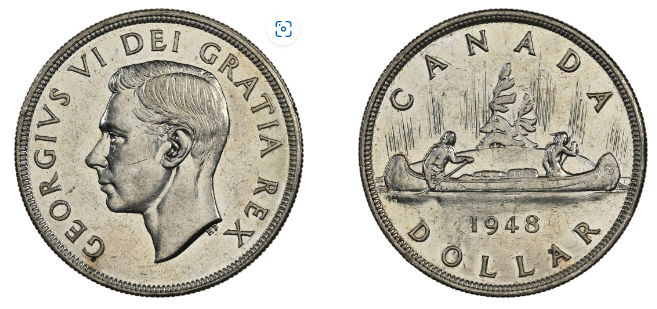 Canadian Silver Voyageur Dollar coin. Image: NGC Coin Explorer
The king of circulating Canadian silver dollars is none other than the prized 1948 King George VI dollar, which is the rare key date for the popular Canadian silver dollar series of 1935–1967. Striking of the 1948 silver dollar began later in the year, given a number of changes to the 1948 dies that had to be made to reflect India's then-recent independence from British rule following World War II. It was a change that meant removing the Latin inscription "ET IND:IMP" (for the royal titles of the reigning monarch in the United Kingdom) from Canada's coinage.
A small output of 1948-dated Canadian dollars resulted in the coin becoming quite scarce out the gate, with a total of only 18,780 pieces. Collectors revere this coin, which is necessary for completing date-run sets of Canadian silver dollars. Values start at around $750 in well-circulated grades.
8. 1916-C King George V Sovereign: $8,000+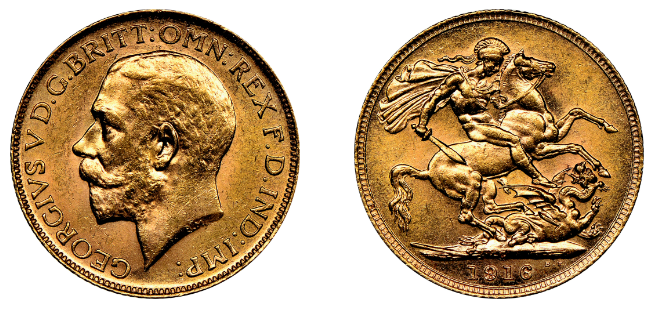 Canadian Gold Sovereign coin. Image: NGC Coin Explorer
Sovereigns have long been a staple of the British coinage system, as these gold pieces were popular worldwide. Outside of the British Royal MInt, both the Royal Australian Mint and Ottawa Mint produced small runs of the gold sovereign during the earlier part of the 20th century. Struck from 1908 through 1919, the Canadian sovereigns are generally regarded as common, and many can be bought for small premiums over their intrinsic gold value.
However, the 1916-C (Canada) issue is especially rare. Only 6,111 were made, and virtually all are believed to have been melted. Only 20 to 25 surviving examples remain for collectors today. These rare 1916-C Canadian sovereigns trade for $8,000 to $10,000 and up.
9. Platinum Maple Leaf Coin: $1,000+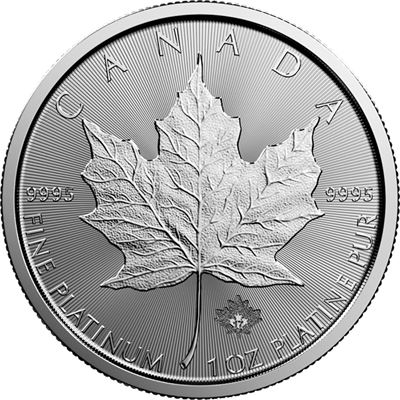 Canadian Platinum Maple Leaf coin
In addition to its Gold Maple Leaf and Silver Maple Leaf coin series, the Royal Canadian Mint also mints a platinum version of its flagship coin each year. They bear the same iconic maple leaf design as their gold and silver counterparts. Given the scarcity of platinum and the relative difficulty of sourcing the metal, the Platinum Maple is not minted in large numbers. The coin was first introduced in 1988, but none were minted between 2003–2008.
These coins are mainly marketed toward bullion investors, but a dedicated group of collectors pursue the series. With platinum prices trending above $900 per troy ounce, the Platinum Maple Leaf tends to sell for $1,000 and higher.
10. Big Maple Leaf Coin: $5,500,000+
100 kg Gold Maple coin
At the time that the "Big Maple Leaf" was unveiled in 2007, it was the largest gold coin ever minted in the world! (In 2011, the Perth Mint's 1 ton Gold Kangaroo coin surpassed the Big Maple.) Only six of these massive gold coins were initially made, each weighing an astounding 100 kilograms of pure gold. And when we say "pure gold," we mean *really* pure: Each coin is struck from .99999 fine gold, meaning they are 99.999% pure.
In terms of face value, the Big Maple is technically legal tender worth $1 million. (Good luck trying to spend this massive coin, though!) Its gold content is worth almost $6 million alone. Interestingly, one of these gargantuan gold coins was actually stolen from a museum in Berlin, Germany in 2017. The stolen coin has never been recovered, leaving just five examples of the coin in existence.
Shop for Canadian coins for sale at Gainesville Coins:
---
Joshua McMorrow-Hernandez is a journalist, editor, and blogger who has won multiple awards from the Numismatic Literary Guild. He has also authored numerous books, including works profiling the history of the United States Mint and United States coinage.
Read more about valuable coins from across North America from Gainesville Coins' numismatic experts:
Canadian Quarters Worth Money: From 1870 to Today
What Quarters Are Silver? - Silver Quarters
Best Place to Buy Gold Maple Leaf Coins
Half Union Coin: The Forgotten 50 Dollar U.S. Gold Coin
Buffalo Nickel Values and Price Charts (1913–1938)
Quick Facts About Canadian Silver Maple Leaf Coins
Shop for Canadian Silver Coins
Latest Offers, Straight To Your Inbox
Don't be the last to know about the latest deals and new product arrivals. Join us today for FREE!