Most Valuable Dimes: Comprehensive List for Collectors

Published: May 28, 2021
Table Of Contents:
Table Of Contents:
Believe it or not, some of the most valuable dimes are worth more than $1 million. But what makes some dimes worth seven figures while others are worth just the "TEN CENTS" face value stamped on the coin?
The delineation between rare dimes and common ones may not always be apparent at first glance. This is especially true when a new collector is trying to make sense of what makes a coin rare and valuable.
Let's review some of the most valuable dimes in the list below, along with an explanation of why each is worth more than face value:
1796 and 1797 Draped Bust Dimes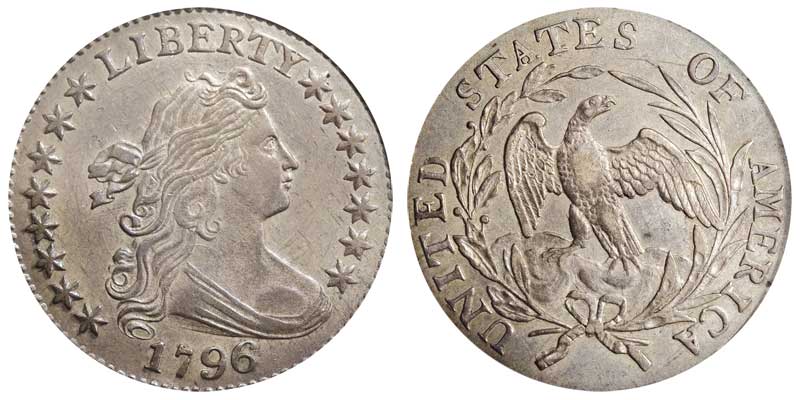 1796 Draped Bust dime
The dime was first struck in 1796, representing an early period in United States Mint federal coin production. The 1796 Draped Bust dime is extremely valuable. This is not just because it marks the first year the denomination was struck but also because it's a genuinely rare coin. Only 22,135 examples were made, and but a fraction of those survive. A 1796 dime is worth about $2,600 even in the heavily worn grade of Good-4. Dimes from the following year of 1797 also saw similarly low mintage figures and are worth $2,500 and up. 
Carson City Liberty Seated Dimes from the 1870s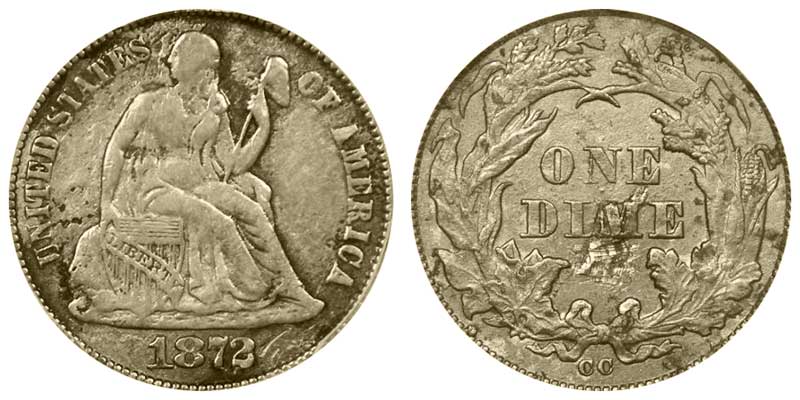 1872-CC Liberty Seated dime
It seems many collectors today are reflexively intrigued by any coin with a "CC" mintmark. It designated that the piece was minted at the Carson City Mint in Nevada. All coins bearing the "CC" mintmark are considered scarce by collectors today.
Tthe Carson City Seated Liberty dimes struck from 1871 through 1874 are exceedingly rare. All are at least four-figure coins in the grade of Good-4. The most valuable of these dimes is the 1873-CC, which saw a mintage of 12,400 pieces and offers collectors just one known survivor today. In one of its more recent trades, the 1873-CC dime in mint condition fetched $1,840,000!
1894-S Barber Dime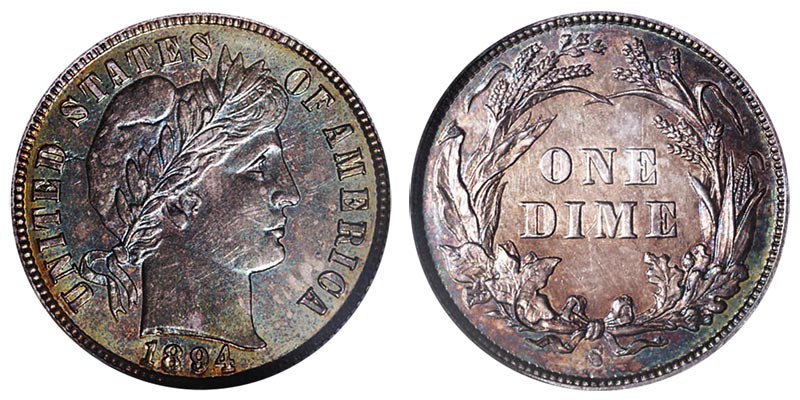 1894-S Barber dime, also known as a Liberty Head dime
Here's a valuable dime with a story. It's believed that the San Francisco Mint had an accounting shortfall of $2.40 in 1894. So, San Francisco Mint Superintendent John Daggett reportedly had a tiny sum of 24 proof dimes bearing the 1894 date, and "S" mintmark, struck to balance the books. He then gave many of these 1894-S Barber dimes to his close friends and associates. He also is said to have given three to his daughter, Hallie, who spent one of them on a dish of ice cream and kept the other two.
Only nine 1894-S proof Barber dimes are accounted for today, and all realize more than $1 million when they cross the auction block today. 
1916-D Mercury Dime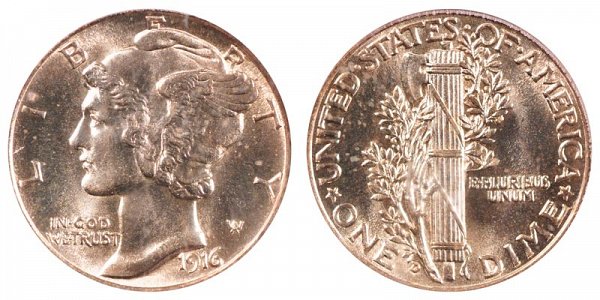 1916-D Mercury dime
The 1916-D Mercury dime is just about as famous a rarity as the 1909-S VDB Lincoln cent. Only 484,000 examples of the 1916-D Mercury dime were made, and just a fraction of those exist today—hardly enough to meet collector demand.
While many people dream of landing a 1916-D Mercury dime in circulation, this has unfortunately always been a difficult piece to find in pocket change. The best way to acquire one is to buy one from a coin dealer. The 1916-D's wide visibility as a rarity and insufficient supplies push values up on this coin. It regularly trades for around $1,000 in low circulated grades. Nicer specimens take higher prices, with examples in Extremely Fine-40 selling around $5,500. Uncirculated examples with Full Bands can take in more than $10,000. 
1942/1 and 1942/1-D Overdate Mercury Dimes
1942 Over 41 Mercury dime
These scarce overdate varieties are two of the most sought-after dimes from the 20th century. These pieces are odd, to say the least, particularly given that they are both from the same date.
The 1942/1 variety from Philadelphia clearly shows the numeral "1" to the immediate left and just barely under the "2" in the date. At the same time, the 1942/1-D exhibits light traces of the "1" under the left side of the "2."
Both examples are considered scarce by most numismatists. These coins are generally worth $400 to $500 in the circulated grades. Uncirculated specimens are much rarer still, staking around $2,500 or more. 
1975 No-S Roosevelt Dime
The 1975 No-S proof Roosevelt dime is one of the most valuable of all modern coins. Just two known specimens exist. The most recent sale realized $456,000—nearly a half-million dollars.
It's not hard to see why this coin is worth so much. There are just a couple available, and they belong to one of the most widely collected series of all United States coins. However, collectors—especially newbies—need to know that both examples are accounted for. They will not find this coin floating around in pocket change.
If, and that's a big "if," there is a third specimen out there, it will most likely be found in a 1975 proof set. Any 1975 dimes found in pocket change without a mintmark are from the Philadelphia Mint, which did not place mintmarks on dimes at that time. 
1982 No-Mintmark Roosevelt Dime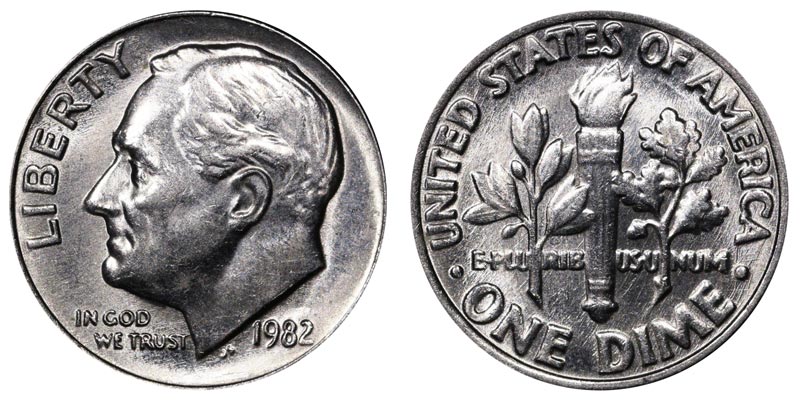 1982 Roosevelt dime (no mintmark)
The Philadelphia Mint began applying mintmarks to dimes in 1980. But in the early '80s, mintmarks were still individually hand-punched onto working dies. Apparently, a set of dies went into production without the "P" mintmark. Many of these 1982 no-mintmark dimes were shipped to Ohio, and possibly thousands were distributed as change at the Cedar Point amusement park in Sandusky, Ohio.
The 1982 no-mintmark dime is a considerably scarce variety. Likely tens of thousands were minted—a small percentage of the 519.4 million 1982 Roosevelt dimes the Philadelphia Mint produced that year. The 1982 no-mintmark dime with a weak strike is worth about $55 in typical uncirculated grades. Those bearing a stronger strike are worth closer to $175 and up. 
Other Valuable Dimes
In addition to the most valuable dimes listed above, there are others you should keep an eye out for. They include the following:
Barber and Mercury dimes – We're mainly focusing on the super-valuable dimes in this article, but that's not to suggest those not listed here aren't worth keeping. All 19th-century coins are relatively scarce and valuable; even those from the earlier decades of the 20th century are, too. That's so with Barber and Mercury dimes, all of which are worth at least $2 and up in worn condition. 
All pre-1965 Roosevelt dimes – These contain a 90% silver composition and are worth significantly more than their face value. When silver trades at $25 per ounce, a typical worn pre-1965 Roosevelt silver dime has a silver content value of around $1.81. 
No-mintmark proof Roosevelt dimes made after 1967 – Most proof Roosevelt dimes made since 1968 have been struck at the San Francisco Mint, which places an "S" mintmark on its proof coinage. However, some modern proof coins from the San Francisco Mint lack this critical detail. We've seen this with the 1975 no-S proof Roosevelt dime, and this is also the case with certain proof dimes from 1968, 1970, and 1983. Proof Roosevelt dimes from those years are known without an "S" mintmark, and all of these varieties are rare and worth hundreds or thousands of dollars apiece. 
1996-W Roosevelt dime – In honor of the 50th anniversary of the design, the West Point Mint issued Roosevelt dimes with a W mintmark in 1996. They were included in 1996 uncirculated sets specially for collectors. This is still the only non-bullion coin ever issued at the West Point facility.
---
Joshua McMorrow-Hernandez is a journalist, editor, and blogger who has won multiple awards from the Numismatic Literary Guild. He has also authored numerous books, including works profiling the history of the United States Mint and United States coinage.
More information on collecting dimes from the authors at Gainesville Coins:
Key Date Barber Dimes: Price Guide
Key Date Mercury Dimes: 1916-D, 1921, 1921-D
Key Date Roosevelt Dimes: Collecting Tips
How Much Is a Silver Dime Worth?
Latest Offers, Straight To Your Inbox
Don't be the last to know about the latest deals and new product arrivals. Join us today for FREE!