The 17 Most Valuable Quarters: Price List With Pictures

Published: September 09, 2020
Updated: June 16, 2021
Table Of Contents:
Table Of Contents:
The quarter dollar was first put into production in 1796. Since then, it has seen more than a dozen distinct types and major subtypes issued over more than two centuries as circulation money.
Quarters are also a favorite denomination for new United States Mint design programs, which has drawn millions to coin collecting. In 1999, the quarter became the canvas for the 50 State Quarters program, and more recently, the America The Beautiful Quarters series in 2010. 
There are many excellent rarities to be found among the quarter. So many that coin collectors stay quite busy chasing them down for their albums and sets. Like pennies, some valuable Washington quarters and proof coins can on rare occasions be found in pocket change.
Looking back over the long history of the quarter, a numismatist will easily spot perhaps 50 to 100 significant semi-key dates and popular varieties. Then there are the major rarities, silver quarters worth money—and there are several valuable coins in the series.
Let's look at 15 of the most valuable quarters and find out what they're worth today. Our list will range from quarters with the date 1796 to 1937, listed in chronological order. (Prices updated 2020.)
1. 1796 Draped Bust Quarter, Small Eagle Reverse
1796 Draped Bust quarter (Small Eagle reverse). Image: USA CoinBook
This early Federal-era quarter is popular as both a first-year issue for the quarter and as a considerable rarity. With a mintage of just 6,146 pieces produced, the 1796 quarter is sought by all who collect classic United States coinage. Values start at around $10,000 for an example in Good-4.
2. 1804 Draped Bust Quarter, Heraldic Eagle Reverse
1804 Draped Bust quarter (Heraldic Eagle reverse). Image: USA CoinBook
Following a hiatus that began in 1797, quarters were once again issued in 1804, the denomination's second year of production. The 1804 quarter has a mintage of 6,738 pieces and is extremely scarce in all grades. Examples in the lightly circulated grades and all Mint States levels are exceedingly rare. Examples in Good-4 trade for $3,500 and up.
3. 1805 Draped Bust Quarter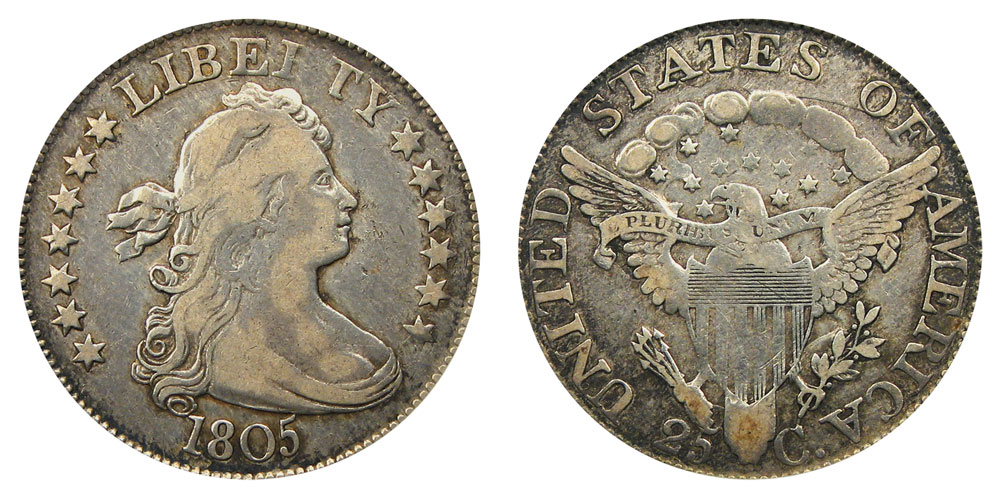 1805 Draped Bust quarter. Image: USA CoinBook
Although the 1805 quarter is not quite as expensive as its predecessor, it's still a rare quarter worth money to collectors. The mint struck 121,394 of these quarters. They are especially hard to find in uncirculated condition, where a pristine example is worth more than five figures. In a grade of Good-4, this coin trades for over $500 a pop.
4. 1823 3 Over 2 Capped Bust Quarter
1823 3 Over 2 Capped Bust quarter. Image: USA CoinBook
This overdate variety is rare, and while the 1823/2 quarter has a mintage of 17,800 pieces, only a handful are known—perhaps numbering 30 to 35 examples in all. There are no known proof Capped Bust quarters. Prices for this exceptional rarity begin at more than $20,000 in Good-4 and increase at each coin grading threshold from there. 
5. 1828 25 C. Over 50 C. Capped Bust Quarter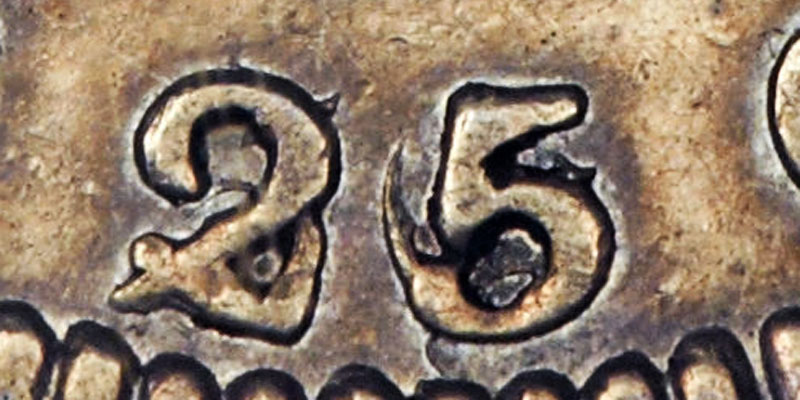 1823 3 Over 2 Capped Bust quarter. Image: USA CoinBook
Similar to an overdate, this quarter features the denomination "25 C." (for 25 cents) repunched over the original incorrect number of "50 C." The mistake arose because back in the 19th century, inscriptions were punched into coin dies by hand. It's unclear how many of these 1828 25/50 C. quarters exist, but it is a small fraction of that year's mintage of 102,000. Prices for examples grading Good-4 run about $250 and approach $25,000 in Mint State.
6. 1870-CC Liberty Seated Quarter
1870-CC Seated Liberty quarter. Image: USA CoinBook
The Carson City Mint, known for its "CC" mintmark, is one of the most storied coin production facilities of all branch mints outside of the "Mother Mint" in Philadelphia. (The others include the Denver, San Francisco, and New Orleans Mints.) This is partly due to the low mintages of the coins struck at this mint, which operated in the heart of silver mining country in Nevada. The 1870-CC quarter has a mintage of only 8,340. This rare date is worth values ranging from about $10,500 in Good-4 into the six figures when sold at auction for an uncirculated specimen.
7. 1871-CC Liberty Seated Quarter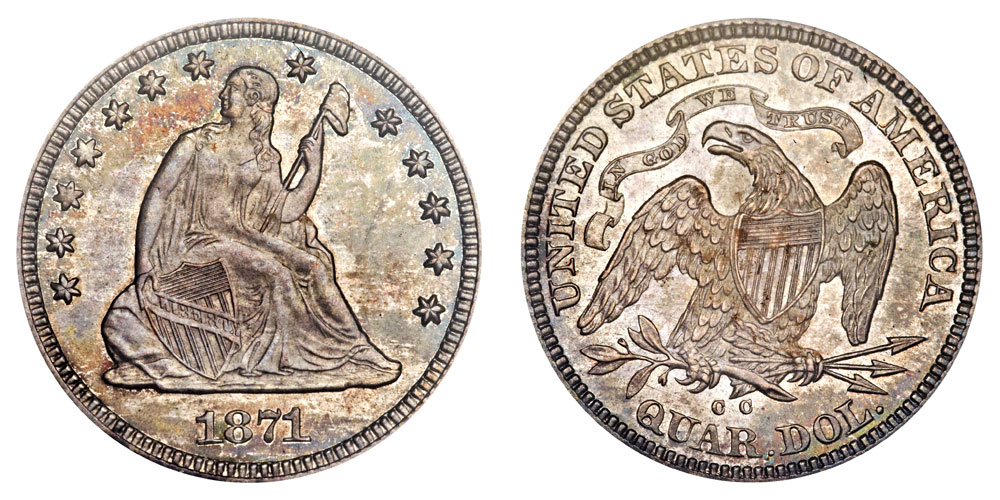 1871-CC Seated Liberty quarter. Image: USA CoinBook
Another rare Carson City Mint issue, the 1871-CC, is among the top coin sought by Liberty Seated quarter enthusiasts. Only 10,890 were minted, and a fraction thereof still exist. Prices for this coin start at approximately $7,500 in Good-4.
8. 1872-CC Liberty Seated Quarter
Yet another scarce CC-mint Seated Liberty quarter, this date is more common than its 1870-CC and 1871-CC counterparts but still rare. Some 22,850 were struck, but far fewer are known today. That's still a lower mintage than the sought-after 1840-O Seated Liberty quarter varieties. These 1872-CC pieces realize around $2,000 in Good-4.
9. 1872-S Liberty Seated Quarter
This S-mint rarity from the San Francisco Mint is desirable in all grades, with prices of around $1,750 for a Good-4 example. That rivals how much a proof Liberty Seated coins worth from throughout the series. The 1872-S quarter has a mintage of 83,000 and is generally sought by series enthusiasts who wish to obtain every date-and-mintmark issue. 
10. 1896-S Barber Quarter
1896-S Barber or Liberty Head quarter. Image: USA CoinBook
The Barber quarter series is one of the most widely collected types that span the 19th and 20th centuries. Several notable key and semi-key dates are known for these coins. Among them is the 1896-S, a popular semi-key coin with 188,039 quarters minted that year and is worth around $850 in Good-4.
11. 1901-S Barber Quarter
Only 72,664 examples of the 1901-S Barber quarter were made, and coin collectors vigorously pursue it. While it's a major objective for Barber quarter enthusiasts, the 1901-S ranks overall as one of the most important rarities of the 20th century. Prices for the 1901-S Barber quarter begin at $4,000 for a Good-4 specimen.
12. 1913-S Barber Quarter
1913-S Barber quarter. Image: USA CoinBook
The lowest-mintage regular-issue business-strike quarter of the 20th century, the 1913-S Barber quarter saw the production of only 40,000 pieces. And while it's the lowest-mintage quarter struck in the 1900s, it's not necessarily the most valuable. The 1913-S Barber quarter commands $1,550 in Good-4.
13. 1916 Standing Liberty Quarter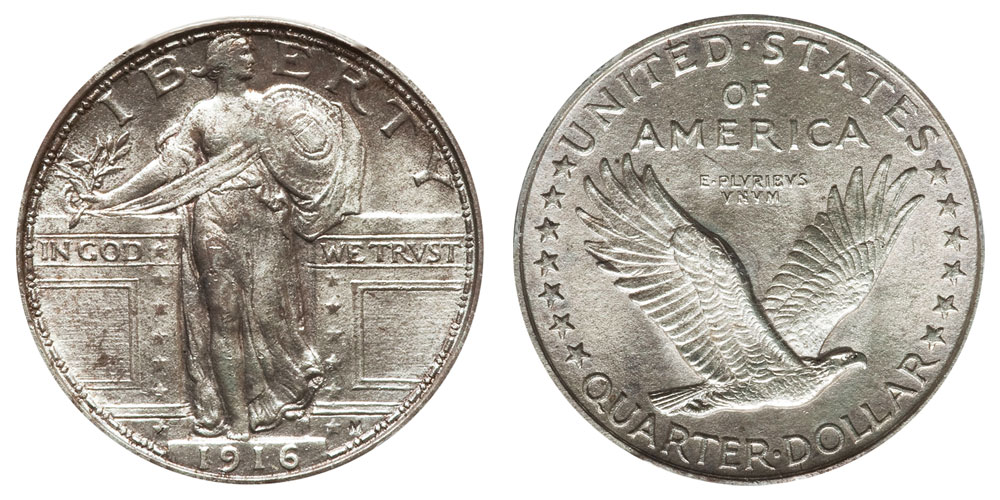 1916 Standing Liberty quarter. Image: USA CoinBook
The key date of the Standing Liberty quarter series and one of the most sought-after rarities of the 20th century, the 1916 Standing Liberty quarter is also sought after as a first-year-of-issue coin. It has a mintage of 52,000 pieces and offers a touch of controversy. The 1916 shows Miss Liberty's exposed right breast—a matter leading to a revision of the design in 1917 that covers her front with a chain mail. (The addition of the chain mail also signaled the entrance of the Untied States into World War I.) The 1916 Standing Liberty quarter sells for $2,250 in Good-4.
14. 1918-S 8 Over 7 Standing Liberty Quarter
1918-S 8 Over 7 Standing Liberty quarter. Image: USA CoinBook
This rare overdate error is a major prize for Standing Liberty quarter enthusiasts. Perhaps a few thousand specimens exist, but this number is still too small to meet the demand for this piece. The value for this coin in Good-4 hovers around $1,800.
15. 1932-D Washington Quarter
The first year of the George Washington design on the quarter, which began with the 1932 Washington quarter and continues today, offers two scarce key-date coins. The first of these mentioned here is the 1932-D. This date saw a small mintage of just 436,800 pieces and is sought after by collectors in any grade. A Good-4 specimen sets collectors back around $160.
16. 1932-S Washington Quarter
The second of the two first-year key dates for the Washington quarter series, the 1932-S, has a mintage of 408,000 pieces. This date is remarkably scarce—and highly popular with collectors, too. The 1932-S Washington quarter is worth about $150 in Good-4.
17. 1937 Doubled Die Obverse Washington Quarter
1937 Doubled Die obverse Washington quarter. Image: USA CoinBook
The final valuable Washington quarter to be mentioned in this article is the 1937 doubled die obverse Washington quarter. The series boasts several doubled die varieties, but the 1937 is one of the scarcest and most valuable of these across the grading spectrum. Collectors will find the most significant evidence of hub doubling in the date. Values for this coin are about $600 in Very Fine-20 and up.
While these 15 old rare quarters worth money are among the most valuable United States quarters, there are many more scarce coins out there. A numismatist may spend several years and countless sums to assemble a complete collection of rare and valuable quarters.
Still, the search for these coins can be thrilling, and the completion of such a cabinet truly rewarding and worth the time.
---
Joshua McMorrow-Hernandez is a journalist, editor, and blogger who has won multiple awards from the Numismatic Literary Guild. He has also authored numerous books, including works profiling the history of the United States Mint and United States coinage.
More most valuable coin price guides from Gainesville Coins:
Washington Quarter: Key Dates & Varieties
15 Most Valuable Jefferson Nickels: Complete Price Guide
Most Valuable Half Dollars: John F. Kennedy Design
Most Valuable Ben Franklin Half Dollars
Valuable Silver Dollars: Eisenhower Design
Latest Offers, Straight To Your Inbox
Don't be the last to know about the latest deals and new product arrivals. Join us today for FREE!