Spot Price: Definition & Practical Uses
Published: January 26, 2021
Updated: February 10, 2021
This guide will break down what spot prices are, the ins and outs of how they factor into gold and silver coin prices, and how you can get the best deals for your money.
What Is Spot Price?
The spot price, sometimes called the bullion spot price, refers to the current price of gold or silver for immediate delivery. It is the price of an asset "on the spot." This takes into account both the time (i.e. right now) and the place.
Visit our live spot price charts for up-to-the-minute metals spot prices and historical price charts.
Spot prices are used for most commodities, including each of the precious metals: platinum and palladium in addition to gold and silver. The typical unit of measurement is the troy ounce.
Links to the individual spot price pages for each of the metals are provided below:
Current Gold Spot Price
Current Silver Spot Price
Current Platinum Spot Price
Current Palladium Spot Price
Price charts are an important tool for investors
What Spot Price Isn't
Spot prices are not exactly what you should expect to pay for bullion products. (You can read more on that below.) The spot price doesn't include factors such as the cost of labor or manufacturing.
Moreover, spot prices are not set in the stone. Prices constantly change, fluctuating throughout the day and changing moment to moment based on activity in the trading markets. This is not unlike the value of a stock market index like the S&P 500 or other securities.
Investopedia has an excellent in-depth explanation with its nuanced spot price definition.
Understanding How Spot Prices Are Used
Spot prices help us calculate how much the metal in a coin is worth. This ultimately dictates how much you can expect to pay or get for them when buying or selling these investment coins.
Consider the following examples, starting with the commonly traded Morgan dollar. It is one of the most popular 90% silver coins among both numismatists and bullion investors.
A standard-weight Morgan dollar contains 0.7734 ounces of pure silver. Converted into a percentage, that's 77.34% of one ounce of silver.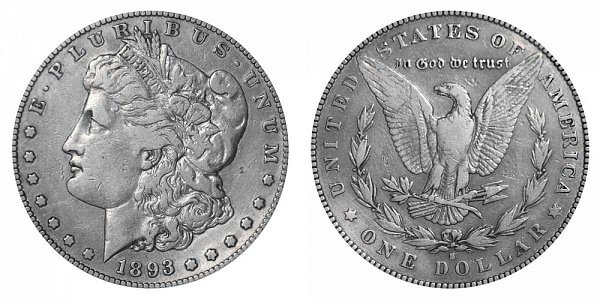 Morgan silver dollar from 1893
Extrapolating this mathematical equation one step further means the melt value of a Morgan dollar is whatever 77.34% is of the current silver price per ounce. If silver prices are $25 per ounce, then a Morgan dollar contains $19.33 in silver.
The same process applies to gold. If the Morgan dollar is the king of United States numismatic silver coins, then the Saint-Gaudens double eagle surely reigns above all pre-1933 U.S. vintage gold as the favorite of both collectors and investors.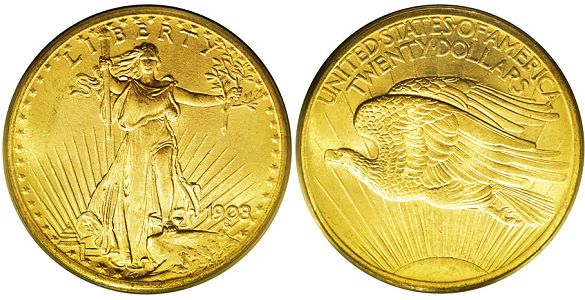 Saint-Gaudens double eagle gold coin
That's no overstated claim, either. In fact, in recent years, numismatic premiums have softened on common-date Saint-Gaudens double eagles. This is due to an influx of shipments from overseas hoards, making these coins even more appealing to gold bullion investors pricewise.
A typical Saint-Gaudens $20 contains 0.9675 troy oz of gold—or 96.75% of an ounce of gold. Breaking out the old calculator when spot gold prices are $1,800 per ounce, we see the melt value on a Saint-Gaudens double eagle is $1,741.50.
The Spot Price Should Inform Your Buying Decisions
We've established that bullion spot prices affect what you pay when buying gold or silver coins.
Still, they play a more significant role than just understanding the base worth of a precious-metal coin. This is especially true when dealing with vintage coinage. These coins ordinarily carry a numismatic premium above the spot price alone.
Factoring in the spot price compared to the total retail price of a coin can help a buyer determine if the coin is worth buying on the merits of its intrinsic metal content alone.
Sure, a key-date 1889-CC Morgan dollar is a silver coin. But with a mintage of only 350,000 pieces and survivorship numbers but a fraction thereof, it's not just a silver coin. It's a rarity that many numismatists spend a veritable lifetime dreaming about owning. It might contain about $20 of silver right now. Still, it's worth thousands of dollars as a collectible due to its relative rarity. So, that probably isn't the kind of coin you're going to buy to place atop your stack of silver.
If you're ever in a pinch and not sure what constitutes a good deal as a silver buy, simply follow these steps:
Look up the coin's precious metal content. Make sure it's the net weight or "actual metal weight," not the gross weight.
Multiply this number (the weight) by the current metals price.
Determine if the margin between the coin's melt value and the retail price is something you feel is worth paying.
Many bullion brokers and coin dealers have already done the hard work of determining what coins are better buys as bullion pieces versus which are numismatically important. This is particularly so with silver coins, which are often sold in roll and bag quantities as "junk silver. " Junk silver coins hold no significant numismatic premium above their melt prices.
Bag of old coins
Where to Find Good Deals on Silver & Gold Coins
Let's get this out of the way right now: as a retail customer, you are not going to buy silver and gold coins at their spot prices alone. There will always be some mark-up (also known as a premium).
Choose a seller who openly shows you their premium over spot on all of their bullion products. The items with the lowest premium over spot (per ounce) are the best deals. Simply put, the more confusing it is for you to calculate the premium over spot price on a gold or silver product, the more wary you should be to avoid overpaying.
You also want a dealer who carries a large inventory of quality gold and silver coins that are offered at fair market prices. This makes comparison shopping clear and easy.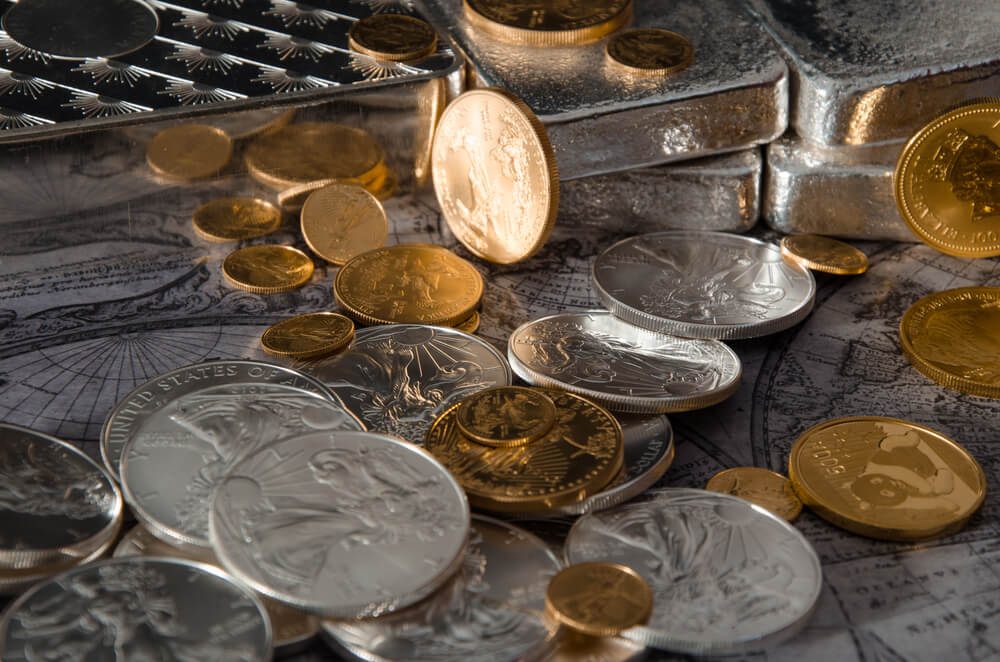 Various gold and silver coins and bullion
The best gold and silver coin dealers are affiliated with or partners of major industry organizations. This includes Professional Coin Grading Service, Numismatic Guaranty Corporation, Industry Council for Tangible Assets, National Inflation Association, and other respected groups.
Any truly professional bullion expert will also be willing to answer your questions. Gainesville Coins can help educate you on spot prices and other precious metals basics so you can buy the bullion products that are right for you and your investment goals.
Frequently Asked Questions (FAQs) About Spot Prices
How do you calculate spot price?
There is no set formula for spot prices. They are determined by the futures price, which is itself a reflection of supply and demand for gold. Spot can be expressed in any currency by using exchange rates.
As you move down the supply chain, a small premium is added to the spot price. This mark-up covers the cost of labor and fabrication for manufacturers of gold products. It also often covers overhead costs for businesses that sell gold.
Why is silver selling for so much over spot?
The premium over spot on silver bullion is always the result of the dynamics between supply and demand. During the economic shock that accompanied covid-19, there were major disruptions in supply chains for silver, as well as production delays in the mining sector. This meant that demand for silver is far outstripping the available supply on the market.
The combination of less silver available and strong demand to buy silver has resulted in higher mark-ups on silver products throughout the supply chain.
What is the difference between gold spot price and futures price?
Futures prices are specifically what market participants are willing to pay for a set amount of gold (usually 100 troy ounces in the case of a COMEX contract on the New York Stock Exchange) at a set date for future delivery (generally one month forward). Different contract sizes are used in other gold hubs like London or Hong Kong.
You may also hear futures referred to as "forward contracts" or "forward prices." The idea is the same. The contracts trade like a security and represent ownership of the underlying asset.
The biggest difference between spot prices vs futures is how they are used and by whom. Futures contracts are used by speculators in financial markets to "bet" on the direction of the gold price. They are also used by gold producers and sellers to hedge their positions, and by large institutions to purchase gold in bulk quantities.
By contrast, the spot price is the current price for gold at a given time and place. It is essentially the melt value of a unit of gold (typically measured in troy oz). Spot prices are used by producers, wholesalers, and retailers to set fair prices for their products.
Like crude oil or any other commodity, the current spot price of gold is derived from the futures price. This process of price discovery is how a current market price for gold is determined. There tends to be a modest gap between the two prices, but spot and futures virtually always move in the same direction.
Can the future price be lower than spot?
This actually does occur on occasion and is known as "backwardation." Periods of backwardation are generally brief, however. The normal situation where futures prices are higher than spot is known as "contango."
---
Joshua McMorrow-Hernandez is a journalist, editor, and blogger who has won multiple awards from the Numismatic Literary Guild. He has also authored numerous books, including works profiling the history of the United States Mint and United States coinage.
More explainer articles from Gainesville Coins:
What Are Gold Bars and What Are They Used For?
Troy Ounce vs Ounce: What's the Difference and Why Does It Matter?
Silver Coins vs. Silver Rounds: What's the Difference?
Where Does Gold Come From? The Comprehensive Answer
Latest Offers, Straight To Your Inbox
Don't be the last to know about the latest deals and new product arrivals. Join us today for FREE!