Top 10 Most Popular Gold Coins

Published: February 09, 2021
Updated: November 09, 2021
Table Of Contents:
Table Of Contents:
While there are many popular gold coins, several regularly rank as the most sought after. Our top 10 gold coins are listed below.
#1 – United States Saint-Gaudens Double Eagle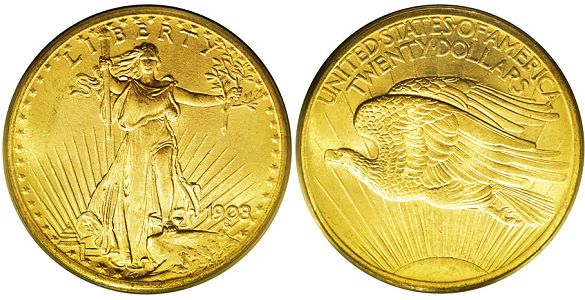 1908 Saint-Gaudens double eagle (No Motto). Image: USA CoinBook
Speaking of the [Saint-Gaudens double eagle](/category/499/20-saint-gaudens), it ranks here as the most popular gold coin. This claim is undeniable for a series long touted as the most beautiful ever produced. The obverse presents a majestic view of Miss Liberty carrying a torch. She stands tall before the U.S. Capitol Building in Washington, D.C., awash in the fresh light of a rising sun. On the reverse is an eagle in flight before a ray-studded sun disc emerging from below. The symbolic design is simply resplendent, calling collectors as if a siren far and wide. In more recent years, hoards of Saint-Gaudens double eagles have appeared in Europe. These emerging bulk quantities of Saint-Gaudens double eagles have helped mitigate numismatic premiums on the most common specimens. As a result, lower-grade pieces are now within close range of spot value. This has been an aesthetically pleasing boon to precious metals investors on a budget.
#2 – United States American Gold Eagle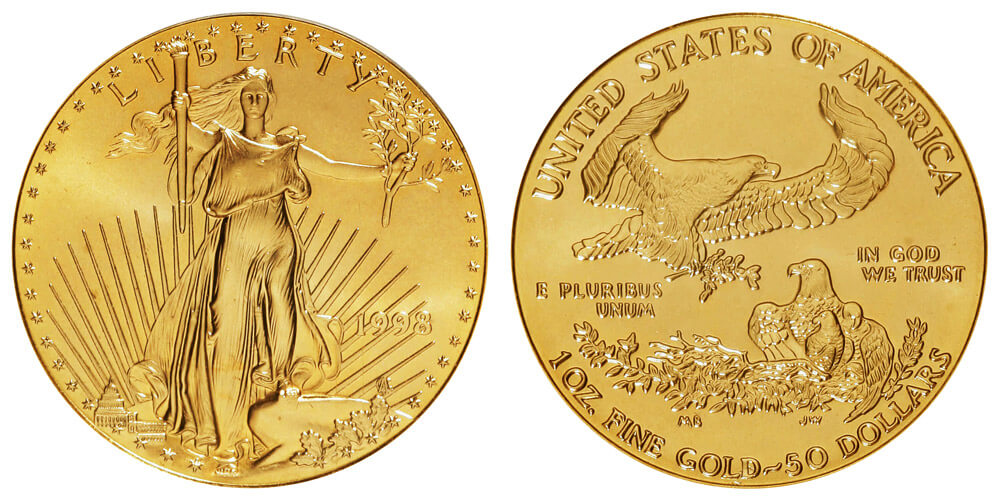 1998 1 oz American Gold Eagle. Image: USA CoinBook
The United States [American Gold Eagle](/category/14/buy-gold-eagle-coins) first took flight in 1986. It has since become one of the world's most in-demand bullion coins. The Gold Eagle coins are struck in four sizes, including one-ounce ($50 legal tender value), half-ounce ($25), quarter-ounce ($10), and tenth-ounce ($5) formats. They are mainly offered in bullion (formerly "uncirculated") and proof finishes. The coin's obverse carries the motif of a striding Lady Liberty, as first seen on the Saint-Gaudens double eagles of the early 20th century. The reverse shows a family of eagles, a design that was updated in 2021 to focus on the face of a solitary American eagle.
#3 – Canadian Gold Maple Leaf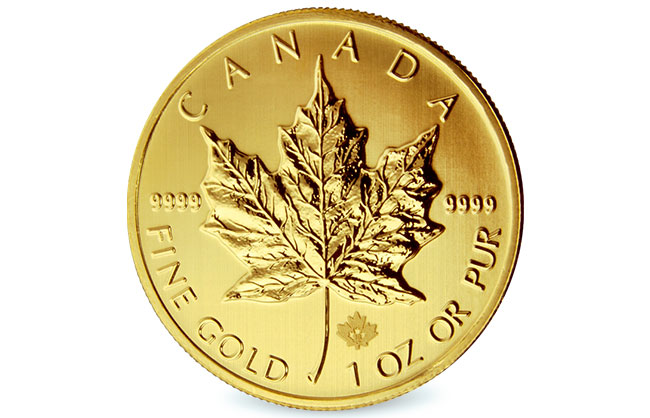 2013 Gold Maple Leaf reverse design
The Canada Gold Maple Leaf is one of the earliest gold bullion coins to hail from the Americas. Its design has long featured Queen Elizabeth II on the obverse and a maple leaf emblematic of Canada on the reverse. The Royal Canadian Mint struck the first Gold Maples in 1979 as one-ounce products. Today, the [Canadian Gold Maple Leaf](/category/414/canadian-gold-maple-leafs) is available in a range of sizes on down to 1 gram. The Canadian Maple Leaf is primarily the dominion of gold bullion investors. It was the world's first regularly-issued .999 fine gold coin, after all. However, many of these handsome gold bullion coins are struck in numismatic formats (like proof coins) and see much demand from collectors, too.
#4 – United States Indian Head Eagle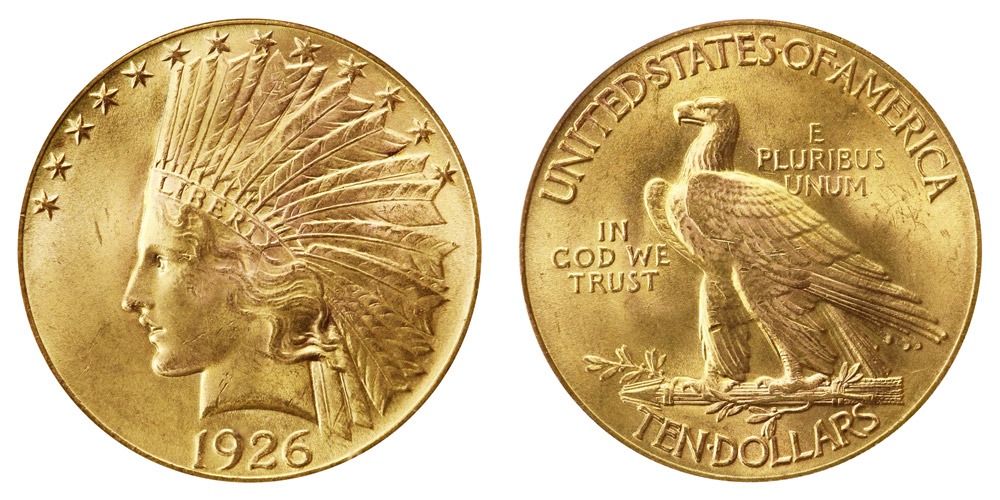 1926 Indian Head $10 gold eagle. Image: USA CoinBook
Famed sculptor Augustus Saint-Gaudens completed designs for two United States gold coins. The [Indian Head $10 gold coin](/category/578/$10-indian) was one of them. Struck from 1907 through 1933, this popular vintage U.S. gold coin showcases Miss Liberty in a striking Native American headdress. The reverse features an American eagle. While several dates are considerably scarce to downright rare, many issues are considered common. These common dates can be obtained in lower grades for prices around 10% above spot metal value.
#5 – Mexican Libertad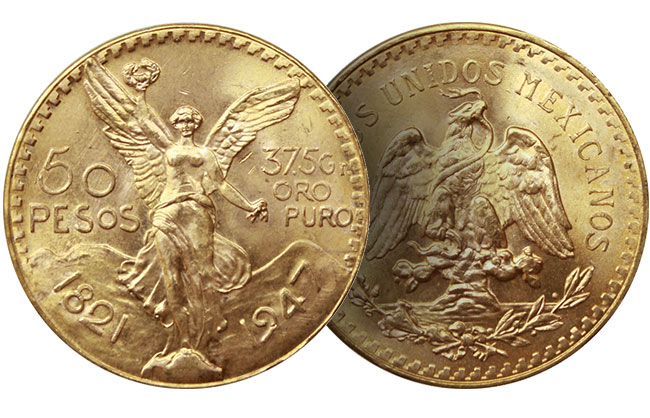 Mexico's Gold Centenario coin was the precursor to the Gold Libertad, bearing virtually the same design
Mexico's Gold Libertad is one of the first modern bullion coins offered in an array of fractional weights. The gold coin's introduction in 1981 made it available in 1/4 oz, 1/2 oz, and one-ounce sizes. Over the last four decades, the coins weighing 1/20 oz and 1/10 oz have also been added to the mix. The Libertad's obverse depicts the Mexican coat of arms, while the reverse features the Angel of Independence. This bare-breasted angel is one of the most iconic images to appear on a coin.
#6 – Chinese Gold Panda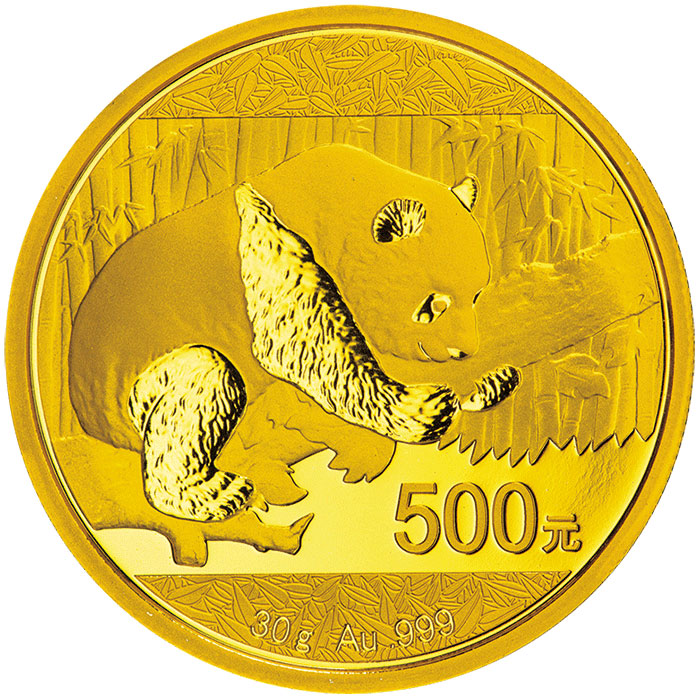 2016 30g Gold Panda obverse design
The Official Mint of the People's Republic of China has been producing the Chinese Gold Panda since 1982. Over the decades, the gold series has reigned atop the bullion coinage offerings of Asian origin. Gold Pandas are aptly named for the cute animal represented on the coin. Traditionally they included a range of sizes spanning from one troy ounce down to 1/20th of an ounce. Since 2016, the China Gold Panda series has seen changes in denominations and weight standards. The mint now uses the metric system based on grams. Thus, the Chinese Panda gold coin closest in weight to the standard one troy ounce is a 500 Yuan piece containing .9645 troy ounce (or 30 grams) of gold.
#7 – British Sovereign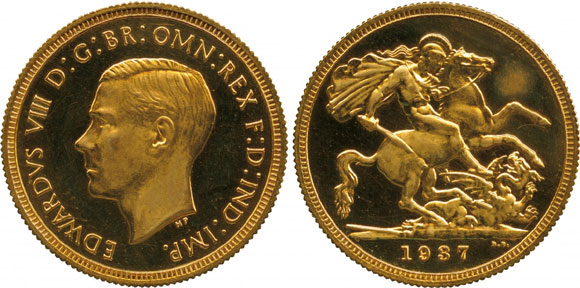 1937 Gold Sovereign of Edward VIII
This iconic British gold coin has been struck by the Royal Mint since 1817. It carries a legal tender face value of one pound sterling. Back in the day, it was popular as a circulating coin, and today it carries extraordinary fame with collectors. The obverse of the sovereign features the reigning British monarch at the time of the coin's production. At the same time, the reverse portrays the famous visage of Saint George slaying a dragon. [British Sovereigns](/products/158582/gold-british-sovereign-king-queen-common-date-extra-fine) share a broad market base with both collectors and investors. However, several exceedingly rare Sovereigns are worth many multiples of their gold value. They are primarily the object of desire for deep-pocketed collectors.
#8 – United States $3 Princess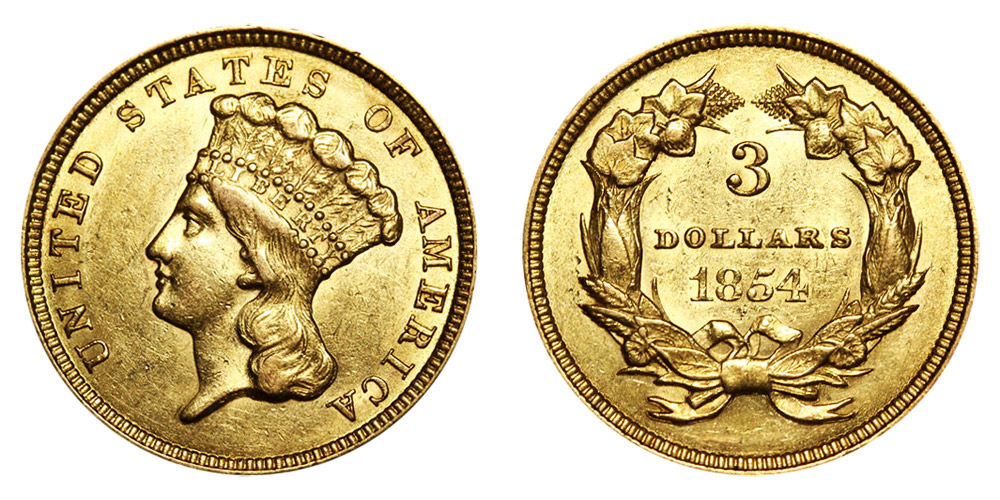 1854 $3 Indian Head Princess. Image via USA CoinBook
Among pre-1933 U.S. gold coins, collectors are familiar with the quarter eagle ($2.50 face value), half eagle ($5), eagle ($10), and double eagle ($20). Then there are the gold coins that may be slightly less familiar but are extremely popular with classic gold enthusiasts. One of these coins is the $3 Indian Princess Head. It was a gold coin produced from 1854 through 1889 that is roughly the size of a modern-day nickel. This coin regularly trades for well above its spot metal value because even the most "common" dates are relatively scarce.
#9 – France Marianne Rooster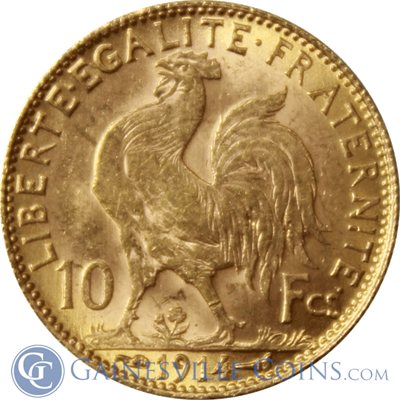 1914 French Rooster reverse design
This classic French gold coin is beloved by collectors around the world. The coin, minted from 1899 through 1914, has a denomination of [20 Francs](/products/176414/20-franc-gold-coin-swiss-or-french). It bears an obverse image of the French goddess Marianne, a young woman symbolizing liberty and reason. On the reverse is a rooster, which serves as an unofficial symbol of the French nation. French Roosters are often available for prices close to spot. They therefore make alluring gold "bargains" for investors who want an attractive vintage gold coin that doesn't break the bank.
#10 –South African Krugerrand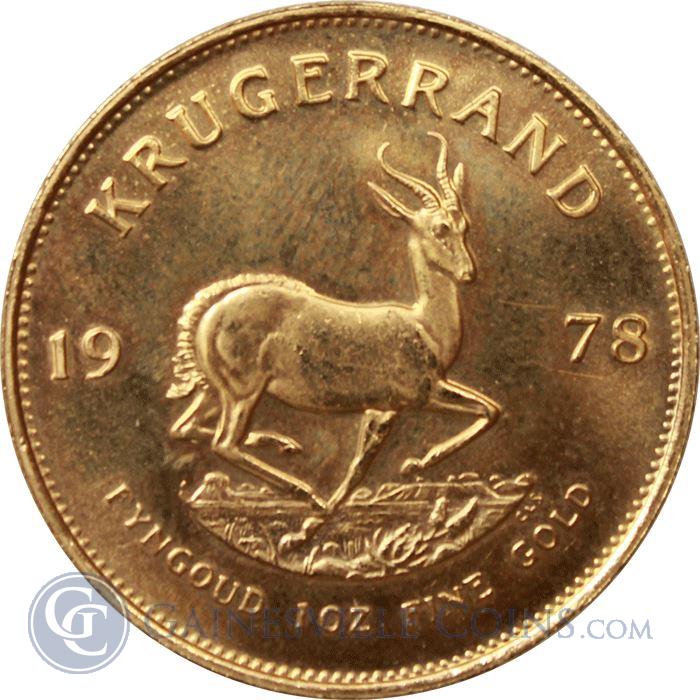 1978 Gold Krugerrand reverse design featuring a springbok
The [South African Krugerrand](/category/507/south-african-gold-krugerrands) is considered the world's first modern gold bullion coin. Introduced in 1967, the coin immediately drew controversy. Many investors were unable to include Krugerrands in their portfolios due to economic sanctions against South Africa's system of racial segregation known as Apartheid. After Apartheid came to an end in 1994, the coin saw increased popularity worldwide. Today, the South African Gold Krugerrand is among the most widely traded international gold coins hailing from south of the Equator. Shop for gold coins by browsing your options below:
##Honorable Mentions## Gold has been a treasured precious metal for millennia. It was the metallic basis of many circulating coins through the early 20th century. Today, gold coins are at the top of almost every coin investor's or coin collector's want list. In more recent decades, government mints worldwide have been producing high-purity [gold bullion coins](/category/2258/gold-coins). These have been well received by both precious metals investors and collectors seeking modern gold coinage. Three more popular gold bullion coins deserve mentioning here. Perth Mint's **Australian Gold Kangaroo** was first issued in 1986, when it was known as the Australian Gold Nugget. This coin remains a popular investment coin worldwide. Similarly, the **Austrian Gold Philharmonic** is the most popular bullion coin in Europe. Its award-winning design honors the famous Vienna Philharmonic Orchestra. The **American Gold Buffalo** is another American gold coin. Unlike the 22-karat Gold Eagle, the Gold Buffalo is struck from .9999 fine gold (99.99% pure gold). The same is true of the Gold Kangaroo and Philharmonic gold coins, making them among the best gold coins available on the market for investment purposes. ----------
Joshua McMorrow-Hernandez is a journalist, editor, and blogger who has won multiple awards from the Numismatic Literary Guild. He has also authored numerous books, including works profiling the history of the United States Mint and United States coinage.
More educational articles from Gainesville Coins:
[Investing in Gold: What You Need to Know](/blog/gold-investment-guide) [The 3 Best Ways to Buy Gold](/blog/best-ways-to-buy-gold) [How to Buy Gold Bars: Buyer's Guide](/blog/how-to-buy-gold-bars) [3 Reasons to be Bullish on Gold in 2021](/blog/gold-price-2021-why-bullish) [Best Silver Coins to Buy: Top 10 List](/blog/best-silver-coins-to-buy) [Top 15 Best Coins to Collect: A Definitive List](/blog/15-best-coins-to-collect) [15 Most Valuable Jefferson Nickels: Complete Price Guide](/blog/15-most-valuable-jefferson-nickels)
Latest Offers, Straight To Your Inbox
Don't be the last to know about the latest deals and new product arrivals. Join us today for FREE!