Most Asked Questions About US Mint Coins: Buyer's Guide

Published: January 03, 2022
Updated: November 22, 2023
Table Of Contents:
Table Of Contents:
Every year, the US Mint offers new collectible and commemorative coins to the public. Here are answers to the top questions people have about buying coins from the US Mint.
If you're ready to shop for US Mint silver coins, follow the link to see what US silver coins are available for sale at Gainesville Coins.
Can I Buy Bullion Coins From the US Mint?
The US Mint does not sell gold bullion coins nor silver bullion coins directly to the public. They do, however, offer a limited number of the same precious metal designs in proof and uncirculated finishes. The US Mint will accept orders for precious metal bullion coins from a select list of Authorized Purchasers, who in turn sell to wholesalers, who sell to the public. The US Mint provides a list on their website of bullion dealers where you can purchase US legal tender bullion coins.
Gainesville Coins is an authorized distributor for the US Mint, so you can find plenty of US Mint silver coins for sale on their website or by visiting their showroom in person to make your purchase. You can also call (813) 482-9300 during business hours to place an order, or ask one of their helpful representatives about product availability or pricing information.
Gold Eagle and Silver Eagle coins.
Can I Buy Gold and Silver Directly From the Mint?
Yes. Given that you can't buy uncirculated bullion coins from the mint, investors have two options for buying precious metals directly from the US Mint.
First, you can buy the proof or collectible versions of American Silver Eagle and American Gold Eagle coins from the mint. Second, you can buy any commemorative or collectible gold coins and silver coins the US Mint has on offer. The second category includes special Mint Proof Sets that include silver coinage as well as Congressional gold medals that are periodically offered. With either of the two options, the coins will be more expensive than their bullion coin counterparts.
What Is an American Silver Eagle Coin?
Silver Eagles are the official silver bullion coin of the United States. In a sense, it inherits the legacy of the Peace dollar and the Morgan silver dollar—the last two silver dollar coins issued as circulating money. But unlike these silver dollars, the American Silver Eagle is 99.9% pure silver, also called .999 fine silver.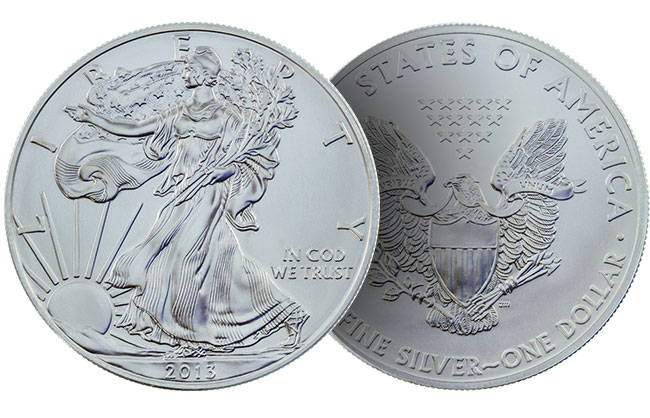 American Silver Eagle design, Type 1.
The iconic design of the Silver Eagle also has historical connections. The obverse side uses an enlarged and slightly modified version of the image on the Walking Liberty half dollar designed by A.A. Weinman. Lady Liberty is depicted striding toward the rising sun.
The original reverse design of the coin, used from 1986 through the first half of 2021, was created by engraver John Mercanti. It features an heraldic eagle carrying arrows and an olive branch in its talons. There is an inscription for the national motto, "E PLURIBUS UNUM."
Partway through 2021, the reverse of the Silver Eagle was updated with a new design of an eagle approved by the Citizens Coinage Advisory Committee. It is known as the Type 2 American Silver Eagle.
You can learn more about Silver Eagles by following the link.
Can I Buy Gold Bars From the US Mint?
No, the United States Mint does not produce gold bars for sale. However, other government mints do strike gold and silver bars, such as Perth Mint (Australia) and the Royal Canadian Mint.
Why Are the Numbers of Some Coins Limited?
Many commemorative coins, proof coins, and coins with the special "uncirculated" finish have mintage limits. In the case for commemorative coins and medals, the mintage limit is set by Congress in the law authorizing the coin. Other collectible coins and medals may have mintage limits set by the Mint itself.
Mintage limits add to the perceived collector value of the coin. Numismatists are usually uninterested in coins that are produced in unlimited numbers. This is true of numismatic coins from any mint, not only the US Mint.
US Mint logo.
What Are Order Limits and Household Limits?
Many limited mintage items will have a demand greater than the supply. The US Mint will place order limits or household limits on purchases of these items. This is to give customers a better chance of purchasing the item, compared to situations where a company could buy them all up for resale at higher prices.
Order Limit: Order limits restrict the number of a particular item that can be purchased by a single person or business.
Household Limit: Household limits apply to shipping addresses. If two people live at the same address, and there is a household limit of 1 for the coin, only one person can buy one. If the household limit is 3, then up to three people at the same address could buy one. If only one person was interested in the coin, they could buy the household limit by themselves, in this case being 3 coins
Why Does the US Mint Change Their Prices On Some Coins?
The US Mint does not get taxpayer money. In fact, the US Mint is expected to make a profit every year, and send the proceeds to the Treasury Department to be applied toward the National Debt.
Prices on precious metal coins and medals are set with this in mind. However, a jump in precious metal prices could end up costing the Mint more than they are charging. Conversely, a big drop in precious metal prices should be passed on to the buyer.
That's why the US Mint uses a pricing range table each week, to set the price of currently available precious metal coins and medals. If the average weekly price of gold, platinum, or palladium changes enough, it may land in a different zone than the prior week. In this case, the Mint will adjust the affected coins by a fixed amount. Price changes go into effect the following week.
Price Change Example 1:
If the average weekly spot price of gold moved from $1,842/oz to $1,863/oz, the price of the limited edition proof American Gold Eagle 1/4 oz coin would go from $715 to $727.50 the next week. The 1 oz proof American Gold Eagle would sell for $2,750 the next week, up from $2,700.
Price Change Example 2:
The price of platinum falls nineteen dollars, from $917 to $898. The following week, the price of the 1oz proof Platinum American Eagle would drop by fifty dollars, from $1,495 to $1,445.
The US bullion depository located at Fort Knox.
Why Does the US Mint Sell Circulation Coins For More Than Face Value?
When you first look at circulation strike coins on the US Mint website, you would probably be surprised by how much they cost. For example, a roll of 25 Native American $1 coins costs $34.50 + $4.95 shipping.
I can hear you thinking to yourself, "What the heck?" Each of those $1 Native American coins will only buy a dollar's worth of stuff, not $1.38 of stuff. Like the Susan B. Anthony dollars, these golden dollars are clad coins that aren't valuable aside from their face value.
The US Mint used to sell circulating coinage for face value plus shipping, but some people took advantage of it to make a lot of money. People were gaming their credit card cash back rewards by buying millions of dollars worth of dollar coins and circulating coins, then dumping them at the bank. This forced the Mint to strike more coins than needed, only to have them sit unused in Treasury Department vaults and banks within the Federal Reserve system.
DID YOU KNOW?
The Treasury Department has more than 1.1 BILLION $1 coins in storage, partly because of the schemes people were playing with their credit card rewards programs. This, despite the fact that no $1 coins have been minted for circulation since 2011.
Why Is US Mint Silver More Expensive?
The cost of minting a government-issued silver coin is more than just its metal content. The price is higher due to labor and fabrication costs, as United States coins must be made to precise specifications by law such as the Coinage Act. Silver rounds produced at private mints do not have to meet the rigorous standards of United States currency.
Investors will also pay more for US Mint silver coins because they are backed by the full faith and credit of the United States government. This means they are in higher demand than more generic forms of silver. Due to the combination of all of these factors, there is a premium associated with US silver coins.
Does the US Mint Make a Profit?
Yes, the mint sustains its own commercial activities and turns a profit. This revenue goes directly to the United States Treasury.
In another sense, the Treasury Department makes a profit from the mint, as well, due to seigniorage. Seigniorage is the profit derived from minting coins and printing money at a cost below the face value of the currency being issued.
It's worth noting that in the past, these profits were not always forthcoming. For instance, a pair of now-defunct branch mints in New Orleans and Carson City were routinely mismanaged and suffered financial losses for the federal government.
Are There Going to Be 2021-W Quarters?
No, the mint has no plans to release any 2021 quarters with the "W" mintmark from the West Point Mint. The last time this happened was the 2019-W quarter, which immediately caused a stir among rare coin collectors.
2019 America The Beautiful quarter dollar with W mint mark. These coins were also made in 5 oz silver versions.
Find Sold Out US Mint Products at Dealers and Coin Shops
When the US Mint has leftover stock from a previous year's release, they will continue to list them on their website until they sell out. Once an item is sold out, the only way to obtain one is to buy it from someone who has it.
Previous-date US Mint coins are found in several different places: online marketplaces and classified ads, auction websites, local coin shops, and online coin companies. The safest options are coin shops and large online bullion and coin companies. Check out our guide to frequently asked questions about old 90% silver US coins, commonly called "junk silver," for more information.
Unlike some anonymous internet sellers, coin shops and bullion companies take care to verify and authenticate every item they offer, to protect buyers from fakes. Their goal is to build a relationship with buyers, and make them repeat customers. Most coin shops and bullion dealers should be listed with the Better Business Bureau. Check their ratings on BBB.org.
Whether buying directly from the US Mint, or from your local coin shop or bullion business, purchasing US legal tender coins can be a fulfilling and patriotic experience.
---
More information about government mints and links to a wide variety of mint products for sale Gainesville Coins:
Major Coin Mints: Overview & Their Bullion Products
Gold Stolen From the Royal Canadian Mint?
Shop for Silver From World Mints
Shop for Gold From World Mints

Steven Cochran
Precious Metals Market Analyst
|
BS University of South Florida (2002)
A published writer, Steven's coverage of precious metals goes beyond the daily news to explain how ancillary factors affect the market.
Steven specializes in market analysis with an emphasis on stocks, corporate bonds, and government debt.
Latest Offers, Straight To Your Inbox
Don't be the last to know about the latest deals and new product arrivals. Join us today for FREE!