Who Is On The Penny?

Published: March 21, 2022
Updated: April 14, 2022
Table Of Contents:
Table Of Contents:
Who is on the U.S. penny?
Abraham Lincoln, 16th U.S. president.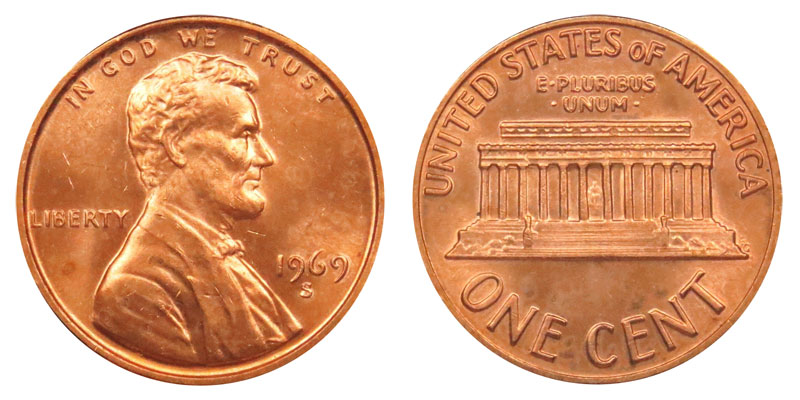 1-cent penny coin featuring President Abraham Lincoln. Designer: Victor D. Brenner
Abraham Lincoln has appeared on obverse side of the 1-cent coin since 1909, replacing the Indian Head cent. He is best known as the president who presided over the American Civil War and issued the Emancipation Proclamation. The placement of the 16th president on a coin was the first real person to grace an American coin. Lincoln's appearance on the penny was met with controversy but remains a fixture more than a century later in addition to the $1 bill.
Lincoln penny reverse designs:
Shield (since 2010)
Bicentennial (2009)
Lincoln Memorial (1959–2008)
Wheat ears (1909–1958)
PENNY FUN FACTS:
Until 1857, all cent coins were larger than today's one-cent piece. The large cent was nearly the size of the half dollar.
The Lincoln portrait on the penny was designed by Victor David Brenner. Initially, the coin also featured the artist's initials, "VDB," before the lettering was removed amid controversy.
The composition of the Lincoln cent changed more than once in the 20th century: zinc-coated steel pennies were made during World War II (1943); bronze was the standard composition (1909 to 1958); then a 95% copper alloy was used (1959 to 1982); now, pennies are 97.5% zinc (since 1982).
Lincoln pennies are one of the most widely collected American coins.
The penny's reverse design featured four different commemorative themes in 2009 to honor the 200th anniversary of Lincoln's birth (Bicentennial). It also marked 100 years since the first Lincoln cent was issued in 1909, which would have been his 100th birthday.
---
Find more information about who is on each U.S. coin by following the links below:

Everett Millman
Managing Editor
|
Analyst, Commodities and Finance
Everett has been the head content writer and market analyst at Gainesville Coins since 2013. He has a background in History and is deeply interested in how gold and silver have historically fit into the financial system.
In addition to blogging, Everett's work has been featured in Reuters, CNN Business, Bloomberg Radio, TD Ameritrade Network, CoinWeek, and has been referenced by the Washington Post.
Latest Offers, Straight To Your Inbox
Don't be the last to know about the latest deals and new product arrivals. Join us today for FREE!