2019 Patriot World War II 1 oz Silver Round - Antique Finish - Mason Mint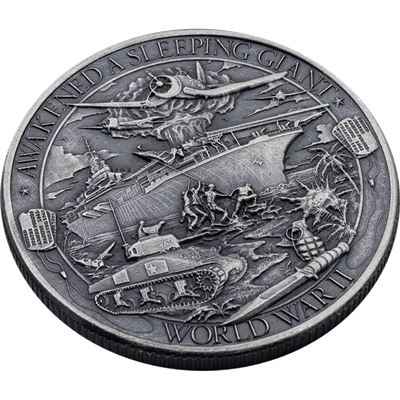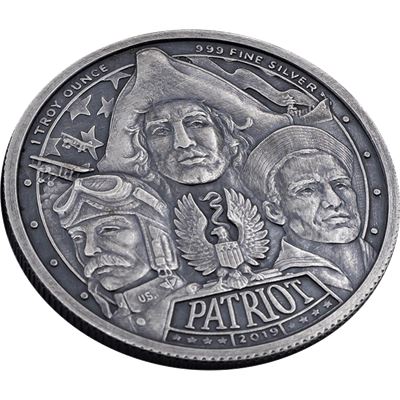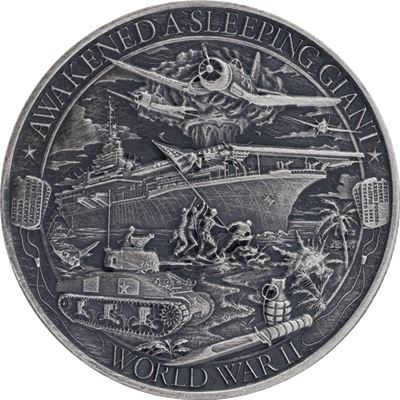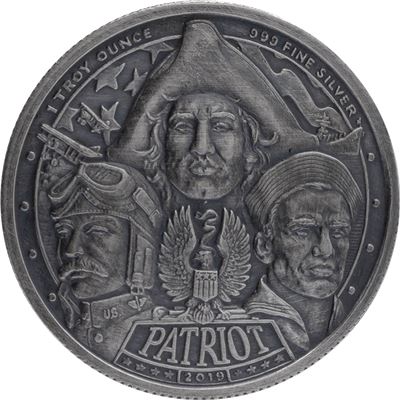 Click image for larger picture.
As low as
*Price changes every 5 seconds. The price added to cart will reflect the current spot price. Discount is calculated savings compared to credit card pricing for one unit quantity.
$25.82
As low as $2.50 over spot!
Qty
Check / Bank Wire
Crypto

We are now accepting Bitcoin (BTC), Bitcoin Cash (BCH), Ethereum (ETH), Litecoin (LTC), Dai (DAI), and USD Coin (USDC) as a payment method on our website!

Credit Card
1 - 19
$26.22
$26.74
$27.14
20 - 99
$26.12
$26.64
$27.03
100 - 499
$26.02
$26.54
$26.93
500 - 1000
$25.92
$26.44
$26.83
1001+
$25.82
$26.34
$26.72

Product Highlight:
One Troy Oz of .999 Fine Silver
Hand-applied Antique Finish
Historically accurate WWII Vehicles
Final Design of PATRIOT silver program
Shop With Confidence
100% satisfaction guarantee, A+ BBB, safe shopping.
Fully Insured
All packages are fully insured from our vault to your door.
Secure IRA & Storage
Safe, private, secure storage solution for your precious metals.
Get Help Buying
Have questions about a product? Contact our trading floor.
Call (813) 482-9300
Buy 2019 Patriot World War II 1 oz Silver Round - Antique Finish - Mason Mint
The "Awakened A Sleeping Giant" WWII commemorative silver round with antique finish is from Series 3 of the exclusive PATRIOT silver commemorative program at Gainesville Coins. This one troy ounce silver round is struck on .999 fine silver, with a hand-applied antique finish. This means that each round will have different subtle characteristics.
The reverse design of the PATRIOT WWII commemorative silver round is dominated by an Essex-class aircraft carrier. The USS Essex, CV-9, was the first of 24 US Navy aircraft carriers of her class that would bring overwhelming power to bear against the Empire of Japan. A F4U Corsair fighter plane zooms over the carrier's flight deck, while a shot-down Mitsubishi A6M Zero Japanese fighter floats in the water. Two Grumman F6F Hellcat fighters fly off each wing of the Corsair. In the foreground is one of the most famous images of WWII, the raising of the American flag on Mount Suribachi on Iwo Jima. Toward the left bottom of the design is the scene of a M4 Sherman US medium tank on a tropical island, guarding passage over a jungle stream. A large US Marine Corps KA-BAR combat knife and Mk 2 "pineapple" hand grenade occupy the space directly above the inscription "World War II" on the bottom rim.
Behind all of this is the mushroom cloud of a nuclear bomb explosion. The atomic bombs dropped on the Japanese cities of Hiroshima and Nagasaki were the final blows that convinced Emperor Hirohito to order the Japanese government to surrender.
The motto "Awakened A Sleeping Giant" on the upper rim of the coin is separated by a set of dog tags ID tags and a five-pointed star on the left and right side. The inscription comes from a statement attributed to Admiral Isoroku Yamamoto, commander of the Imperial Japanese Combined Fleet. While others were celebrating news of the successful attack on Pearl Harbor, he reportedly said "I fear all we have done is awaken a sleeping giant, and filled him with a terrible resolve." Yamamoto also is cited as saying that the Japanese fleet would "run wild for six months," but if they had not forced the Americans to sign a peace treaty by then, there was no way Japan could win.
Both these predictions came true, regardless of who uttered them. Addressing the US Congress the day after the Pearl Harbor attack, President Franklin Delano Roosevelt called December 7, 1941 "a date which will live in infamy." He spoke for all Americans when he declared: "With confidence in our armed forces, with the unbounding determination of our people, we will gain the inevitable triumph—so help us God." Six months to the day from the attack on Pearl Harbor, the battle of Midway ended. Four of the six Japanese aircraft carriers that had participated in the sneak attack on December 7 had been destroyed. This battle broke the back of Japanese naval air power, and made total victory by the United States inevitable.
The common obverse for all PATRIOT silver rounds features the portrait of a Revolutionary War Minuteman, a WWII pilot of the US Air Service, and a WWII sailor. A pair of SPAD fighter planes from WWI appear above the pilot's head, and an Iowa-class WWII battleship is situated above the sailor. A monument at the bottom of the design bears the word PATRIOT and the year date 2019. The monument topped by a heraldic bald eagle based on the Great Seal of the United States. He bears the Union Shield across his breast and holds a ribbon in his beak, his wings spreading upward. The obverse rim bears the inscriptions "1 Troy Ounce" and ".999 Fine Silver."
The "Awakened A Sleeping Giant" antiqued WWII commemorative PATRIOT silver round also comes in a brilliant prooflike finish. This is the final design of the PATRIOT program. The two previous designs honored the heroes of the Revolutionary War and World War One. All three designs are sculpted by famed medallic artist Heidi Wastweet. Each design is available in both antiqued or prooflike finishes.
Customer Ratings & Review
5 out of 5 stars
Review This Product
Share your thoughts with other customers.
Showing 1 reviews.
zlfskywalker
Monday, December 16, 2019
designed well
1
of
1
people found this helpful