2011 Real Pirates of the Caribbean 4 Coin Proof Set
Published: February 11, 2015
Updated: August 22, 2019
Table Of Contents:
Table Of Contents: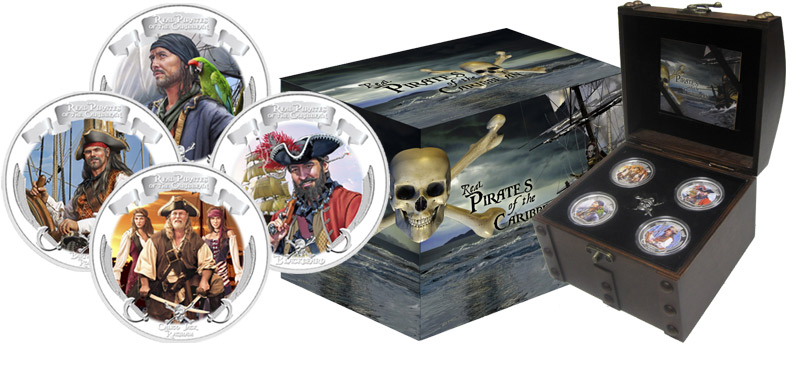 History buffs and pirate lovers will appreciate this set. All four coins have a high quality color portrait of an infamous pirate. In addition to being aesthetically pleasing, precious metal collectors will love the .999 pure silver content of each 1 troy oz coin.
The New Zealand Mint has been minting legal tender commemorative coins, medallions, and gold bullion for more than four decades. They are New Zealand's only precious metal mint is known for its high quality work. These coins were issued as legal tender worth $2 on Niue Island.
There are plenty of films that show a pirate's life, but the inspiration for films such as Disney's hit franchise the "Pirates of the Caribbean" are grounded in real history. These now-famous scofflaws robbed merchant ships during the Golden Age of Piracy. This era of pirates in the Caribbean started around 1560 and continued until the mid 1720s. This set features the most infamous pirates to sail the high seas: Blackbeard, Calico Jack, Bartholomew Roberts, and Henry Avery.
Bartholomew Roberts was the namesake of Dread Pirate Roberts in the movie The Princess Bride. Blackbeard has appeared in numerous films, including the latest Pirates of the Caribbean movie On Stranger Tides, and was spoofed by Cheech and Chong in the 1983 hit comedy Yellowbeard. Calico Jack was the main character in the 1983 film The Pyrates. While Captain Henry Avery has not been portrayed on film, he was the most successful pirate of the four.
This set comes in a wooden pirate's chest adding to authentic feel. It also includes a skull and crossbones necklace. The total supply has been limited to only 2,000 sets, so order yours today!
Latest Offers, Straight To Your Inbox
Don't be the last to know about the latest deals and new product arrivals. Join us today for FREE!