Best Place To Buy Gold Krugerrands

Published: May 17, 2021
Updated: September 16, 2021
Table Of Contents:
Table Of Contents:
Buying Gold Krugerrands at the best price may seem like a challenge. We live in a time when there are seemingly more places to buy gold coins online than ever before. But some bullion dealers rise to the top when it comes to getting the best blend of selection, service, and—of course—price. **P.S. -- Want to listen to this post?**
2013 South African Gold Krugerrand, 1 troy ounce.
##The Best Place to Buy Gold Krugerrands## Bullion dealers don't need specialized licenses to sell gold Krugerrands. Still, it does help to buy them from a dealer who is knowledgeable, connected, and has the best resources to offer you the widest selection at reasonable prices. Here are some of the credentials some of the best gold dealers have: * [Affiliations with industry-leading organizations](/info/why-choose-gc) such as the American Numismatic Association, National Coin & Bullion Association (formerly known as Industry Council for Tangible Assets), and the National Inflation Association * Recognition as a reputable dealer from uncompensated customer feedback and an A+ rating from the Better Business Bureau * Authorization to serve as a depository for [self-directed IRAs](/ira) At the end of the day, if you want to find the best place to buy gold Krugerrands, choose a dealer who offers you the items you want at a fair price. Don't settle for less than the stellar service and professional competence you deserve. Gainesville Coins has [Gold Krugerrands for sale](/category/507/south-african-gold-krugerrands) at great pricing. Follow the link to shop now. Below we will explore how to buy gold Krugerrand coins among the different options. ###Look For Fair Pricing### It seems that nearly everyone wants to buy gold Krugerrands cheaply. But "cheap" may not be the best criterion for buying bullion. Looking for the lowest price leads many well-meaning but misguided people to backdoor deals. Perhaps they're buying cheap gold off an alternative online marketplace. It may require the buyer to meet the seller in an unconventional location, like a big box store parking lot. All too often, the buyer ends up forking over their hard-earned funds only to buy counterfeit or stolen goods. Why else would the seller offer their gold Krugerrands "cheap"? The Anti-Counterfeiting Educational Foundation, a well-respected consumer advocacy organization that aims to protect consumers from [fake bullion and numismatic coins](/blog/counterfeit-gold-and-silver-coins), is seeing a marked increase in fakes these days. The old adage applies: "if it seems too good to be true, it probably is." Run for the hills when you see an advertisement for cheap gold Krugerrands. You're going to pay more than you bargained for. There are several factors that go into the price of gold Krugerrands, including: * The prevailing gold price, or the wholesale "going rate" for a specified unit of gold * Premiums assessed by the distributor to pay for mining, minting, and overhead * Premiums charged by the dealer necessary to pay for their overhead and to stay in business * Numismatic premiums for vintage or scarce dates The "spread" between the [gold spot price](/charts/gold-spot-price) and the actual price you'll pay for a gold Krugerrand depends on many factors. Market fluctuations, marketplace demand, and inventory issues are a few examples.
Random year Krugerrands tend to be the best deals.
Some dealers tend to offer slightly lower premiums on "random dates" versus specific dates. This is for various reasons. Sometimes, the dealer may have an oversupply of a particular, less-popular date. Or perhaps they bought a bulk purchase of said date and want to eliminate stock of that coin as quickly as they can. This can behoove you, the buyer, if you're not picky about what date of [gold Krugerrands](/category/507/south-african-gold-krugerrands) you want for your portfolio or collection. While you can score some legitimate deals buying random year coins, as a retail consumer you will not be able to buy your gold Krugerrand "at cost" or less. Instead, your aim should be looking for fairly priced pieces from a dealer who provides you with a good selection, exceptional service, and a satisfaction guarantee. ###Focus on Reliable Service### Nothing beats reliability—especially when it seems there's little we can count on anymore. When you spend hundreds, thousands of dollars on gold bullion, you want to be sure that you're not getting a raw deal but rather a good one. That is why it's important to buy gold Krugerrands from a coin dealer who is established, well respected in the industry, has a solid network of suppliers, and who is good for their word. In other words, you want to be able to know what to expect! What are some of the things that might cross your mind when the word "reliability" is used in describing a gold dealer? Perhaps the phrases "consistent service," "fair pricing," and "fast shipping" come to mind. But don't forget about good, old-fashioned ethics. This doesn't seem to be a word many think much about these days, but honesty and integrity still count for something. And you want a dealer who not only stands by their word but will also correct any mistakes that might happen to come up. ###Be Informed### Reliability, fair pricing, and honesty are all hallmarks of a good bullion coin dealer. But when you buy gold Krugerrands, you also want to work with someone who will answer your questions thoroughly. A good dealer wants to educate you on what you're buying. They can help guide you on your buying decisions based on your personal collecting or investing goals. Knowledge is power. Dealers who publish quality, well-researched educational content are in it to help you succeed as a collector or investor. Still have questions? Ask them! The best bullion dealers hire a team of experienced customer service professionals who stand at the ready to answer your questions. They'll help you make the best choices when buying gold Krugerrands or any other bullion or collectible coins. ##What Is a Gold Krugerrand?## The South Africa gold Krugerrand is one of the oldest and most beloved of all world bullion coins. First introduced in 1967, the Krugerrand was a joint venture between the South African Mint and Rand Refinery. They were first minted by the South African government through the South African Reserve Bank to help market South African gold for private ownership. The name "Krugerrand" is a portmanteau of two words: * The South African unit of currency is known as the "Rand." * The founder and four-term President of the South African Republic was named Paul Kruger.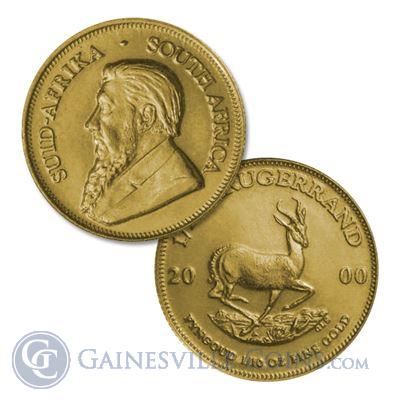 1/10 oz Gold Krugerrands.
A portrait of former South African President Paul Kruger, designed by artist Otto Schultz, is pictured on the obverse side of the coin. The reverse of the Krugerrand, created by sculptor Coert Steynberg, features a springbok antelope. This species of antelope is one of South Africa's national symbols. Krugerrands are official legal tender of the South African Republic. However, they do not carry a face value. Instead, these South African gold coins are valued based on their precious metal content like gold bars or silver bars. In terms of gross weight, each Krugerrand weighs 33.93 grams due to its 8.33% copper content. Its diameter measures 32.77 mm and the coin's thickness is 2.84 mm. Many of today's investors are accustomed to having a plethora of options for buying world bullion coinage. Still, until the early 1980s, there was no other modern gold bullion coin available on the global market like the 1 oz gold Krugerrand. It was the first gold coin to offer one full troy ounce of high-purity (91.67% fine, or 22 karats) gold. As a result, the South African Krugerrand represented the lion's share of gold bullion coin trades during the early 1980s. The coin carried 90% of the global coin market at the time. It was the number one choice for private gold ownership among gold buyers of foreign coins. Much of this changed later in the 1980s. The Krugerrand was caught up in embargoes against South Africa and its system of racial segregation known as apartheid. Economic sanctions followed, and production levels dropped for the South African coin. During the '80s, several other major nations began issuing their own gold bullion coins as well. This included the United States, which launched its [American Gold Eagle](/category/14/buy-gold-eagle-coins) series in 1986. After apartheid came to an official end in the mid-1990s, South African gold Krugerrands began seeing more significant market share again. Still, they were also up against a more crowded bullion coin scene. New additions to the world gold market included the British Gold Britannia and Chinese Gold Panda, among others. ##Why Buy Gold Krugerrands?## The gold Krugerrand carries on as one of the most respected bullion series and as the oldest coin of its type. The Krugerrand value is recognized virtually everywhere and thus is highly liquid. Investors know that when they buy South African gold Krugerrands, they get a solid coin that is widely respected and holds its value well. Regardless of what type of Krugerrands you choose for your collection or investment portfolio, you really can't go wrong with this series. The Krugerrand is widely known and trusted, and the mintage numbers behind this series bear this out. All told, the South African Krugerrand has become the most widely distributed bullion gold coin in the world over the last 50 years! Some 50 million have been struck since their inception in 1967. ##How to Buy Gold Krugerrands: Various Options## When it comes to bread-and-butter gold bullion coinage, the South African Krugerrand is a staple. While the original 1 ounce size is among the most popular, they are also made in three fractional sizes: * 1/2 oz gold * 1/4 oz gold * 1/10 oz gold These various fractional gold Krugerrands (i.e. less than one troy oz) first hit the market in 1980. They allow more gold bullion investors and collectors to buy Krugerrands that best suit their budget, as small as one-tenth ounce.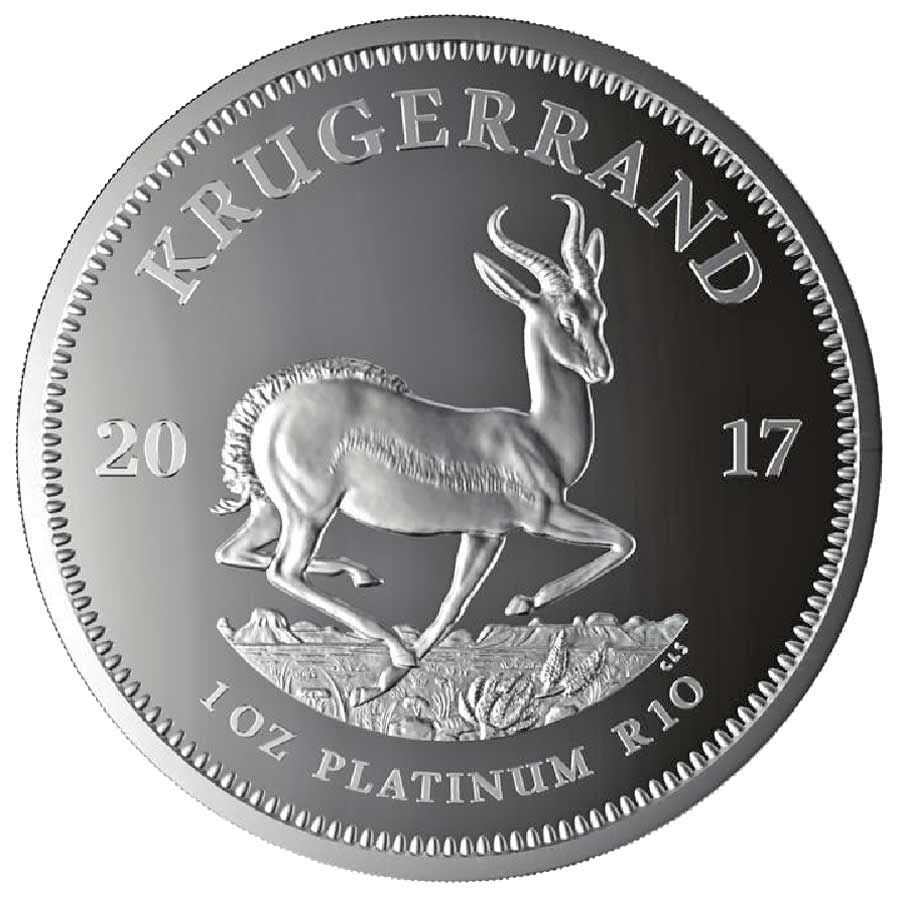 Example of a 2017 Platinum Krugerrand.
In more recent years, the traditional "bullion" gold Krugerrand coins have been joined by a host of limited-edition-proof Krugerrands minted expressly for collectors. Proof Krugerrands sell for higher premiums than do business-strike (or bullion-quality) specimens. Still, they also have much lower mintages than typical Brilliant Uncirculated Krugerrands. Proof coins also boast exceptional strike quality and aesthetic beauty. While proof gold Krugerrands are a favorite among coin collectors, they're also popular with gold investors who want something special to add to their bullion portfolios. Another exciting option among the Krugerrand bullion coins is the 1967–2017 50th anniversary commemorative issuance. These special 2017 Krugerrands were struck in "Premium Uncirculated" finish and were also offered in platinum and silver formats. Platinum Krugerrands and Silver Krugerrands are an excellent addition to the series. Each are offered in one-ounce sizes. The 2017 commemoratives Krugerrands were made in the Premium Uncirculated and proof formats. They are distinctive from regular issues by way of a "50" privy mark to the right of the springbok motif on the reverse of the gold coins and directly above that design on the silver and platinum pieces. **Check below for South African Gold Krugerrands sold online at Gainesville Coins.com:**
You can also [sell Gold Krugerrands](/sell-coins) by following the simple instructions on our Sell To Us page. ---------- *Joshua McMorrow-Hernandez is a journalist, editor, and blogger who has won multiple awards from the Numismatic Literary Guild. He has also authored numerous books, including works profiling the history of the United States Mint and United States coinage.* **More advice on buying gold coins and silver coins from Gainesville Coins** [Best Place to Buy Canadian Gold Maple Leaf Coins](/blog/best-place-to-buy-gold-maple-leaf-coins) [Best Place to Buy American Silver Eagles](/blog/best-place-to-buy-silver-eagles) [Can You Buy Gold Coins at the Bank?](/blog/can-you-buy-gold-coins-at-the-bank) [How to Find the Best Place to Buy Gold](/blog/best-place-to-buy-gold) [What Makes Gold Valuable? (podcast)](/podcast/what-makes-gold-valuable)
Latest Offers, Straight To Your Inbox
Don't be the last to know about the latest deals and new product arrivals. Join us today for FREE!