Silver Bar Buyer's Guide: How & Where to Buy Silver Bars

Published: August 31, 2022
Updated: August 03, 2023
Table Of Contents:
Table Of Contents:
One of the key things you also need to know about silver bars is that they are a terrific vehicle for buying and selling silver. In fact, silver bars represent one of the least expensive methods of investing in silver, gram for gram.
Bars are generally cheaper than silver bullion coins and silver rounds. This is an important advantage that silver bars have over other products, especially in the eyes of investors who place a priority on obtaining as much silver as possible for as low a price they can find.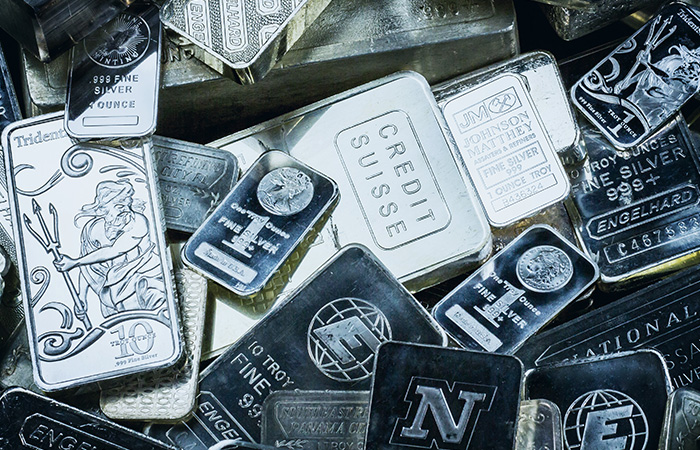 An assortment of different silver bars
Where to Buy Silver Bars
Silver bars are readily available for purchase from silver dealers and bullion brokers. But you'll want to ensure you're dealing with a reputable professional before just choosing the cheapest silver bars around.
You'll want to make sure you're working with a legitimate silver dealer who will sell you real silver bars at a good price. One way to verify a dealer's integrity is to do a simple online search on them. See how long they have been in business, their customer satisfaction policy, and their professional affiliations.
A silver bar seller who has many years of experience, offers a return policy, is a member of leading bullion organizations like the National Inflation Association and National Coin & Bullion Association, and has mostly positive reviews on websites like Yelp and Google is a pretty safe bet.
Where to Avoid Buying Silver Bars
It's really easy to get burned buying cheap silver bars. That's because the there's an increasing incidence of unscrupulous individuals hawking fake silver bars. Here are some places to avoid buying silver bars:
online swap meet websites
overseas auction and clearance retailers
social media market venues.
How to Buy Silver Bars
Buying silver bars is remarkably simple. It generally involves little to no paperwork. It's a pretty easy transaction whether done in-person in a bricks-and-mortar store, online, or by mail.
Once you have identified a qualified silver dealer, you'll want to check out their stock, something that is usually easily viewable online. Many silver dealers would encourage you to contact them directly by phone or email to inquire about the availability of a product you want but don't see listed in their inventory.
Sunshine Mint 5 oz silver bar
Once you find the dealer you wish to purchase silver bars from, be sure to find out what forms of payment they accept. Many dealers who are handling in-person transactions in a bricks-and-mortar setting will accept cash as a form of payment, while those working via online transactions, handling a sale over the phone, or facilitating a mail order purchase will permit a diverse array of payment methods. These may include check, money order, wire payment, and even cryptocurrency.
Best Types of Silver Bars
Some silver bars are anything but generic. The best brands of silver bars to choose from include:
PAMP Suisse
Mason Mint
Sunshine Minting
Engelhard
Johnson Matthey
There are various sizes, a variety of brands, and many types and styles to choose from. The plurality of silver bars are available in one-ounce and 10-ounces sizes. 1 oz and 10 oz silver bars are routinely in high demand. However, some are as a small as a gram and others are made in sizes up to a kilo (1,000 grams) or even larger.
Beyond size, there is also the matter of if you want a basic silver bar or an art bar. The more utilitarian silver bars may have a simple stamp or logo declaring the name of the manufacturer and a statement or inscription describing the metal and purity (or fineness) of the bar's contents. Art bars are stamped with decorative designs and other adornments and are often deemed to have some degree of collectability.
Then there is the matter of brand, and there are many. Sunshine Minting, Mason Mint, and PAMP Suisse are among the leading brands today. Vintage silver bars from companies that have been around a long time or no longer operating, such as Engelhard and Johnson Matthey, often trade for premiums over the melt value of the bar and are even bought and sold on a collectible basis.
10 oz Mason Mint silver bar
Making the Best of Buying of Silver Bars
Ultimately, you want to buy the best silver bars you can get your hands on. This is generally achieved with a combination of getting a fair price on a quality product.
You also want to make sure that you are staying within your budget. This comes down to deciding what size bar you want, choosing the manufacturer whose product you like or feel confident in purchasing, and making sure you are paying a fair price for it. The cost of a silver bar will be slightly above the silver spot price.
All of this is contingent upon going with a knowledgeable dealer who provides an inventory of products you like and offers everything at a fair price, with the assurance that every transaction will be completed to your full satisfaction. Even better? A dealer who offers to buy back what you purchase from them and is willing to educate you on your options.
Pamp Suisse 1 oz silver bar
Other Thoughts on Buying Silver Bars
The reason many people buy silver bars is because they want to build a portfolio of precious metals. They are looking for a silver product they can easily buy and liquidate without much fuss and muss. Silver bars are usually recognized as having the lowest retail cost per gram of metal and, when manufactured by well-known companies and sold by reputable dealers, are viewed as a safe and trusted form of silver bullion.
Whether you are entering the realm of bullion investing by purchasing only a few silver bars or are a seasoned investor who buys dozens or hundreds of silver bars at a time, it's always a good idea to stick to some basic principles. Work with an expert dealer who is oriented toward offering the best service possible and provides a wide selection of bullion products at fair-market values. If you do so, chances are pretty solid you'll be OK when buying silver bars.
Check out the products listed below if you're interested in buying silver bars at Gainesville Coins:
You can also shop our entire selection of silver bars for sale by following the link!
---
Read more precious metals buying guides from the experts at Gainesville Coins:
How to Buy American Gold Eagle Coins
The Best Way to Buy Silver: Guide to Buying Physical Silver
The 3 Best Ways to Buy Gold: In-Depth Guide
PAMP Suisse Gold Bars Buyer's Guide
How to Buy Platinum: Platinum Buyer's Guide
Beginner's Guide to Investing in Precious Metals
Latest Offers, Straight To Your Inbox
Don't be the last to know about the latest deals and new product arrivals. Join us today for FREE!