Half Dollars: Coin Library
You are in the Half Dollars section of our Coin Library. Below you will find links to informational pages about each of the different U.S. half dollar designs.
U.S. half dollars are rarely seen anymore, but they were once relatively common. Halves saw more commercial use prior to the high inflation of the 1970s. Today, silver half dollars are widely collected at very reasonable prices.
---
Seated Liberty Half Dollar (1839–1891)
Seated Liberty half dollar. Image: USA CoinBook
The Seated Liberty half dollar was minted from 1839 through 1891. This was the longest-serving silver half dollar design in US history. It was designed by Chief Engraver of the Mint Christian Gobrecht in 1840. Between 1837 and 1840, Gobrecht redesigned every American coin denomination.
The Seated Liberty half dollar had a number of official varieties. The original design, now called "No Motto" debuted in 1839. The second type introduced the motto "In God We Trust" in 1866. This design would remain unchanged until the Barber half dollar replaced it in 1892.
---
Barber Half Dollar (1892–1916)
Barber half dollar. Image: USA CoinBook
The Barber half dollar was designed by Chief Engraver of the Mint Charles Barber in 1892. It was replaced by the Walking Liberty half dollar in 1916.
Using the same design as the Barber quarter and dime, It was generally considered an uninspired work of art. That said, a growing number of collectors have become interested in Barber coins. The greatest obstacle in assembling a complete Barber half dollar set is the absence of high quality coins.
Barber halves (and quarters and dimes) were left in circulation far later than normal. This means that most of the surviving coins are graded Fine or below. High grade circulated Barber halves are scarce, and uncirculated coins are rare.
---
Walking Liberty Half Dollar (1916–1947)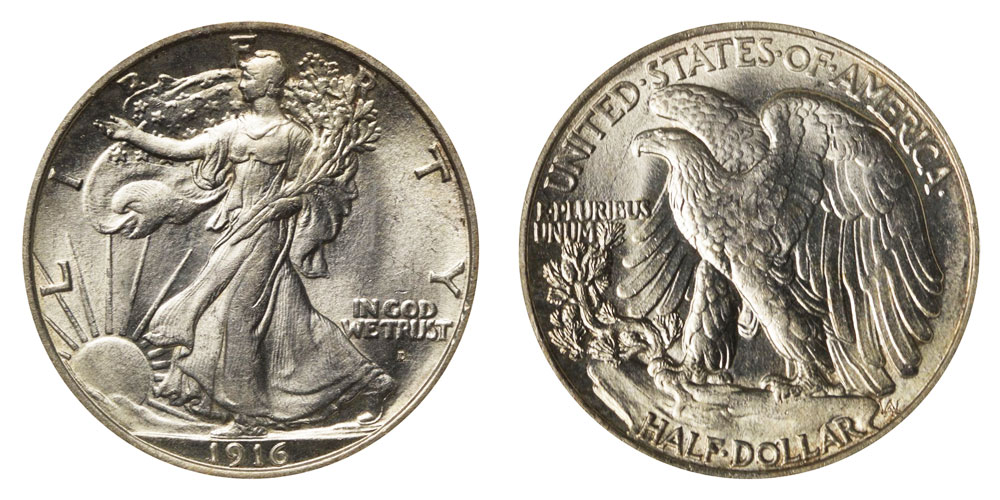 Walking Liberty half dollar
The Walking Liberty half dollar of 1916-1947 by Aldolph Weinman is one of the most popular classic coins to collect. The design is considered by many to be second only to the original 1907 High Relief gold double eagle by Augustus Saint-Gaudens. Some would even rank it above that iconic design.
The beauty and enduring popularity of the Walking Liberty half dollar made it the choice for America's official silver bullion coin, the American Silver Eagle, in 1986.
---
Franklin Half Dollar (1948–1963)
Franklin half dollar
The Franklin half dollar was designed by Chief Engraver of the Mint John Sinnock, who also designed the Roosevelt dime. This portrayal of Benjamin Franklin was the first time a person who was not a President appeared on a circulating U.S. coin.
The clamor for a large coin to honor President John F. Kennedy after his assassination in 1963 led to an abrupt end for the Franklin half dollar.
---
Kennedy Half Dollar (1964–present)
1964 kennedy half
The Kennedy half dollar was rushed into production in 1964, soon after the President's assassination. While technically still a circulation coin, Kennedy half dollars are no longer mass-produced. Much like the Susan B. Anthony "small dollar" coin, Mint vaults are choked with millions of unwanted Kennedy half dollars. Kennedy halves have not been released into circulation since 2001. They are now only available to collectors from the U.S. Mnit (at a 50% mark-up over face value).
Small numbers of silver proof Kennedy half dollars have been struck each year since 1992 for inclusion in Silver Proof Sets. These proof sets include a silver dime, a silver quarter, and five silver quarters for the five annual commemorative reverse designs, as well as the Kennedy silver half. All of these coins were struck in the traditional 90% silver used for circulation coins through 1964. These proof sets also include a Lincoln cent, Jefferson nickel and Native American "small dollar" $1 coin.
The silver purity of the Kennedy half, Roosevelt dime, and five commemorative Washington quarters in the annual Silver Proof Sets was increased to an ultra pure .9999 silver in 2019.
---
Modern Commemorative Half Dollars (1982–present)
Oregon Trail commemorative half dollar. Image: Coin Update
The first modern commemorative coin was the 1982 George Washington silver half dollar. It was the first commemorative half dollar since 1954, and the first silver half dollar struck by the U.S. Mint since 1964. This coin would be the last silver half dollar produced by the Mint, aside from special proof Kennedy halves used in the Mint's annual Silver Proof Sets.
Recent subjects honored in commemorative half dollars include the 50th anniversary of the first Moon landing, the U.S. Marshall's Service, and the Basketball Hall of Fame.