Quarters: Coin Library
Welcome to the Quarters section of the Coin Library. The links below will take you to informational pages about each of the different quarter designs.
No American coin has been more popular in commerce than the quarter. It is perhaps the most recognizable U.S. coin. The advent of the State Quarters series in 1999 was a boon for coin collecting, as well.
---
Seated Liberty Quarter (1838–1891)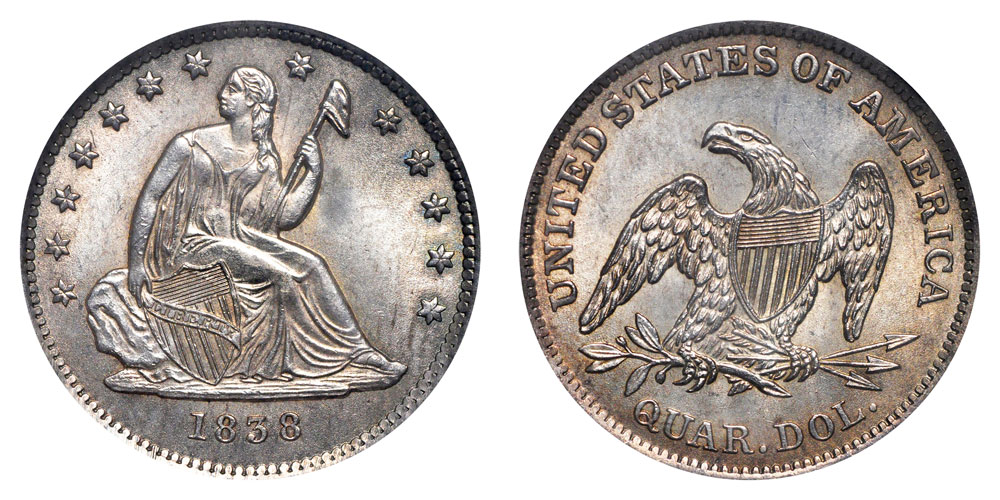 Seated Liberty quarter. Image: USA CoinBook
The Seated Liberty quarter was designed in 1838 and was produced through 1891. Chief Engraver of the U.S. Mint Christian Gobrecht designed the dime, quarter, half dollar, and silver dollar to all use the same Seated Liberty design. The design was modified in 1866 by the addition of the motto: "In God We Trust."
---
Barber Quarter (1892–1916)
Barber quarter. Image: USA CoinBook
The Barber quarter was designed in 1892 by Chief Engraver Charles Barber. The dime and half dollar also bore the same Barber design, which replaced the Seated liberty design. Barber also designed the nickel which replaced the Shield nickel.
Generally considered an unimaginative design, some critics felt that Barber's Lady Liberty was a bit too masculine. Criticism of the design reached the highest levels of society. Barber's coins were the ones that President Theodore Roosevelt heaped scorn upon, declaring them an "atrocious hideousness."
---
Standing Liberty Quarter (1916–1930)
Standing Liberty quarter, Type I. Image: USA CoinBook
The Standing Liberty quarter by Hermon MacNeil was the winning design in a three-way coin design competition for subsidiary silver coinage in 1916. The design features a full figure Greco-Roman Liberty standing guard on a bastion, with a shield raised in defense in her left hand, and an olive branch in her right. The Standing Liberty quartet and Buffalo nickel are infamous for having dates quickly wear off. This was solved on the Standing Liberty in 1925, when the date was recessed.
The original 1916 design depicted Liberty with one bare breast, similar to classic statues and paintings. Enough people were scandalized that the Mint quickly altered the design to fully clothe her. The Mint took the opportunity to change the reverse as well, moving the flying eagle higher and putting three of the thirteen stars under it. This solved an overcrowding of stars on the sides of the reverse.
---
Washington Quarter (1932–present)
1932-S Washington quarter
The Washington quarter was originally intended to be a one-year commemorative to mark the 200th anniversary of George Washington in 1932. The design proved so popular that the design permanently replaced the Standing Liberty quarter, and is still in use today.
The reverse of the Washington quarter has been used for commemorative purposes since 1999. The 50 States quarter program lasted until 2009, and the America the Beautiful reverses showcasing national parks in each state ran from 2010 to 2021.