$10 Indian Gold Coins (Non Certified)
Showing 1 - 3 of 3 products.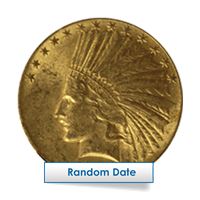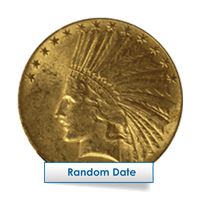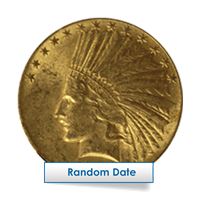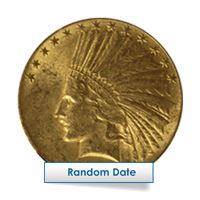 $10 Indian Gold Coins (Non Certified)
The $10 Indian Head Gold Eagle is considered one of the finest examples of U.S. coinage ever created. The coin was designed by noted sculptor Augustus Saint-Gaudens who was commissioned by President Theodore Roosevelt to beautify U.S. coinage. However, the origin of its design was once steeped in controversy.
The obverse design features Lady Liberty wearing a Native American styled feathered headdress. Originally, Saint-Gaudens had created a portrait of Lady Liberty that in most respects resembled previous depictions of Miss Liberty. However, President Roosevelt wanted something more distinctive and truly unique. Inspired by the dress of America's native peoples, Roosevelt suggested that the artist retrofit his image with the traditional Indian headdress.
Observers pointed out that women never wore such a warbonnet in Native American traditions, making the combination incongruous and anachronistic. Then again, this standard would also apply the "Indian Princess" design used on $1 and $3 gold coins at the time. Other critics objected to a politician -- albeit a sitting U.S. president, the Progressive Teddy Roosevelt -- interfering in the artistic tradition of a fiercely independent institution like the Mint. Roosevelt had gone over their heads and personally commissioned an outside artist who Chief Engraver Charles Barber consistently complained gave him designs that were too high relief to strike efficiently and would not stack properly.
Historical accuracy and turn-of-the-century reform-minded meddling aside, this design has become one of the most admired in American numismatics. Its aesthetic is no doubt aided by the fact that $10 gold eagles were fairly large medallic-like pieces compared to smaller denomination coins. As was the case (after many trials and refinements) with the designing of the Saint-Gaudens double eagle, the largest U.S. gold coins proved the best canvas for Saint-Gaudens. He was a sculptor of great renown by trade who worked best in dramatic high relief, but was unfamiliar with the intricacies of striking coinage. He was also ailing and nearing the last days of his life by the time the arduous design process was completed in 1907.
The reverse design shows an eagle in a standing position facing left. It is perched on top of a bundle of arrows and an olive branch. This was similar to the eagle that Saint-Gaudens used for President Roosevelt's inaugural medal in 1905. Interestingly, the edge design (usually reeded, plain, or perhaps lettered) featured small raised stars for each of the states in the Union: 46 stars up until 1911, and 48 stars for all years thereafter.
The $10 Indian Head Gold Eagle was minted between 1907 and 1933, although some issues have become scarce due to the government confiscation and subsequent melting that followed the Great Depression.
Each of these coins is struck from .900 fine gold, the traditional coinage standard for U.S. gold coins, and each contains 0.48375 troy ounce of gold in total. Gainesville Coins carries a number of certified $10 Indian Head Gold Eagles that have been graded by Numismatic Guaranty Corporation (NGC) or Professional Coin Grading Service (PCGS), the two leading professional grading companies. Coins in exceptionally good condition, such as above mint state grades above MS-60, command a high premium over worn examples in today's market.