1878 (8TF) Morgan Dollar Value
Mintage: 750,000
Finest Known: MS66+ (NGC) MS68 (PCGS)
Auction Record: $55,813 (MS67)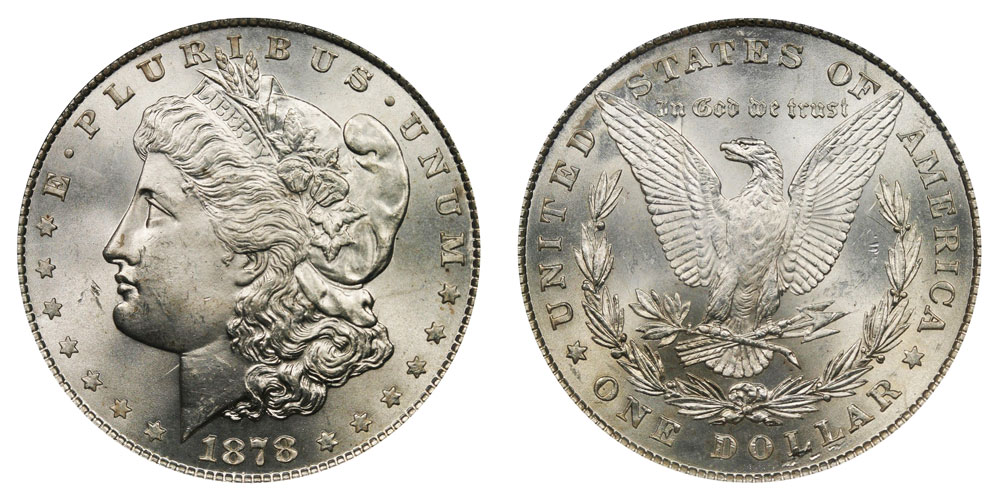 Image: USA CoinBook
The eagle on the reverse of the original 1878 Morgan dollar design had eight tail feathers. Soon after the silver dollar's introduction, the U.S. Mint received many letters saying that the American Bald Eagle had an odd number of tail feathers. Engraver George Morgan quickly altered the reverse design to feature an eagle with 7 tail feathers.
Only around 750,000 Morgan dollars with the original design made it into the public's hands before the change was ordered. All these were struck at the main U.S. Mint in Philadelphia. The dies for the Mints in New Orleans, Carson City, and San Francisco had not shipped yet. They received the Second Reverse (7 Tail Feathers) dies.
Major 1878-P Morgan Dollar Varieties
8 Tail Feathers, flat breast on eagle (Reverse 1)
7 Tail Feathers, flat breast on eagle (Reverse 2 / Reverse of 1878)
7 Tail Feathers, convex breast on eagle (Reverse 3 / Reverse of 1879)
Reverse 3 would be the standard Morgan dollar reverse from 1879 to 1904.
How Many Tail Feathers Does a Bald Eagle Have, Anyway?
Despite the often-repeated myth about the Morgan dollar, the bald eagle does not have seven tail feathers. Nor does it have an odd number of tail feathers. It actually has 12 tail feathers. It took the U.S. Mint until 1986 to finally get it right.
The American Silver Eagle one troy oz bullion coin was the first U.S. coin with the denomination of $1 to present a bald eagle with the correct dozen tail feathers. The 2000 Sacagawea dollar was the first circulating dollar to have the correct number of tail feathers.
The Value of An 1878 (8TF) Morgan Dollar
The 1878 8TF Morgan dollar is far scarcer than the 9.7 million 7 tail feathers version released the same year. This is reflected in the prices of each mintage. It can be found without much trouble, up to MS65. NGC and PCGS censuses show a combined total of just over 1,200 MS65, 105 MS66, twelve MS66+, two MS67, and a lone MS68 graded by PCGS.
1878 (8TF) Morgan Dollar Price Guide
Circulated Grades
| Very Fine | Extremely Fine | About Uncirculated |
| --- | --- | --- |
| $97 | $115 | $143 |
Uncirculated (Mint State) Grades
| Mint State 61 | Mint State 63 | Mint State 65 | Auction Record (MS67) |
| --- | --- | --- | --- |
| $273 | $370 | $1,250 | $55,813 |
The information on this page does not constitute an offer to buy or sell the coin(s) referred to. Statistics are for Mint State coins only. Proof and prooflike examples of this issue may have greater or lesser "finest known" and different record auction prices.