1880-CC Morgan Dollar Value
Mintage: 495,000
Finest Known: MS67+ (NGC) MS68 (PCGS)
Auction Record: $47,000 (MS67)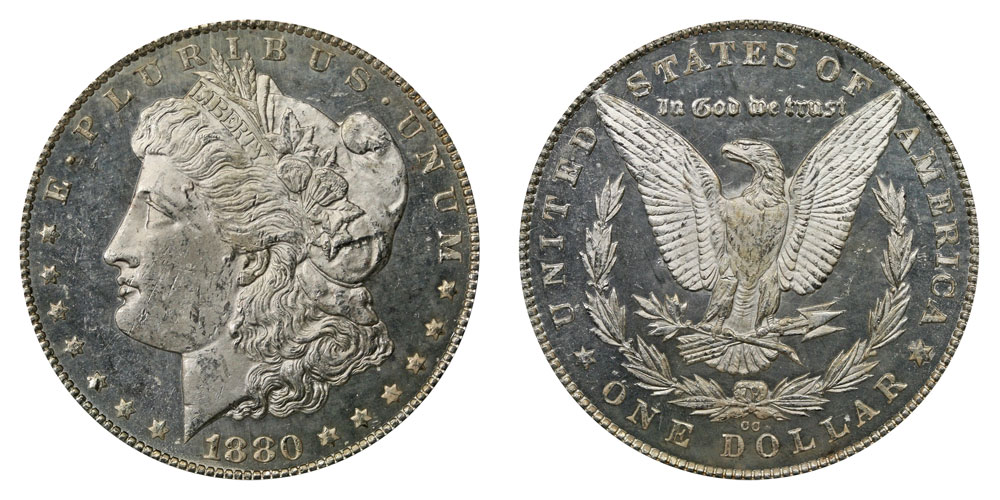 Image: USA CoinBook
The 1880-CC Morgan dollar is considered today as a fairly common date compared to other Carson City mintages. Of course, this is a relative term, as no Carson City Morgan dollar can be considered "common."
The official 591,000 mintage of the 1880-CC Morgan dollar is misleading. The Carson City Mint was ordered to destroy 96,000 1880-CC Morgans because their purity was below 90%. The actual mintage was therefore 495,000 coins.
The Value of An 1880-CC Morgan Dollar
A large number of 1880-CC Morgan dollars ended up in Treasury vaults after the Carson City Mint was closed down for the final time. These coins were sorted into broad categories of condition, and sold through the GSA from 1973 through 1980.
The 1880-CC Morgan dollar has a far better strike than most Carson City issues, which increases its appeal. Though there are more Mint State 1880-CC than other Carson City dates, the sharp strike has kept prices high.
Rare 1880-CC Morgan Dollar Varieties
The 1880-CC Morgan dollar is the source of many recognized varieties. The major varieties are listed below.
1880-CC 80/79 Reverse of 1878 (VAM 4): "Top 100" Morgan Dollar VAM
1880-CC 8/ High 7 (VAM 5): "Top 100" Morgan Dollar VAM
1880-CC 8/ Low 7 (VAM 6): "Top 100" Morgan Dollar VAM
1880-CC 8/7 Reverse of 1878 (VAM 7): "Hit List 40" Morgan Dollar VAM
1880-CC Morgan Dollar Price Guide
Circulated Grades
| Very Fine | Extremely Fine | About Uncirculated |
| --- | --- | --- |
| $266 | $312 | $384 |
Uncirculated (Mint State) Grades
| Mint State 61 | Mint State 63 | Mint State 65 | Auction Record (MS67) |
| --- | --- | --- | --- |
| $566 | $650 | $1,150 | $47,000 |
The information on this page does not constitute an offer to buy or sell the coin(s) referred to. Statistics are for Mint State coins only. Proof and prooflike examples of this issue may have greater or lesser "finest known" and different record auction prices.