1882-O Morgan Silver Dollar Value
Mintage: 6,090,000
Finest Known: MS67 (NGC) MS68+ (PCGS)
Auction Record: $108,688 (MS68+)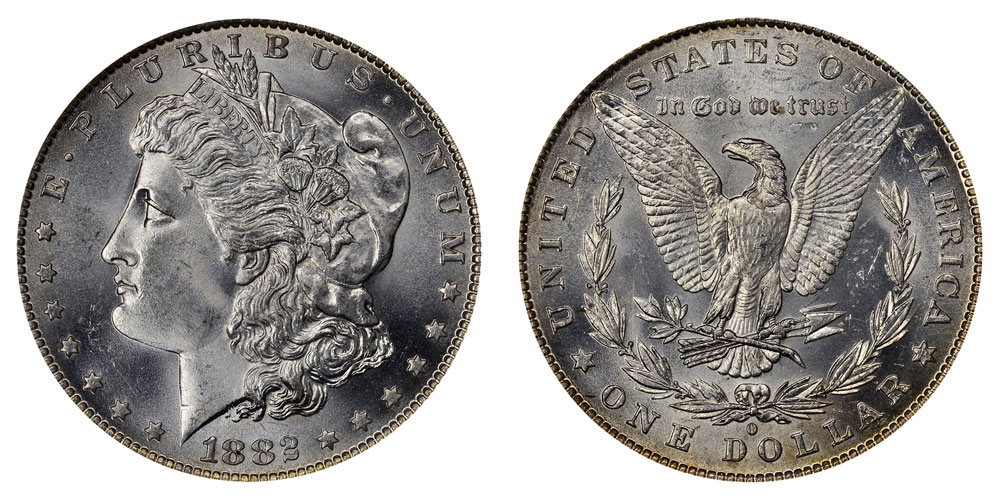 Image: USA CoinBook
More than six million 1882-O Morgan dollars were produced. A surprising number have qualified for mid- to high-tier Uncirculated status.
The Value of a 1882-O Morgan Dollar
Most of the six million 1882-O Morgans suffered from the typical weak strike that plagued New Orleans Morgans throughout the series.
Given the characteristically weak strikes by the New Orleans Mint, it is a bit of a surprise that the MS65 population of the 1882-O Morgan dollar is so high. Apparently, the strikes on these coins were just good enough to pass as Gem Uncirculated. They were not good enough to take the next step, as the population of 1882-O Morgans plummets at MS66.
In any case, a New Orleans Morgan dollar at MS65 for this price deserves some attention from dollar-conscious collectors.
1882-O Morgan Dollar Price Guide
Circulated Grades
| Very Fine 25 | Extremely Fine 45 | About Uncirculated 55 |
| --- | --- | --- |
| $45 | $48 | $53 |
Uncirculated (Mint State) Grades
| Mint State 61 | Mint State 63 | Mint State 65 | Auction Record (MS68+) |
| --- | --- | --- | --- |
| $59 | $81 | $650 | $108,688 |
The information on this page does not constitute an offer to buy or sell the coin(s) referred to. Statistics are for Mint State coins only. Proof and prooflike examples of this issue may have greater or lesser "finest known" and different record auction prices.