1883-CC Morgan Silver Dollar Value
Mintage: 1,204,000
Finest Known: MS68 (NGC) MS68 (PCGS)
Auction Record: $80,500 (MS68)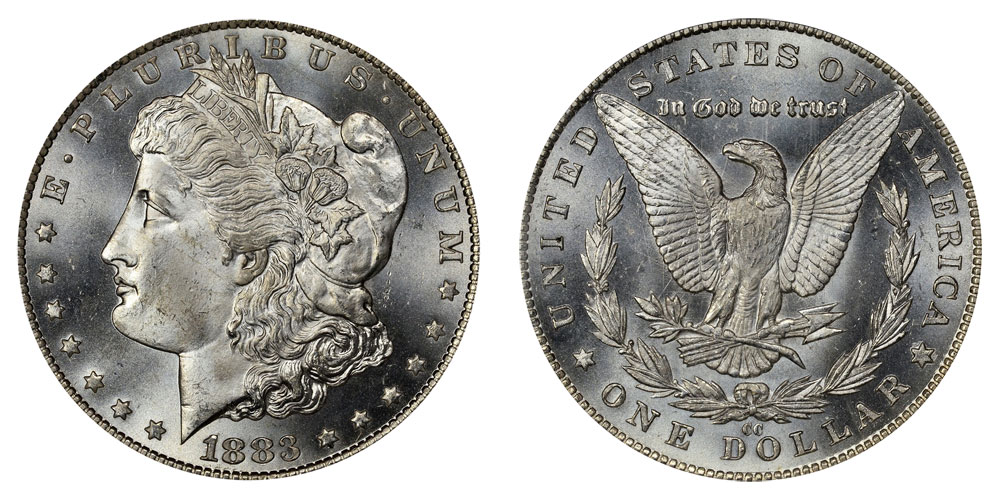 Image: USA CoinBook
While there is no such thing as a common date Carson City Morgan dollar, the 1883-CC is one of the most available ones in Mint State. Most 1883-CC Morgan dollars seem to have been moved directly from the Carson City Mint to Washington, DC. They remained there in the Treasury Department vaults until they were sold by the piece in the GSA Morgan dollar auctions of the 1970s and 1980.
Most of the million or so Morgan dollars left in Treasury vaults when the government stopped selling them for face value were Carson City coins. More than half the 1.2 million coin mintage of the 1883-CC remained in the vault, undispersed. Most of the Morgan dollars sold under the GSA program were Carson City mintages dating from 1882-CC through 1884-CC.
The Value of a 1883-CC Morgan Dollar
There are likely more 1883-CC Morgan dollars graded MS65 or better than any other Carson City date. Part of that is the exceptional strike and deep, frosty luster of the mintage. This date attracts collectors eager for a nice example from the famous "Wild West" mint, which helps support prices.
1883-CC Morgan Dollar Price Guide
Circulated Grades
| Very Fine 25 | Extremely Fine 45 | About Uncirculated 55 |
| --- | --- | --- |
| $150 | $169 | $182 |
Uncirculated (Mint State) Grades
| Mint State 61 | Mint State 63 | Mint State 65 | Auction Record (MS68) |
| --- | --- | --- | --- |
| $292 | $306 | $310 | $80,500 |
The information on this page does not constitute an offer to buy or sell the coin(s) referred to. Statistics are for Mint State coins only. Proof and prooflike examples of this issue may have greater or lesser "finest known" and different record auction prices.