1884-S Morgan Silver Dollar Value
Mintage: 3,200,000
Finest Known: MS66 (NGC) MS68 (PCGS)
Auction Record: $750,000 (MS68)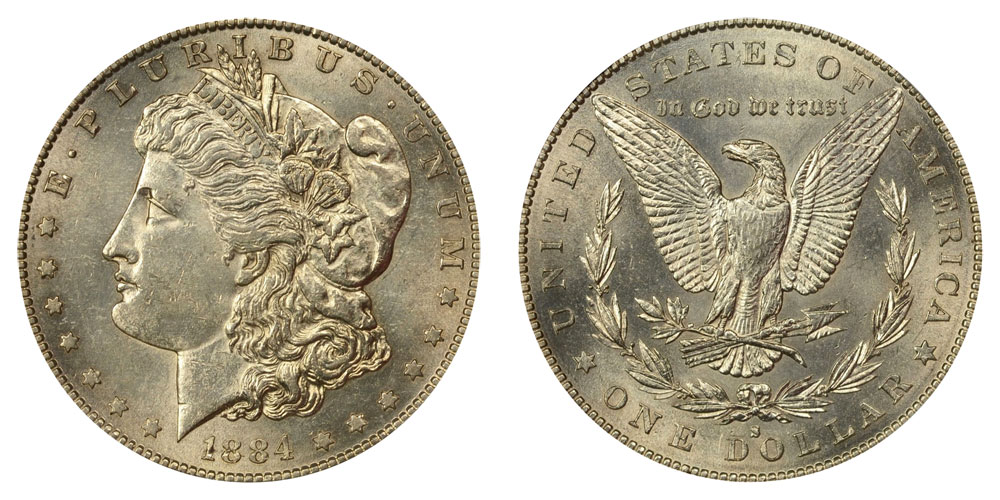 Image: USA CoinBook
The 1884-S is a major condition rarity among Morgan dollars. Unlike many other San Francisco mintages, nearly all of the 3.2 million 1884-S Morgan dollars seem to have entered circulation. Those that didn't were apparently melted under the auspices of the 1918 Pittman Act, as Mint State examples are almost non-existent.
The Value of a 1884-S Morgan Dollar
Heavily worn 1884-S Morgan dollars sell near common date levels, reflecting the numbers that saw many decades of circulation. Values accelerate from there, as the lack of Mint State coins forces competition in the About Uncirculated levels.
The extremely small number of uncirculated 1884-S Morgan dollars means that even the lowest Mint State coin is worth several thousand dollars. 1884-S Morgans graded MS63 sit comfortably in the five figures, while the nearly non-existent MS65 pushes a quarter million dollars.
Speaking of the "nearly non-existent" higher Mint State 1884-S Morgan dollars, NGC records only three 1884-S Morgans in Gem or above: two at MS65, and a lone MS66. PCGS also has only three 1884-S Mint State Morgans at Gem or above: a single one each at MS65, MS67, and MS68.
1884-S Morgan Dollar Price Guide
Circulated Grades
| Very Fine 25 | Extremely Fine 45 | About Uncirculated 55 |
| --- | --- | --- |
| $36 | $128 | $488 |
Uncirculated (Mint State) Grades
| Mint State 61 | Mint State 63 | Mint State 65 | Auction Record (MS68) |
| --- | --- | --- | --- |
| $9,380 | $31,200 | $240,000 | $750,000 |
The information on this page does not constitute an offer to buy or sell the coin(s) referred to. Statistics are for Mint State coins only. Proof and prooflike examples of this issue may have greater or lesser "finest known" and different record auction prices.