1886 Morgan Silver Dollar Value
Mintage: 19,963,886
Finest Known: MS68+ (NGC) MS68+ (PCGS)
Auction Record: $27,025 (MS68)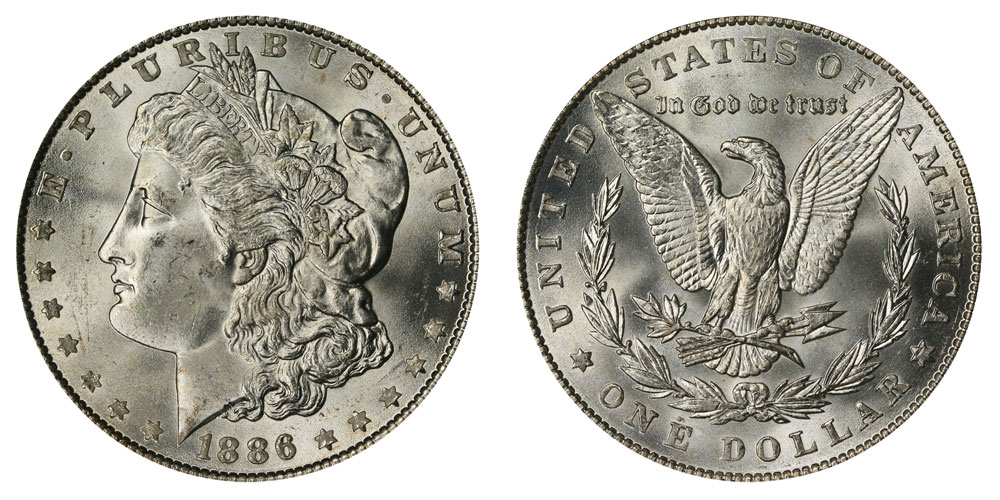 Image: USA CoinBook
If one were to find a photograph of an 1886 under "common date Morgan dollar," it would be no surprise. This is one of the most common of common date Morgan dollars.
The astounding number of mid- to high-Mint State coins is a result of most of the huge mintage coming out of storage from the 1930s through the big Treasury vault disbursements of 1962–1964. Old hands in the market recall being unable to move $1,000 bags of 1886 Morgans, even at face value.
The Value of an 1886 Morgan Dollar
It can seem that nearly all of the nearly 20 million coin mintage have survived, when looking at prices and population. The two largest coin grading services, NGC and PCGS, have certified nearly 40 thousand 1886 Morgan dollars at MS65 between them.
The mind-boggling number of Mint State 1886 Morgans means that circulated samples are barely given a second glance. Why should they, when there are nearly 200 thousand coins graded between MS63 and MS64, priced under $100?
The volume of surviving 1886 Morgan dollars means that there is little reason to settle for an average coin, if you're willing to spend a little time. It is advisable to take that time, because strike and luster can vary widely with this date. There are many coins with sharp features and full luster available.
1886 Morgan Dollar Price Guide
Circulated Grades
| Very Fine 25 | Extremely Fine 45 | About Uncirculated 55 |
| --- | --- | --- |
| $36 | $38 | $45 |
Uncirculated (Mint State) Grades
| Mint State 61 | Mint State 63 | Mint State 65 | Auction Record (MS68) |
| --- | --- | --- | --- |
| $59 | $72 | $162 | $27,025 |
The information on this page does not constitute an offer to buy or sell the coin(s) referred to. Statistics are for Mint State coins only. Proof and prooflike examples of this issue may have greater or lesser "finest known" and different record auction prices.