1886-O Morgan Silver Dollar Value
Mintage: 10,710,000
Finest Known: MS64+ (NGC) MS65+ (PCGS)
Auction Record: $235,000 (MS65+)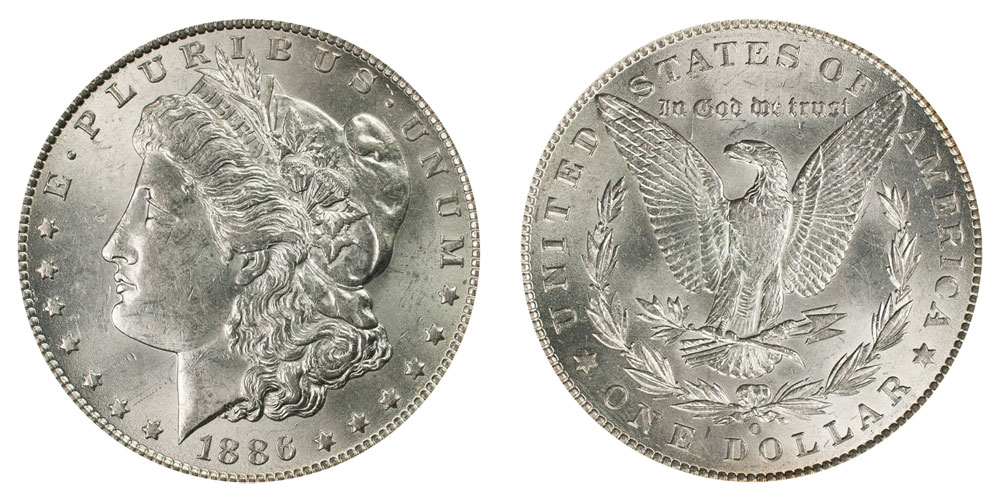 Image: USA CoinBook
The 1886-O Morgan dollar had one of the highest mintages for a New Orleans issue. However, the scarcity of survivors points to the majority of the mintage being melted under the 1918 Pittman Act. Most of the coins on the market today are worn pieces that entered circulation near the time of striking.
Few 1886-O Morgan dollars were disbursed from Mint vaults in the first half of the 20th century. If any were present in the great Treasury disbursals in 1962–1964, they were unnoticed.
The Value of an 1886-O Morgan Dollar
In very worn grades, the 1886-O Morgan dollar is worth more than a common-date coin, but is not truly scarce. This rapidly changes as one approaches Mint State. An MS61 1886-O Morgan is nine times as expensive as an AU55 coin.
The 1886-O Morgan dollar is a coin that is practically non-existent in Gem. PCGS has graded only two at MS65, with a single MS65+ as finest. NGC has graded none greater than two at MS64+. This makes the 1886-O Morgan dollar the rarest New Orleans Morgan dollar at MS65. The MS65 1886-O Morgan dollar is more than eighteen times as expensive as a MS64!
The absence of high-grade Mint State 1886-O Morgans means that the MS64 populations at PCGS and NGC have been inflated with multiple resubmissions in attempts to receive a MS65 grade.
The strike of the 1886-O Morgan dollar is so weak and unattractive, most coin dealers in the mid-20th century would not carry them. This weak strike is also the reason most of the Mint State population is focused in the low grades. One saving grace is that some have an attractive luster rather than the flat, greasy luster of many other coins of this mintage.
However, the really nice 1886-O Morgan dollars have disappeared into collections. It may be several decades before they reappear at auction, if they aren't sold by private treaty.
COUNTERFEITS
Because the 1886-O is one of the rarest of condition rarities of the entire Morgan dollar series, counterfeits of high grade examples are a danger. Criminals will affix fake mint marks onto high Mint State 1886 Morgans from the Philadelphia Mint to make them appear to be 1886-S or 1886-O mintages.
1886-O Morgan Dollar Price Guide
Circulated Grades
| Very Fine 25 | Extremely Fine 45 | About Uncirculated 55 |
| --- | --- | --- |
| $36 | $38 | $45 |
Uncirculated (Mint State) Grades
| Mint State 61 | Mint State 63 | Mint State 65 | Auction Record (MS65+) |
| --- | --- | --- | --- |
| $59 | $72 | $162 | $34,500 |
The information on this page does not constitute an offer to buy or sell the coin(s) referred to. Statistics are for Mint State coins only. Proof and prooflike examples of this issue may have greater or lesser "finest known" and different record auction prices.