1888-O Morgan Silver Dollar Value
Mintage: 12,150,000
Finest Known: MS67 (NGC) MS67 (PCGS)
Auction Record: $20,563 (MS66)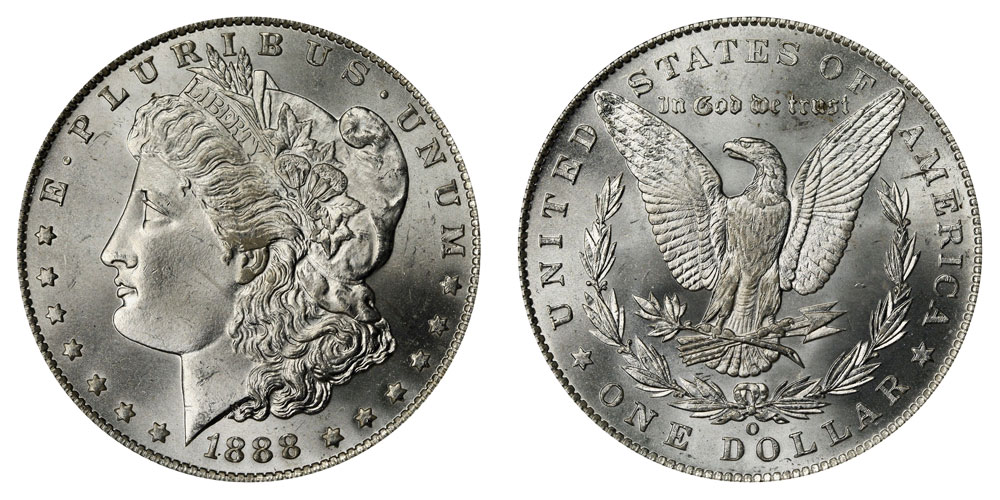 Image: USA CoinBook
By 1888, the Morgan dollar had been in production for a full decade. Its use in circulation was still rather limited, although these silver dollars did serve as monetary reserves for the Treasury. Morgan dollars wouldn't truly catch on with collectors until the second half of the 20th century.
However, once it did catch on, the Morgan silver dollar became among the most enthusiastically collected coins in American history.
The Value of An 1888-O Morgan Dollar
The worth of an 1888-O Morgan dollar depends greatly on the condition of the coin. It had one of the highest mintages ever issued by the New Orleans Mint. The 1888-O is rather common in the lower circulated grades.
However, like several other Morgan silver dollar dates, prices jump considerably in the highest grades. Coins grading MS66 and higher have sold for five figures at auction. Yet 1888-O Morgans in lower Mint State condition are often available for under $100.
1888-O Morgan Dollar Price Guide
Circulated Grades
| Very Fine | Extremely Fine | About Uncirculated |
| --- | --- | --- |
| $27 | $35 | $40 |
Uncirculated (Mint State) Grades
| Mint State 61 | Mint State 63 | Mint State 65 | Auction Record (MS66) |
| --- | --- | --- | --- |
| $60 | $75 | $600 | $20,563 |
The information on this page does not constitute an offer to buy or sell the coin(s) referred to. Statistics are for Mint State coins only. Proof and prooflike examples of this issue may have greater or lesser "finest known" and different record auction prices.
Grading Morgan Dollars
The guidelines below will apply to all Morgan dollars, not just the 1888-O.
The prices provided below are a general guide: No two coins are ever quite the same. That's especially important to keep in mind when you see recent auction prices for a particular type of coin.
Coin auction data is regularly updated by Heritage, NGC, and PCGS. You should absolutely review recent auctions to get a ballpark estimate of what a coin is worth.
However, collector interest can vary from one auction to another, even for virtually identical coins. A coin with a lower grade or "book value" may sell for a higher price based on the appearance of the coin, where it is sold, and what pedigree or provenance it carries.
THE HIGH POINTS WHERE SIGNS OF WEAR FIRST APPEAR ON MORGAN DOLLARS:
Top of cheek
Brow
Hairline
Hair over ear
Curls over date
Top of cap
Eagle's breast
Eagle's legs
Eagle's head
Right wingtip
PRIME FOCAL AREAS ON MORGAN DOLLARS
Face and neck of Liberty
The field in front of Liberty's face
Body and wings of the eagle
Fields to sides of wings and above eagle's head
Very Fine
VF Morgan dollars will show light to moderate wear on the highest points of the design. All major details will still be fully visible. Some minor loss of detail along Lady Liberty's hairline will be apparent. There must be strands of hair still visible over the ear to qualify for a VF grade. The cotton and leaves in Liberty's hair will have lost some detail.
On the reverse, the feathers will be worn away from the eagle's breast except at the very top. The head and neck will be worn to a less degree. The very tip of the right wingtip may show wear.
Extremely Fine
An XF (sometimes abbreviated EF) Morgan dollar will only have light wear overall. 90% of the original details should remain. The cotton boll will retain nearly all of its original detail. Edges of the leaves will show light wear. Slight wear will be seen on Liberty's cheek and high points of the hair.
The eagle's breast and leg feathers on the reverse will show more detail than on a VF coin. Only the highest points should exhibit wear. The right wingtip will show light wear. The rest of the wings will still show finer detail in some spots.
About Uncirculated
An About Uncirculated Morgan dollar will have extremely light wear that may be barely visible at all. An AU Morgan dollar will generally have very good eye appeal, even when compared to low-end Mint State coins. The coin will have nearly complete luster, only missing a bit of detail from the cheek and very highest points of relief. Any abrasions and scratches will be small and not distract from the rest of the design.
Uncirculated Morgan Dollars
As a rule, uncirculated coins will have complete mint luster. Uncirculated coins are graded from Mint State 60 (MS60) to Mint State 70 (MS70). An MS60 coin has never circulated, but will have significant marks that detract from eye appeal. A MS70 coin is one that is flawless, even under 5x magnification.
Mint State 61
MS61 coins display far less eye appeal than a comparable About Uncirculated coin. It will have numerous marks and abrasions, especially distracting ones across Lady Liberty's face. Nonetheless, the relief details of the coin are not worn away, meaning it will grade as Mint State.
Mint State 63
An MS63 Morgan dollar will have substantially more eye appeal than a MS61 or MS62. There may be several scattered marks, but none that are particularly heavy. In terms of collectible status, MS63 is considered the "Choice Uncirculated" grade.
Mint State 65
MS65 Morgan dollars are very attractive and colloquially called "Gem Uncirculated." Only the very slightest nick on Lady Liberty's face or other minute marks keep such a coin from grading even higher. Overall the coin will have exceptional eye appeal and crisp relief details.