1888-S Morgan Silver Dollar Value
Mintage: 657,000
Finest Known: MS67 (NGC) MS67 (PCGS)
Auction Record: $31,200 (MS66+)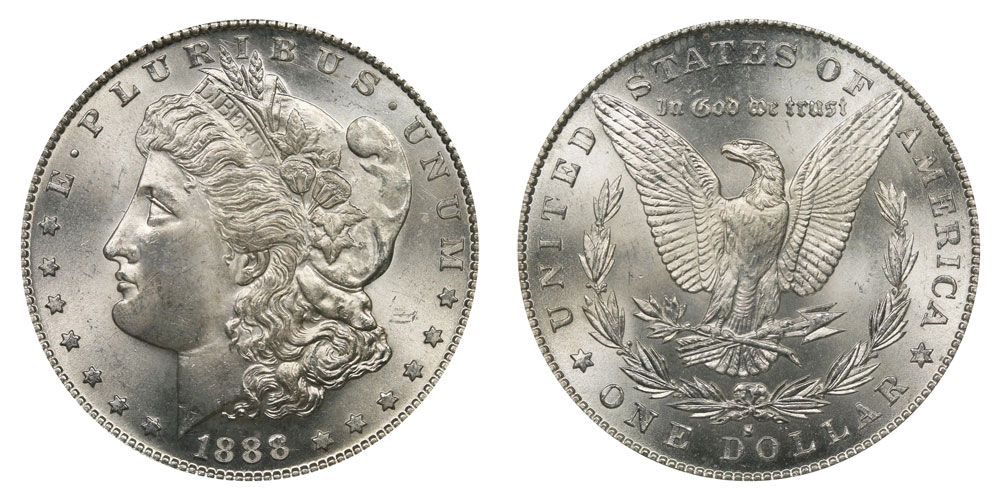 Image: USA CoinBook
The 1888-S Morgan dollar saw a relatively low mintage of 657,000 coins. Some historians have put the reasons for the small mintage on the fact that the San Francisco Mint had to divert production capacity to striking 3.9 million dimes and 1 million quarters that year, to cope with a local shortage in subsidiary silver coinage.
The Value of an 1888-S Morgan Dollar
The 1888-S Morgan dollar is a condition rarity. Due to the numbers of this mintage that ended up in Nevada slot machines, circulated specimens are scarce, but available. The large quantity of lower-Mint State coins keeps prices for circulated coins lower than might be expected, with the small mintage of this date.
The average 1888-S Morgan dollar is weakly struck, though sharp strikes can be found Luster is often average to above average.
1888-S Morgan Dollar Price Guide
Circulated Grades
| Very Fine 25 | Extremely Fine 45 | About Uncirculated 55 |
| --- | --- | --- |
| $146 | $162 | $195 |
Uncirculated (Mint State) Grades
| Mint State 61 | Mint State 63 | Mint State 65 | Auction Record (MS66+) |
| --- | --- | --- | --- |
| $390 | $514 | $2,250 | $31,200 |
The information on this page does not constitute an offer to buy or sell the coin(s) referred to. Statistics are for Mint State coins only. Proof and prooflike examples of this issue may have greater or lesser "finest known" and different record auction prices.