1889-S Morgan Silver Dollar Value
Mintage: 700,000
Finest Known: MS66 (NGC) MS67 (PCGS)
Auction Record: $16,450 (MS66+)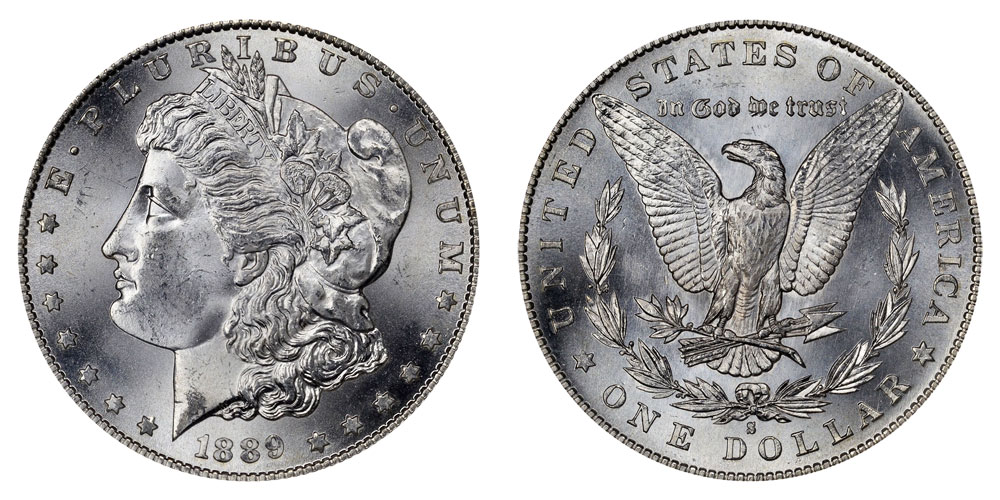 Image: USA CoinBook
The 1889-S Morgan dollar is one of the "superstars of yesteryear" that lost its status after bags of coins were found in vaults decades afterwards. With a mintage of only 700,000 coins, and few known to exist, coin collectors at the turn of the 20th century logically assumed that this was the rarest of Morgan dollars. Called the "King of Morgan Dollars," it sold for more than even the fabled 1893-S.
This changed in the 1930s and 1940s, when bags of 1889-S Morgans emerged from San Francisco Mint vaults. Since the vast majority of this mintage was saved in storage, there are more survivors than might be first assumed. As a result, the 1889-S Morgan has become more affordable for collectors.
The Value of an 1889-S Morgan Dollar
The 1889-S Morgan dollar is no longer considered one of the great rarities of the series, but it is still a scarce coin. Circulated grades are scarce, and lower Mint State grades not exceedingly rare. It can be difficult to find in MS65, and is a rarity above that level.
The average 1889-S Morgan dollar is sharply struck, with a pleasing luster.
1889-S Morgan Dollar Price Guide
Circulated Grades
| Very Fine 25 | Extremely Fine 45 | About Uncirculated 55 |
| --- | --- | --- |
| $73 | $94 | $128 |
Uncirculated (Mint State) Grades
| Mint State 61 | Mint State 63 | Mint State 65 | Auction Record (MS66+) |
| --- | --- | --- | --- |
| $292 | $358 | $1,120 | $16,450 |
The information on this page does not constitute an offer to buy or sell the coin(s) referred to. Statistics are for Mint State coins only. Proof and prooflike examples of this issue may have greater or lesser "finest known" and different record auction prices.