1892-CC Morgan Silver Dollar Value
Mintage: 1,352,000
Finest Known: MS66 (NGC) MS67+ (PCGS)
Auction Record: $135,125 (MS67+)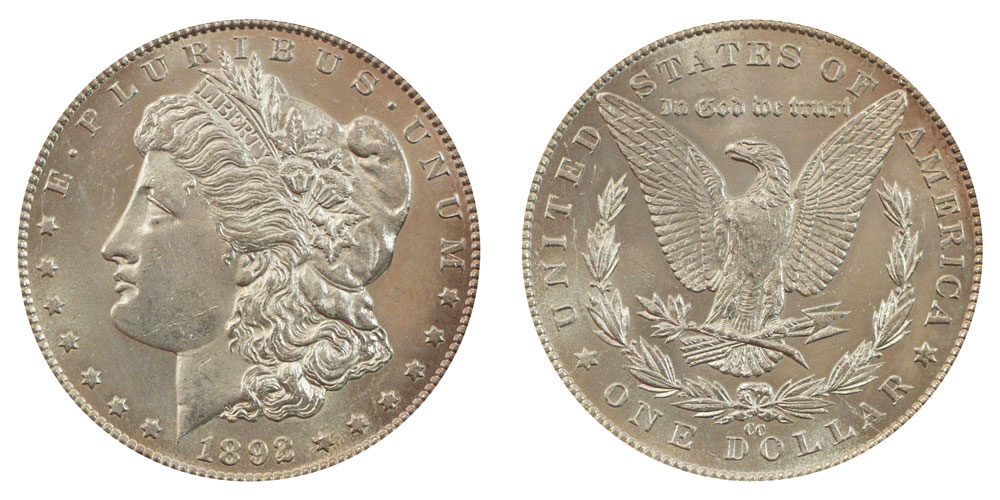 Image: USA CoinBook
The 1892-CC Morgan dollar was one of the few dates from this "Wild West" mint that saw wide circulation. After the Carson City Mint ceased production, all coins stored there were shipped to vaults at the San Francisco Mint, or to the Treasury Department headquarters in Washington, DC.
The San Francisco Mint actually paid out some bags of 1892-CC Morgan dollars in the late 1890s through the 1920s. Disbursements greatly increased in the late 1940s-mid 1950s. By the time of the great Treasury vault releases of 1962–1964, there were few 1892-CCs left in government hands.
The Value of an 1892-CC Morgan Dollar
Any Carson City Morgan dollar sees high demand. The 1892-CC is no different. That said, it is not as rare as the key dates in the series. This doesn't mean that they are common, by any stretch of the imagination.
Because nearly every uncirculated 1892-CC Morgan was shipped to San Francisco and Washington DC, there are few Mint State coins that have survived with no bag marks. This means that better Mint State coins (MS65 or better) are rare.
Most 1892-CC Morgan dollars have good strikes, and above average luster. Even so, there are some survivors that are weak at the high points of either side of the coin.
1892-CC Morgan Dollar Price Guide
Circulated Grades
| Very Fine 25 | Extremely Fine 45 | About Uncirculated 55 |
| --- | --- | --- |
| $299 | $585 | $878 |
Uncirculated (Mint State) Grades
| Mint State 61 | Mint State 63 | Mint State 65 | Auction Record (MS67+) |
| --- | --- | --- | --- |
| $1,750 | $2,060 | $5,620 | $135,125 |
The information on this page does not constitute an offer to buy or sell the coin(s) referred to. Statistics are for Mint State coins only. Proof and prooflike examples of this issue may have greater or lesser "finest known" and different record auction prices.