1892-O Morgan Silver Dollar Value
Mintage: 2,744,000
Finest Known: MS66 (NGC) MS67 (PCGS)
Auction Record: $111,625 (MS67)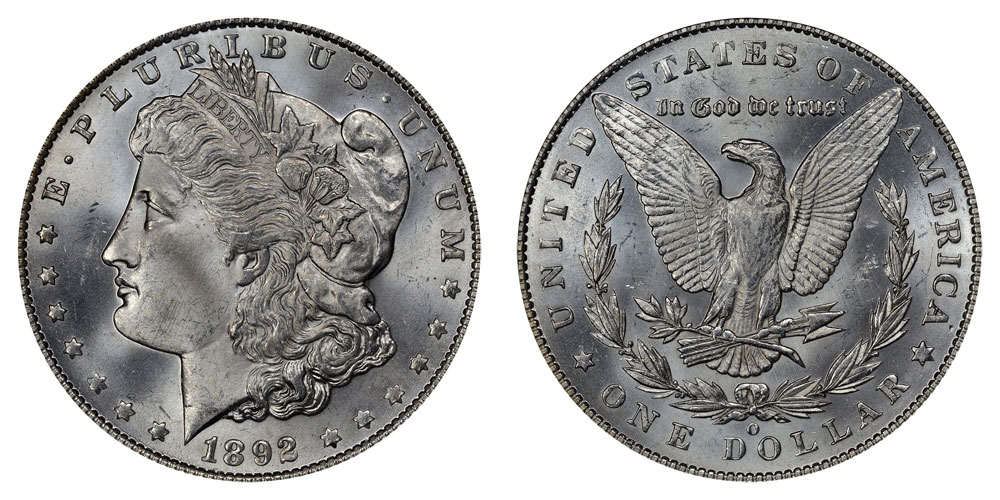 Image: USA CoinBook
The 1892-O Morgan is more of the more notorious mintages from the New Orleans Mint. Most of the coins have flat, weak strikes, caused by setting the dies too far apart. This is one mintage that should have been melted under the 1918 Pittman Act, just to get rid of them.
Many of the coins went into circulation shortly after being minted. Some bags of 1892-O Morgans were released in the 1950s, but the market was flooded from the big Treasury disbursements of 1962–1964.
PCGS population estimates are 275,000, with 100,000 in Mint State. Only around 625 of those 100,000 are thought to grade MS65 or better, illustrating the vast number of lower uncirculated coins for this mintage.
The Value of an 1892-O Morgan Dollar
The only trouble that a collector will have when buying an 1892-O Morgan dollar is finding one with decent eye appeal. Weak, flat strikes especially show up on the high points of the coin, and luster is generally unattractive. The strike quality on the 1892-O Morgan keeps most Mint State coins in the lower grades.
The rarity of finding a Gem uncirculated 1892-O Morgan dollar is reflected in the price, which jumps from three figures at MS63 to five figures in MS65.
Decent 1892-O Morgan dollars are out there, but will take some time to uncover. With the unattractiveness of the vast majority of the mintage, cherrypicking is strongly advised.
1892-O Morgan Dollar Price Guide
Circulated Grades
| Very Fine 25 | Extremely Fine 45 | About Uncirculated 55 |
| --- | --- | --- |
| $36 | $54 | $122 |
Uncirculated (Mint State) Grades
| Mint State 61 | Mint State 63 | Mint State 65 | Auction Record (MS67) |
| --- | --- | --- | --- |
| $364 | $448 | $25,000 | $111,625 |
The information on this page does not constitute an offer to buy or sell the coin(s) referred to. Statistics are for Mint State coins only. Proof and prooflike examples of this issue may have greater or lesser "finest known" and different record auction prices.