1892-S Morgan Silver Dollar Value
Mintage: 1,200,000
Finest Known: MS67 (NGC) MS68 (PCGS)
Auction Record: $495,000 (MS67)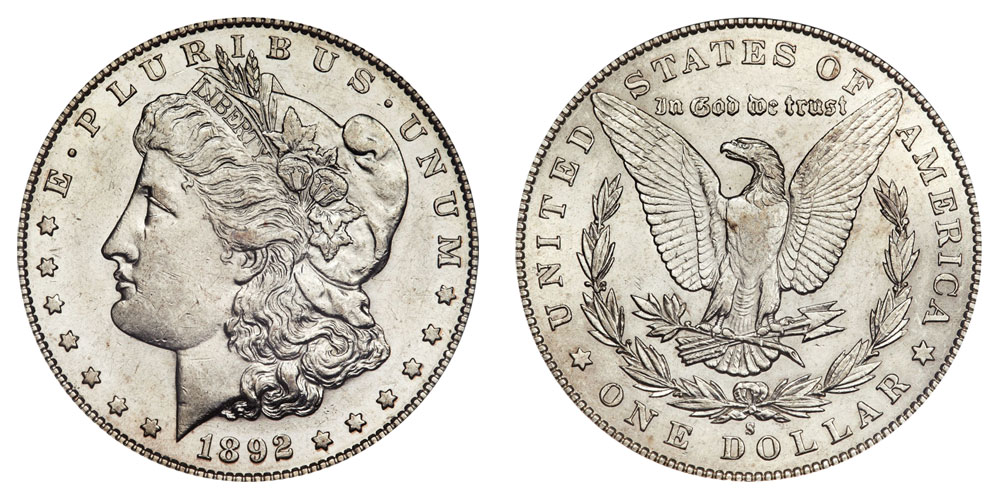 Image: USA CoinBook
The 1892-S Morgan dollar is another San Francisco mintage where almost all the coins went into circulation soon after production. Many of these dollars, worn or not, ended up in the melting pot in 1918. The last big known release was a $1,000 bag in the 1920s. None are known to have emerged from the San Francisco Mint in the 1940s or 1950s, and not a single one was found when the Treasury vaults were emptied of silver dollars in the 1960s.
PCGS estimates 120,000 1892-S Morgan dollars in all grades survive, including a mere 1,200 Mint State. Of those, they estimate 64 in MS65 or higher.
The Value of an 1892-S Morgan Dollar
The 1892-S Morgan dollar is the second-rarest San Francisco date in high uncirculated grades. Only the legendary 1893-S is more scarce. Prices handily beat the Philadelphia and New Orleans strikes of 1892. High grade Mint State samples are extremely rare.
Heritage Auctions notes that there are only 130 Mint State coins (MS60 through MS68) graded by NGC and PCGS combined. Circulated coins aren't too scarce, since the majority of the 1892-S Morgans were promptly released into circulation.
The 1892-S Morgan dollar, like some other San Francisco mintages of the 1890s, has an above-average strike and good luster.
1892-S Morgan Dollar Price Guide
Circulated Grades
| Very Fine 25 | Extremely Fine 45 | About Uncirculated 55 |
| --- | --- | --- |
| $135 | $358 | $3,500 |
Uncirculated (Mint State) Grades
| Mint State 61 | Mint State 63 | Mint State 65 | Auction Record (MS67) |
| --- | --- | --- | --- |
| $55,700 | $96,800 | $229,900 | $495,000 |
The information on this page does not constitute an offer to buy or sell the coin(s) referred to. Statistics are for Mint State coins only. Proof and prooflike examples of this issue may have greater or lesser "finest known" and different record auction prices.