1894 Morgan Silver Dollar Value
Mintage: 110,972
Finest Known: MS65 (NGC) MS66+ (PCGS)
Auction Record: $152,750 (MS66+)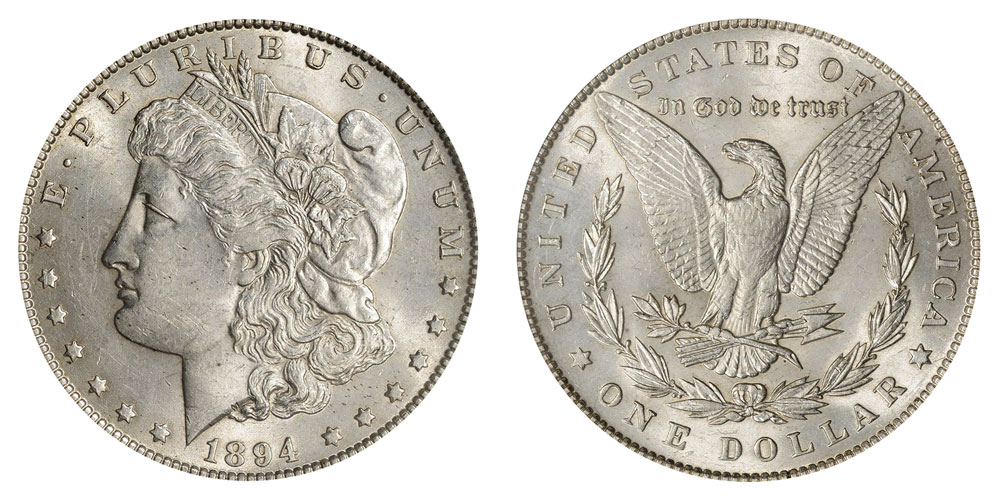 Image: USA CoinBook
With a mintage of only about 110,000 coins, the 1894 Morgan dollar is the second-smallest circulation strike mintage in the entire history of the Morgan dollar. It goes without saying that this coin is a major rarity, and a key date for collectors.
Several thousand 1894 Morgans came into the market in the 1950s, before the true rarity of the coin had been recognized. Few were found in the Treasury Morgan dollar disbursement of 1962-1964.
PCGS estimates that around 9,000 1894 Morgan dollars still exist. Of these, around 6,500 are in Mint State, and only around 125 of those would grade MS65 or better.
The Value of an 1894 Morgan Dollar
The estimated survivors show that few 1894 Morgan dollars made it into circulation. A great number are in the low Mint State range.
Illustrating the extreme rarity of the 1894 Morgan dollar in high uncirculated grades, note that the two major grading services list 30 MS65, six MS65+, five MS66, and a single MS66+ between them. These numbers are doubtlessly inflated due to multiple submissions of the same coins.
BEWARE OF THE MANY FAKES
Thousands of fake 1894 Morgan dollars exist. Since the lowest Mint State coin fetches in excess of $3000, this is little surprise. Many of these fakes are made from filing off the mint mark of authentic 1894-O and 1894-S Morgan dollars.
Since only one set of dies were apparently used for the entire 110,000 mintage, famous numismatist Ron Guth has revealed die details to help collectors identify an authentic 1894 Morgan dollar.
Obverse diagnostic for a genuine coin (circulation strikes only): large, slanted die polish mark in the right foot of the R in LIBERTY.
Reverse diagnostic for a genuine coin: short, horizontal dash inside the lower left part of the triangle next to the eagle's right leg.
1894 Morgan Dollar Price Guide
Circulated Grades
| Very Fine 25 | Extremely Fine 45 | About Uncirculated 55 |
| --- | --- | --- |
| $878 | $1,060 | $1,500 |
Uncirculated (Mint State) Grades
| Mint State 61 | Mint State 63 | Mint State 65 | Auction Record (MS66+) |
| --- | --- | --- | --- |
| $3,440 | $5,250 | $37,500 | $152,750 |
The information on this page does not constitute an offer to buy or sell the coin(s) referred to. Statistics are for Mint State coins only. Proof and prooflike examples of this issue may have greater or lesser "finest known" and different record auction prices.