1894-S Morgan Silver Dollar Value
Mintage: 1,260,000
Finest Known: MS67 (NGC) MS67 (PCGS)
Auction Record: $34,500 (MS66)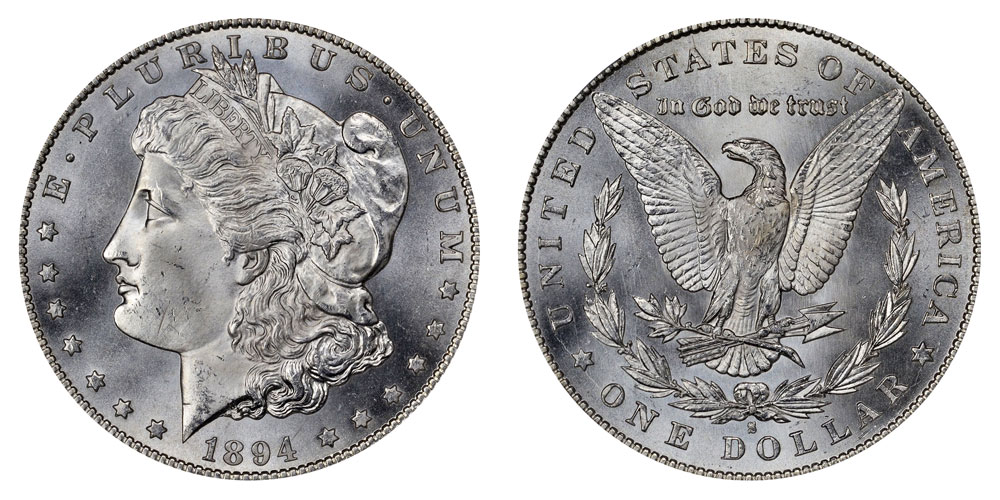 Image: USA CoinBook
With a mintage of only 1.2 million, the 1894-S Morgan dollar is surprisingly the highest mintage for that year. Most of this small mintage went into circulation, as people on the West Coast still preferred hard money to paper notes. Most of the survivors seem to have been released into circulation in the 1950s. There were apparently few to none to emerged from the Treasury vault disbursement of the 1960s.
PCGS estimates that there are approximately 20,000 Mint State 1894-S Morgan dollars surviving. Less than 400 of these grade MS65 or better.
The Value of an 1894-S Morgan Dollar
In a departure from most San Francisco mintages, the 1894-S Morgan dollar sports a good strike. Mint State examples show good detail and luster.
Circulated grades are not as expensive as might be originally thought, given the small mintage. This changes in About Uncirculated grades. An AU55 1895-S Morgan is generally worth more than twice a XF45. Most surviving Mint State coins are on the lower side, MS62 and below.
1894-S Morgan Dollar Price Guide
Circulated Grades
| Very Fine 25 | Extremely Fine 45 | About Uncirculated 55 |
| --- | --- | --- |
| $122 | $214 | $598 |
Uncirculated (Mint State) Grades
| Mint State 61 | Mint State 63 | Mint State 65 | Auction Record (MS66) |
| --- | --- | --- | --- |
| $1,020 | $1,500 | $4,750 | $34,500 |
The information on this page does not constitute an offer to buy or sell the coin(s) referred to. Statistics are for Mint State coins only. Proof and prooflike examples of this issue may have greater or lesser "finest known" and different record auction prices.