1895-O Morgan Silver Dollar Value
Mintage: 450,000
Finest Known: MS66 (NGC) MS67 (PCGS)
Auction Record: $575,000 (MS67)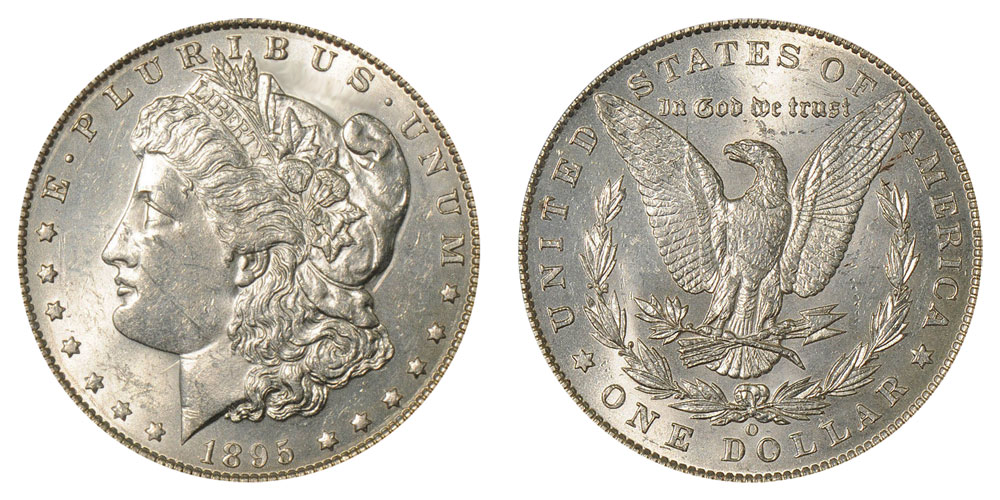 Image: USA CoinBook
1895 Morgan dollars from any Mint are hard to find, especially in perfect condition. No Morgan dollars at all were struck at the main U.S. Mint in Philadelphia, and only 400,000 were made at the San Francisco Mint. New Orleans was the only other functioning U.S. Mint, and it only produced 450,000 Morgan silver dollars in 1895.
The 1895-O Morgan dollar is known for its bad strikes. The dies were run until they were completely worn out, This means that even the nicest 1895-O Morgan dollars lack much of their finer detail.
The Value of An 1895-O Morgan Dollar
A very low mintage and careless production make the 1895-O Morgan dollar very rare in uncirculated grades. Even fresh off the press, the coins looked like they'd been lightly worn. Circulated samples are scarce, but not especially unusual. However, uncirculated 1895-O Morgan dollars are extremely rare, making it one of the most expensive New Orleans Morgan dollars.
1895-O Morgan Dollar Price Guide
Circulated Grades
| Very Fine | Extremely Fine | About Uncirculated |
| --- | --- | --- |
| $30 | $450 | $2,000 |
Uncirculated (Mint State) Grades
| Mint State 61 | Mint State 63 | Mint State 65 | Auction Record (MS67) |
| --- | --- | --- | --- |
| $16,000 | $47,000 | $225,000 | $575,000 |
The information on this page does not constitute an offer to buy or sell the coin(s) referred to. Statistics are for Mint State coins only. Proof and prooflike examples of this issue may have greater or lesser "finest known" and different record auction prices.
Grading Morgan Dollars
The guidelines below will apply to all Morgan dollars, not just the 1895-O.
The value of your Morgan dollar naturally depends on its condition. Judging a coin's condition is called "grading." While the price increase between circulated grades is usually not especially steep, a one step higher grade in Mint State can make a huge difference in value.
THE HIGH POINTS WHERE SIGNS OF WEAR FIRST APPEAR ON MORGAN DOLLARS:
Top of cheek
Brow
Hairline
Hair over ear
Curls over date
Top of cap
Eagle's breast
Eagle's legs
Eagle's head
Right wingtip
PRIME FOCAL AREAS ON MORGAN DOLLARS
Face and neck of Liberty
The field in front of Liberty's face
Body and wings of eagle
Fields to sides of wings and above the eagle's head
Very Fine
Major features should be fully visible. Some wear is evident on the coin's high points. At least a few strands of hair over Liberty's ear should be visible. Light wear on the highest parts of the cotton balls and leaf edges in Liberty's headband. A least a few feathers should remain visible on the eagle's breast and head. The right wingtip will show minor wear.
Extremely Fine
Very light wear on the highest points of Liberty's hair. The cotton balls should be unworn, with minor wear on the edges of the cotton leaves. Trivial wear on the eagle's high points.
About Uncirculated
Only the slightest evidence of wear is allowable. Check the hair over Liberty's forehead and ear, and above the date. The edges of the cotton leaves may show the very tiniest traces of wear.
Uncirculated Morgan Dollars
Uncirculated coins are coins that never left the U.S. Mint, or never left the first bank that they were sent to before a collector obtained it. That is, they never circulated among the public. This doesn't mean that they are unblemished, though.
Soft silver coins could strike each other as they were ejected from the coin press into a holding bin. This was common with the large, heavy Morgan dollars. Coins could also damage one another when poured into large canvas bags for storage and shipment. The bags the U.S. Mint used for Morgan dollars held 1,000 coins. These 60-pound bags were slung into vaults like sacks of potatoes, because who cared about coins that were going to get worn down with use, anyway?
This meant that Morgan dollars that were never paid out could still have scratches and marks from clashing together. Known as bag marks, they can seriously detract from the appearance of a Morgan dollar. But even an ugly Morgan dollar that was never paid out counts as Mint State. Nice About Uncirculated Morgan dollars often are more attractive than an MS61 coin.
Mint State 61
Mint State 61 Morgan dollars will have heavy marks across the main focal points, in addition to several noticeable scratches. Generally, an unattractive coin that only has its uncirculated status going for it.
Mint State 63
MS 63 Morgan dollars are notably more attractive than an MS61, and will still have some mint luster. They may have some small light scratches.
Mint State 65
Mint State 65 Morgan dollars have great eye appeal. There may be the very lightest scattered scratch in a secondary area, but overall the coin is far above MS63, with the price to match.