1896-O Morgan Silver Dollar Value
Mintage: 4,900,000
Finest Known: MS65 (NGC) MS66 (PCGS)
Auction Record: $345,000 (MS66)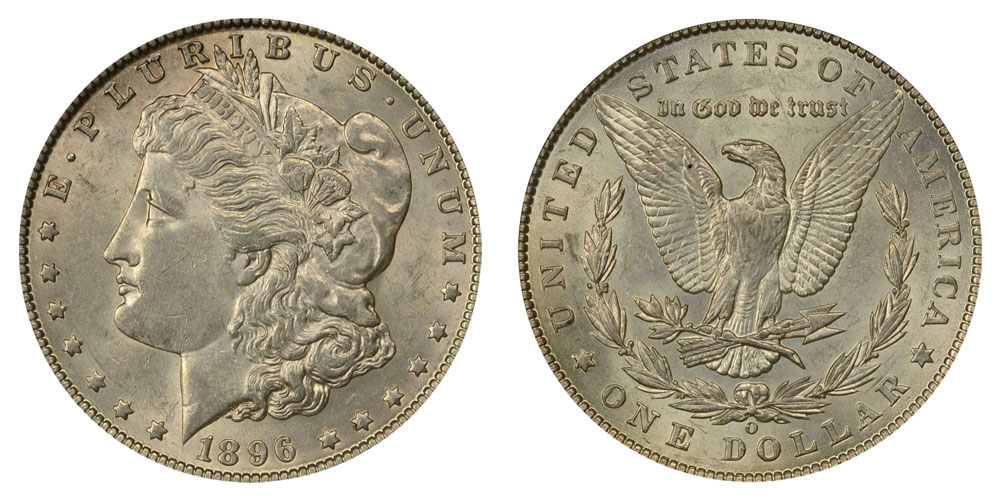 Image: USA CoinBook
1896 was the first year since 1892 that the New Orleans Mint produced more than two million Morgan dollars. Most 1896-O Morgan dollars went into circulation because of the low mintages of previous years. The New Orleans Mint retained some bags of 1896-O Morgans, which were sent to Treasury vaults after the Mint ceased operations.
Some bags of 1896-O Morgan dollars were released in the 1950s. Others showed up during the 1960s, but there was no interest in them. This is because coins from this mintage were almost universally unattractive.
Circulated 1896-O Morgan dollars are easy to find. PCGS estimates that there are only 23,000 surviving Mint State 1896-O Morgan dollars, and only eight of those are MS65 or higher. This makes the 1896-O one of the most rare Morgan dollars in high mint state.
In 2005, PCGS determined that all 1896-O, 1900-O and 1902-O Silver Dollars with so-called "Micro o" mintmarks were counterfeit. This announcement was based on the discovery that all three dates shared common die markers.
The Value of an 1896-O Morgan Dollar
The 1896-O Morgan dollar unfortunately displays the poor, weak strikes and below average luster that was common among New Orleans Mint coins. As the majority of 1896-O Morgans were released into commerce, circulated examples are plentiful and cheap.
Surviving Mint State 1896-O Morgan dollars suffered from their being shipped from Mint storage in New Orleans to Washington DC and the Philadelphia Mint. As a result, the vast majority of Mint State coins grade no better than MS61 or MS62. Even so, these lower Mint State coins cost around $2,000. The weak strikes of most 1896-O Morgan dollars accounts for the almost non-existent number of coins MS65 and above.
1896-O Morgan Dollar Price Guide
Circulated Grades
| Very Fine 25 | Extremely Fine 45 | About Uncirculated 55 |
| --- | --- | --- |
| $41 | $81 | $195 |
Uncirculated (Mint State) Grades
| Mint State 61 | Mint State 63 | Mint State 65 | Auction Record (MS66) |
| --- | --- | --- | --- |
| $1,810 | $4,440 | $163,400 | $345,000 |
The information on this page does not constitute an offer to buy or sell the coin(s) referred to. Statistics are for Mint State coins only. Proof and prooflike examples of this issue may have greater or lesser "finest known" and different record auction prices.