1896-S Morgan Silver Dollar Value
Mintage: 5,000,000
Finest Known: MS67 (NGC) MS69 (PCGS)
Auction Record: $402,500 (MS66)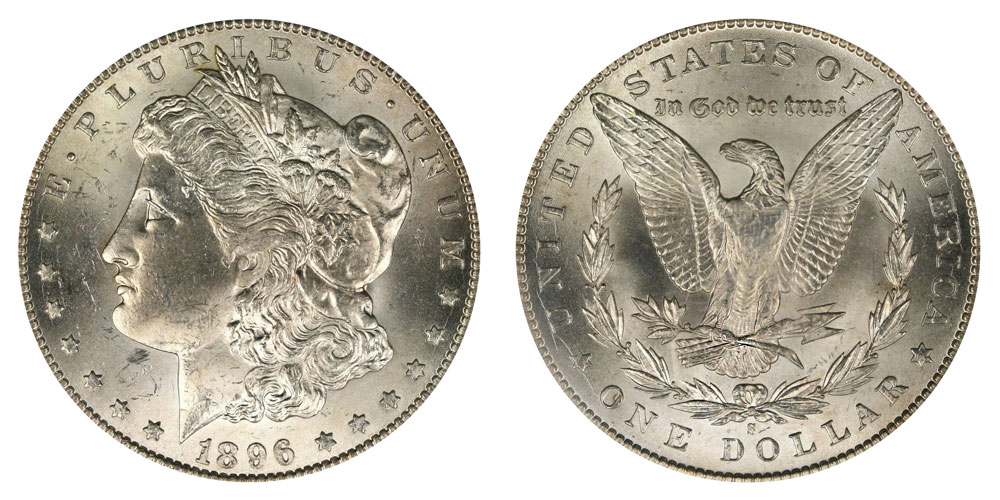 Image: USA CoinBook
Most of the 5 million 1896-S Morgan dollars were in circulation by the 1950s. Little attention was paid to the date until the boom in Morgan dollar collecting in the mid-1960s.
Many of the relatively few surviving Mint State coins show a large number of marks and scratches suffered while in storage. However, the mintage is generally attractive for a late-date San Francisco Morgan dollar. Most of them have good strikes and a pleasant luster.
Beware of counterfeit 1896-S Morgan dollars that have been made by bonding a fake "S" mintmark on the reverse of the extremely cheap Philadelphia mintage of this date.
PCGS puts the surviving population of 1896-S Morgan dollars at a half-million in all grades. A mere 28,000 of these are in Mint State, and only an estimated 156 of these are MS65 and above!
As extremely rare as high grade Mint State 1896-S Morgan dollars are, NGC has graded one MS67. PCGS has also graded one MS67 (which might be the same one), and one at an astounding MS69!
The Value of an 1896-S Morgan Dollar
The 1896-S Morgan dollar is readily available in lower circulated grades (VF30 and below), but is by no means a "common date" coin, as the prices show. Prices rapidly ramp up at XF40 through AU58. With Mint State coins as low as MS61 selling for $3,000, prices for XF and AU examples remain high.
Most Mint State 1896-S Morgan dollars show numerous bag marks. The majority of them have graded out from MS60 to MS63. Numbers plunge at MS64, with less than 1,000 graded by NGC and PCGS combined. MS65 1896-S Morgan dollars are practically non-existent and are rarely seen. At MS66 and above, the 1896-S is a true Morgan dollar rarity.
1896-S Morgan Dollar Price Guide
Circulated Grades
| Very Fine 25 | Extremely Fine 45 | About Uncirculated 55 |
| --- | --- | --- |
| $94 | $436 | $1,250 |
Uncirculated (Mint State) Grades
| Mint State 61 | Mint State 63 | Mint State 65 | Auction Record (MS69) |
| --- | --- | --- | --- |
| $3,000 | $3,880 | $11,200 | $402,500 |
The information on this page does not constitute an offer to buy or sell the coin(s) referred to. Statistics are for Mint State coins only. Proof and prooflike examples of this issue may have greater or lesser "finest known" and different record auction prices.