1897 Morgan Silver Dollar Value
Mintage: 2,822,731
Finest Known: MS67+ (NGC) MS67+ (PCGS)
Auction Record: $24,675 (MS67+)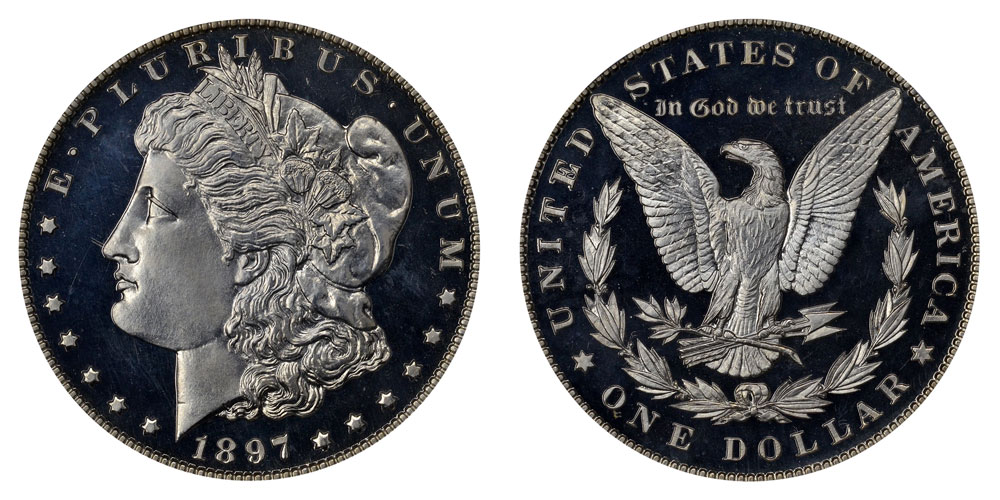 Image: USA CoinBook
The Philadelphia Mint only struck 2.8 million Morgan dollars in 1897, after striking just shy of 10 million the year before. Very few entered circulation at the time. The 1897 Morgan was a major rarity until the "Great Treasury Release" of silver dollars in the early 1960s.
PCGS estimates that approximately 280,000 1897 Morgan dollars still exist. Of these, 100,000 are Mint State. The Mint State population at grades MS65 and above is thought to only total 6,550 coins.
The Value of an 1897 Morgan Dollar
The 1897 Morgan dollar is generally well struck. Most of them will have a decent luster. There are some 1897 Morgans, especially the low Mint State ones, that have a grey, impaired luster. This mintage is common enough that you shouldn't have to settle for one of these.
Large quantities of 1897 Morgan dollars were released to banks in the 1950s. This made the date far more common in circulated condition. The many sealed bags released from Treasury vaults from 1962 through 1964 did the same thing to Mint State coins of this date.
As can be seen in the price tables below, 1897 Morgan dollars are common from circulated grades through MS63. It actually is considered the second-most common Morgan dollar struck in the 1890s.
1897 Morgan Dollar Price Guide
Circulated Grades
| Very Fine 25 | Extremely Fine 45 | About Uncirculated 55 |
| --- | --- | --- |
| $41 | $42 | $46 |
Uncirculated (Mint State) Grades
| Mint State 61 | Mint State 63 | Mint State 65 | Auction Record (MS67+) |
| --- | --- | --- | --- |
| $59 | $74 | $2,660 | $24,675 |
The information on this page does not constitute an offer to buy or sell the coin(s) referred to. Statistics are for Mint State coins only. Proof and prooflike examples of this issue may have greater or lesser "finest known" and different record auction prices.