1897-O Morgan Silver Dollar Value
Mintage: 4,004,000
Finest Known: MS67 (NGC) MS67 (PCGS)
Auction Record: $262,500 (MS66)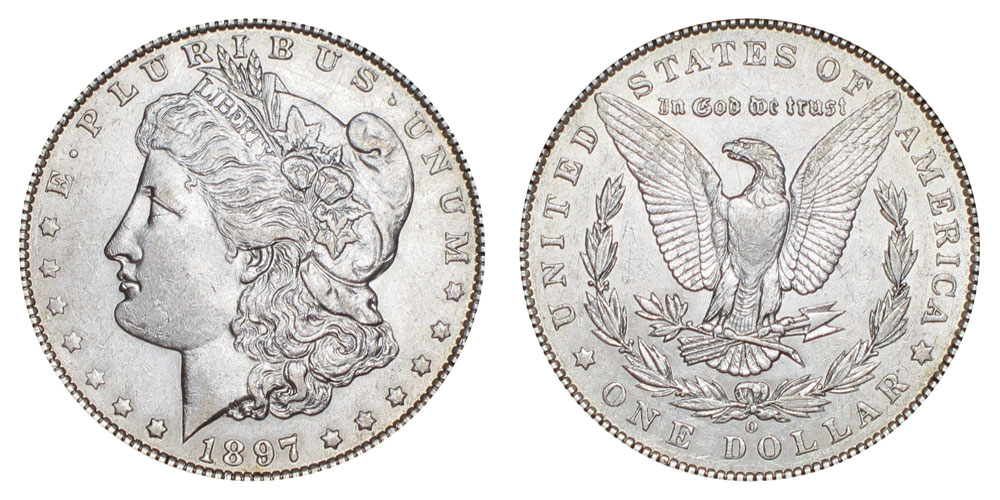 Image: USA CoinBook
The 1897-O Morgan dollar is another date from New Orleans that exhibits the Mint's emphasis on using dies until failure, rather than on the quality of the strike. After all, the only reason the New Orleans Mint was reopened in 1879 was to help produce the amount of Morgan dollars stipulated by the Bland-Allison Act.
Most of the 4 million 1897-O Morgan dollars struck entered local commerce. PCGS estimates around 400,000 survive in all grades. There are only 11,000 uncirculated survivors, with less than 50 grading MS65 or above.
The Value of an 1897-O Morgan Dollar
The 1897-O Morgan dollar is easily found in lower circulated condition, but prices are higher than true common date coins. This is especially true for About Uncirculated grades. Mint State 1897-O Morgans are rare, with the price of MS65 examples hitting five figures. The MS65 1897-O Morgan dollar is one of the rarest Morgan dollars at this grade.
1897-O Morgan dollars are generally unattractive, with weak strikes and below average luster. Sharp strikes can be found with some effort.
1897-O Morgan Dollar Price Guide
Circulated Grades
| Very Fine 25 | Extremely Fine 45 | About Uncirculated 55 |
| --- | --- | --- |
| $41 | $68 | $169 |
Uncirculated (Mint State) Grades
| Mint State 61 | Mint State 63 | Mint State 65 | Auction Record (MS66) |
| --- | --- | --- | --- |
| $1,250 | $4,000 | $60,500 | $262,500 |
The information on this page does not constitute an offer to buy or sell the coin(s) referred to. Statistics are for Mint State coins only. Proof and prooflike examples of this issue may have greater or lesser "finest known" and different record auction prices.