1899 Morgan Silver Dollar Value
Mintage: 330,846
Finest Known: MS67+ (NGC) MS67+ (PCGS)
Auction Record: $21,150 (MS67+)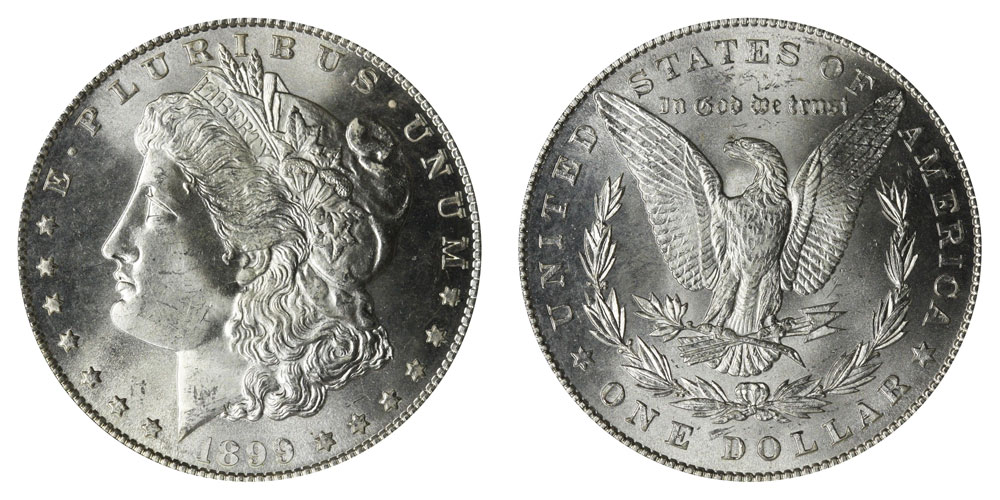 Image: USA CoinBook
The 1899 was the second-lowest Morgan dollar mintage by the Philadelphia Mint. The coin was a semi-key date coin until the 1950s, as few had been released into circulation. Curiously enough, when mint bags of coins began appearing, they showed up in the western US instead of the East Coast. Many showed up in Las Vegas, apparently as casino fodder. Others surfaced in Montana and California. The remaining 1899 Morgan dollars were part of the massive silver dollar releases from Treasury Department vaults in 1962 to 1964.
PCGS estimates that approximately 10% of the 1899 Morgan dollars minted have survived to the present day. This is broken down to 13,000 in circulated grades, 15,000 in lower Mint State (MS60 to MS64),and less than 5,000 in Mint State 65 or greater.
The Value of An 1899 Morgan Dollar
The 1899 Morgan dollar remains a semi-key date in the series, with premiums to match. This is a very scarce coin in circulated grades, as so few were released into commerce. The majority of available coins are in the lower Mint State grades, becoming somewhat difficult to find in MS65 or better.
The strike on the 1899 Morgan dollar can vary widely. Examples with sharp strikes and attractive luster can be found with perseverance, for those willing to pay for it.
1899 Morgan Dollar Price Guide
Circulated Grades
| Very Fine | Extremely Fine | About Uncirculated |
| --- | --- | --- |
| $176 | $182 | $202 |
Uncirculated (Mint State) Grades
| Mint State 61 | Mint State 63 | Mint State 65 | Auction Record (MS67+) |
| --- | --- | --- | --- |
| $292 | $338 | $748 | $21,150 |
The information on this page does not constitute an offer to buy or sell the coin(s) referred to. Statistics are for Mint State coins only. Proof and prooflike examples of this issue may have greater or lesser "finest known" and different record auction prices.
Grading Morgan Dollars
The guidelines below will apply to all Morgan dollars, not just the 1899-P.
The value of a Morgan dollar is based on its rarity and condition. A coin's rarity is easily determined, but its condition can often be a matter of opinion. That is why a standardized coin grading scale and grading criteria was established.
Based on the original Sheldon Scale for large cents, this grading scale describes the condition a coin must meet to achieve each grade. The American Numismatic Association (ANA) has also put out detailed grading guides for every coin type and design.
The advent of third-party coin grading services in the 1980s has helped standardize coin grading. These companies grade coins, then seal them into clear plastic cases (slabs) displaying the coin's grade. This is a good resource for learning to estimate coin grades yourself. Examine a slabbed coin and challenge yourself to spot why the coin received the grade it did.
There are particular places on Morgan dollars that will show the most wear. Knowing where these places are will help you quickly narrow down the condition of a Morgan dollar.
THE HIGH POINTS WHERE SIGNS OF WEAR FIRST APPEAR ON MORGAN DOLLARS:
Top of cheek
Brow
Hairline
Hair over ear
Curls over date
Top of cap
Eagle's breast
Eagle's legs
Eagle's head
Right wingtip
PRIME FOCAL AREAS ON MORGAN DOLLARS
Face and neck of Liberty
The field in front of Liberty's face
Body and wings of the eagle
Fields to sides of wings and above eagle's head
Very Fine
A Very Fine (VF25) Morgan dollar should display at least 80% of its original details.All major details should be present. Liberty's hair will show a flatness, especially at the hairline, over the ear, and the curls near the date. The cheek will show light to moderate abrasion. The top of the cap will be flattened, and the cotton bolls in the hairband will have hadr minor details worn away.
On the reverse, the breast and legs of the eagle will be flat. Traces of feathers on the sides of the breast and legs will be present. Wing feathers will be present, but worn. This is especially the case on the right wingtip.
Extremely Fine
Extremely Fine (XF45) Morgan dollars will have light wear overall. Nearly all details will be present to one extent or the other. Wear will be most noticeable on the high points of Liberty's hair and the tip of the cap. The cheek is often abraded, but not to the extent of a VF coin. The cotton bolls in the hairband will retain some minor details. A XF45 Morgan may exhibit some mint luster in places.
The breast and legs of the eagle on the reverse may show traces of feathers, but will still be noticeably worn. The wings will look better overall, compared to a VF Morgan, but wear will still be seen on the right wingtip.
About Uncirculated
The About Uncirculated AU55 Morgan dollar should be notably more attractive than an XF example. Overall, it will exhibit extremely light to barely visible wear, only on the very highest points. Luster should be complete, or nearly so. Any nicks and scratches should be tiny, unobtrusive, and very shallow.
The top About Uncirculated grade is AU58. This coin has positive eye appeal, even when compared to low-grade uncirculated coins.
Uncirculated Morgan Dollars
Uncirculated Morgan dollars, also called Mint State, are those Morgan dollars that were not released to the public. The Mint State classification extends to those coins that were ordered by banks and kept in their vaults. To be considered Mint State, a coin must have zero wear at all.
Coins ordered wholesale from banks and delivered to a person or business are also considered Mint State, if kept sealed in their original bags. This is where many "coin hoards" come from. As long as a coin has not been paid out in change, and has not suffered any damage after being removed from its original canvas bag, it is considered Mint State.
There is an important distinction between "post-mint" damage, and damage suffered at the Mint. Coins can suffer damage in the coining press, in the hoppers that collect coins as they are struck, in the mechanical counting machines that fill the canvas storage bags, and in transport and storage in vaults. Because this damage happened before they were released to the public, these coins are still considered Mint State.
Mint State 61
No matter how you look at it, a Mint State MS61 Morgan dollar is ugly. It will have marks and scuffs over much of its surface, as well as substantial mint damage. This damage greatly impairs mint luster. It is usually readily apparent when a coin is going to grade as low as MS61, therefore collectors will rarely spend the money for a professional grading. The only exception is when a coin is a rare or key date. In this case, authentication is more important than the condition grade.
Mint State 63
A Mint State MS63 Morgan dollar represents the average grade for most uncirculated Morgan dollars. The MS63 coin will have average eye appeal and full mint luster. However, it will still display obvious bag marks and scuffing. It should exhibit a decent to sharp strike for its mintage. (Remember, some years have weak strikes, and have to be graded accordingly.)
MS63 and MS64 are usually the most popular uncirculated Morgan dollar grades. Lower grades are unattractive, and better grades are often much more expensive.
Mint State 65
A MS65 Morgan Dollar has a sharp strike and full mint luster. It will have very few marks, none heavy. There might be faint friction on Liberty's cheek or the eagle's breast. The very attractive eye appeal of the MS65 1899 Morgan dollar explains its price of more than double that of a MS63 grade.