1899-O Morgan Silver Dollar Value
Mintage: 12,290,000
Finest Known: MS67+ (NGC) MS68 (PCGS)
Auction Record: $29,900 (MS68)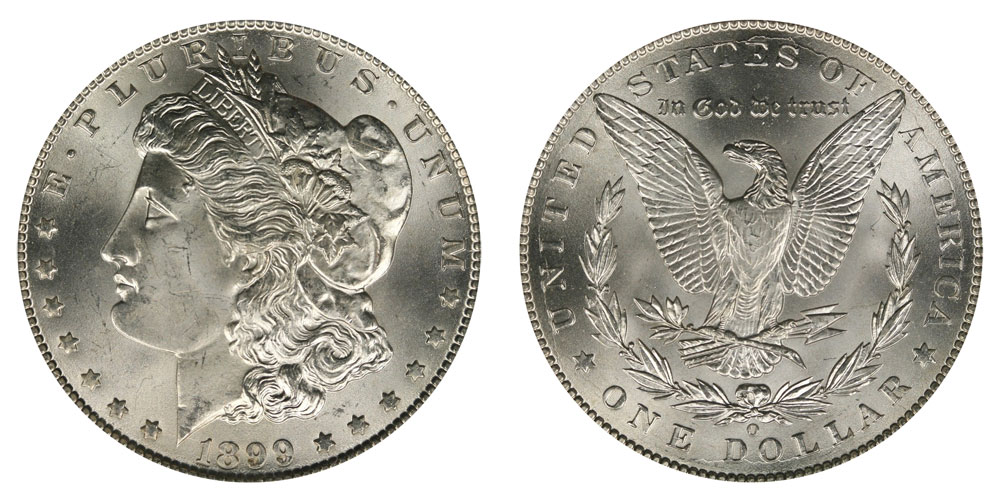 Image: USA CoinBook
The 1899-O Morgan dollar is one of those former very rare dates that saw its surviving population explode in the 1960s. 1899-O Morgans were among the first coins disgorged from Treasury Department vaults in the 1960s. Hundreds of thousands of 1899-O Morgan dollars hit the market sealed in their original New Orleans Mint canvas bags. This naturally had a substantial effect on prices. 1899-O Morgans are now easy to find.
PCGS estimates that there are more than 1.2 million 1899-O Morgans still extant. 30,000 of these grade a gem MS65 or better! This means that a really nice New Orleans Mint Morgan dollar is within the reach of most collectors.
New Orleans had a reputation for varying strike quality, even on the same mintage. This holds true for the 1899-O Morgan as well. The New Orlean Mint would squeeze every last coin out of a set of dies. Those coins struck on worn dies have a flat, weak appearance. Those struck on new dies were sharp and clear. A careful collector can find a truly beautiful, sharp strike with attractive luster if they are patient.
The Value of A 1899-O Morgan Dollar
1899-O Morgan dollars are quite affordable, and readily available in Mint State. Even MS66 examples can be found for a little more than $250. As can be seen in the price chart below, the large population of Mint State 1899-O Morgan dollars has kept the price of circulated coins low.
1899-O Morgan Dollar Price Guide
Circulated Grades
| Very Fine | Extremely Fine | About Uncirculated |
| --- | --- | --- |
| $32 | $36 | $46 |
Uncirculated (Mint State) Grades
| Mint State 61 | Mint State 63 | Mint State 65 | Auction Record (MS68) |
| --- | --- | --- | --- |
| $59 | $73 | $135 | $29,900 |
The information on this page does not constitute an offer to buy or sell the coin(s) referred to. Statistics are for Mint State coins only. Proof and prooflike examples of this issue may have greater or lesser "finest known" and different record auction prices.
Grading Morgan Dollars
The guidelines below will apply to all Morgan dollars, not just the 1899-O.
The two major determinants of value in Morgan dollars is rarity and condition. A standard grading scale for coins was adopted in the 1980s that runs from 1 (barely identifiable) to 70 (perfect, even under 5x magnification). Known as the Sheldon scale, these numeric grades are considered more precise than the old adjectival descriptions.
To cover a range of prices for each date Morgan dollar, we present average prices for Very Fine (VF) 35, Extremely Fine (XF) 45, Almost Uncirculated (AU) 55, and grades 61, 63, and 65 in Mint State (MS). There are certain particular places on Morgan dollars that play a large part in the grade they receive.
NOTE: Damage, especially in the coin's fields, will adversely affect the coin's grade.
THE HIGH POINTS WHERE SIGNS OF WEAR FIRST APPEAR ON MORGAN DOLLARS:
Top of cheek
Brow
Hairline
Hair over ear
Curls over date
Top of cap
Eagle's breast
Eagle's legs
Eagle's head
Right wingtip
PRIME FOCAL AREAS ON MORGAN DOLLARS
Face and neck of Liberty
The field in front of Liberty's face
Body and wings of the eagle
Fields to sides of wings and above eagle's head
Very Fine
All major details will be easy to see on a Very Fine 1899-O Morgan dollar. It will exhibit medium to light wear, especially on the high points. Moderate abrasion may be present on Liberty's cheek, and small details in the hair may be missing.
The breast and legs of the eagle on reverse will be flat. The wing feathers will show wear. The right wingtip is a high point, and will show nearly as much wear as the eagle's breast.
Extremely Fine
An XF 1899-O Morgan dollar will display light wear overall. This will be mostly noticeable on high points of coin such as the hairline and cheek on Liberty, and the breast and legs of the eagle. Most details should be present on both sides of the coin, though some finer detail will be worn.
The cotton bolls in Liberty's headdress should display some minor details. Some traces of feathers on the eagle's breast and legs will be showing. The right wingtip will be worn, but not as much as on a VF coin.
About Uncirculated
Overall, the AU55 1899-O Morgan dollar will show extremely light to barely visible circulation wear. Near-complete mint luster will be present, except on the highest parts of the coin. Any nicks and scratches should be tiny and unobtrusive. All feathers on the eagle's breast and legs will be present. The right wingtip will show only the smallest traces of wear.
The About Uncirculated 1899-O Morgan dollar should have positive eye appeal,even when compared to lower-grade Mint State coins.
Uncirculated Morgan Dollars
Uncirculated Morgan dollars are those that never saw actual use before being acquired by a coin collector. This does not mean that they are undamaged, however. There are several ways a coin can be damaged without ever leaving the mint. The most common mint damage on Morgan dollars are "bag marks."
Large canvas bags were used to store and transport Morgan dollars. When these bags were moved, the coins inside rubbed, hit and clashed together. Even though they are damaged, they are still Uncirculated (Mint State) coins. This is why the Sheldon scale has a ten-point range for Mint State coins.
Mint State 61
A MS61 1899-O Morgan dollar is just 1 point above the bottom-most grade for an uncirculated coin. MS61 coins may present weak strikes. The coin will have substantial bag marks, some deep and severe. It may also exhibit scuff marks and abrasions.
It is rare to see anyone bothering to have this grade authenticated, as there is no market for MS60 or MS61. The exception would be for especially rare coins.
Mint State 63
A MS63 1899-O Morgan dollar is a mid-range Mint State coin. MS63 and MS64 Morgan dollars are the most popular uncirculated grades. They combine decent eye appeal with prices much less than MS65 Morgans. This price difference between grades is not as pronounced in the 1899-O Morgan, due to the large population of coins grading MS65 or better.
The MS63 1899-O Morgan dollar will have a decent to sharp strike, with full mint luster. It will have far fewer bag marks and other damage than a MS61 Morgan dollar. Some of this damage will be scuffing on the cheek of Liberty, and marks in the field in front of her face. This detracts somewhat from the coin's appearance, keeping it back from a MS64 or MS65 grade.
Mint State 65
The old name for Mint State 65 was "Gem Uncirculated," for good reason. The MS65 1899-O Morgan dollar is a very attractive coin. It boasts a sharp strike with full luster. It exhibits very few, very light marks. Light scuffing may occur on the cheek on Liberty.