1901-O Morgan Silver Dollar Value
Mintage: 13,320,000
Finest Known: MS67+ (NGC) MS68 (PCGS)
Auction Record: $55,813 (MS68)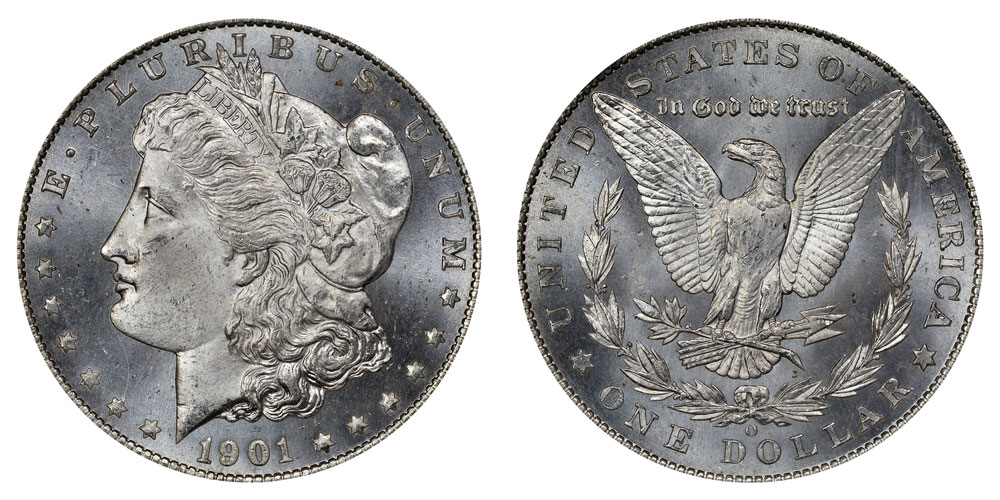 Image: USA CoinBook
The 1901-O has the highest mintage of all New Orleans Morgan dollars at 13,320,000. This edges out the 1899-O, with a total of 12,290,000 coins. These high mintages do not reflect any actual demand. Similar to previous issues, nearly all the 1901-O Morgans ended up permanently in storage, where they provided backing for paper silver certificates.
The Value of a 1901-O Morgan Dollar
Uncirculated 1901-O Morgans were notably rare in the first half of the 20th century. A major disbursement of the coins in 1953 increased the supply of Mint State examples, making it available to ordinary collectors. In October 1962, however, a torrent of many thousands of 1901-O Morgans emerged from Treasury Department vaults. The 1901-O Morgan is now one of the most common dates available. Prices for circulated 1901-Os are among the cheapest of any Morgan dollar. The high number of Mint State coins means that most collectors ignore circulated grades.
The 1901-O, like many New Orleans releases, suffer from uneven strike quality. Most are softly struck, and numerous bag marks are present on the majority of coins.
Circulated Grades
| Very Fine | Extremely Fine | About Uncirculated |
| --- | --- | --- |
| $46 | $46 | $46 |
Uncirculated (Mint State) Grades
| Mint State 61 | Mint State 63 | Mint State 65 | Auction Record (MS68) |
| --- | --- | --- | --- |
| $59 | $73 | $135 | $55,813 |
The information on this page does not constitute an offer to buy or sell the coin(s) referred to. Statistics are for Mint State coins only. Proof and prooflike examples of this issue may have greater or lesser "finest known" and different record auction prices.
Grading Morgan Dollars
The guidelines below will apply to all Morgan dollars, not just the 1901-O.
The two major determinants of value in Morgan dollars is rarity and condition. A standard grading scale for coins was adopted in the 1980s, that runs from 1 (barely identifiable) to 70 (perfect, even under 5x magnification). Known as the Sheldon scale, these numeric grades are considered more precise than the old adjectival descriptions.
To cover a range of prices for each date Morgan dollar, we present average prices for Very Fine (VF) 35, Extremely Fine (XF) 45, Almost Uncirculated (AU) 55, and grades 61, 63, and 65 in Mint State (MS). There are certain particular places on Morgan dollars that play a large part in the grade they receive.
THE HIGH POINTS WHERE SIGNS OF WEAR FIRST APPEAR ON MORGAN DOLLARS:
Top of cheek
Brow
Hairline
Hair over ear
Curls over date
Top of cap
Eagle's breast
Eagle's legs
Eagle's head
Right wingtip
PRIME FOCAL AREAS ON MORGAN DOLLARS
Face and neck of Liberty
The field in front of Liberty's face
Body and wings of the eagle
Fields to sides of wings and above eagle's head
Very Fine
A Very Fine VF35 Morgan dollar will have light wear. All major details will be plainly visible, as well as most minor detail. Any circulation damage other than normal wear will preclude the coin from a VF grade. The cheek will show light to moderate abrasion. The high points on the hairline and the hair over the ear will show flatness, but major detail will remain. The cotton balls in the hair will be missing minor details. The cotton leaves will flatten on the edges.
On the reverse, the eagle's breast and legs will be worn flat. There will be hints of feathers along the sides of both. The tailfeathers between the legs will be worn, but visible. The head and neck will retain a small bit of detail. The leading edges of the wings may show light wear. This will be most noticeable on the right wingtip.
Extremely Fine
An Extremely Fine XF45 Morgan dollar will retain 90% of all detail. There will be light wear on the high points on either side of the coin. On the obverse, the cheek will show some signs of abrasion, but not as much as a VF35. Liberty's hairline will be full, with some minor flattening on the highest points. The same goes for the hair over the ear. The cotton balls will show minor detail, while the cotton leaves will show flatness on the edges.
On the reverse, the eagle's breast and legs will show moderate wear, while retaining more feathers than the VF35. The tail feathers between the legs will have some wear, but are complete. The right wingtip will show wear, being another high point on the coin, but most wing feathers display details.
About Uncirculated
An About Uncirculated AU55 Morgan Dollar might be mistaken for a Mint State coin at first glance. Any AU coin should possess positive eye appeal, with only small points of barely visible wear. An AU55 Morgan dollar will often have more eye appeal than a MS60 or MS61 example. Very light scratches or bagmarks are permissible. Some AU58 Morgan dollars are known as "sliders," because they "slide" over the line into Mint State. This is more likely on a mintage with a soft strike.
The obverse of an AU55 Morgan dollar will retain most of its luster. This luster may be faded on the cheek. Any wear must be very light, and only on the very highest points.
The eagle on the reverse will have all feathers present, with only the slightest wear on the top of the breast and legs.
Uncirculated Morgan Dollars
Uncirculated coins are those coins that were never paid out to the public. In the case of Morgan dollars, they were still in the original 1000-coin sealed canvas bags from the Mint when they were first obtained by a collector.
However, "Mint State" does not mean "unblemished." Those canvas bags of Morgan dollars were slung around like sacks of potatoes at the Mint and at Treasury Department vaults. This is true for all coins. They were meant to go into circulation, not be saved for 50 years for collectors. This means that many (most?) coins have large and small scratches from being banged around against each other in those canvas bags. The common term for these scratches is "bag marks," to differentiate them from circulation damage. This is why low Mint State grades can sometimes look worse than an About Uncirculated coin.
Mint State 61
A Mint State MS61 Morgan dollar has low to no eye appeal. It has endured substantial damage during its stay in canvas Mint bags. Damage in several places across the coin's main features is the most obvious reason for the coin not scoring higher. The severity of the damage often is enough to impair the mint luster on the coin. It is rare to encounter a graded MS60 or MS61 Morgan dollar, unless it's from a rare mintage. There's simply no demand for them if a higher grade is available.
Mint State 63
A Mint State MS63 Morgan dollar will have more eye appeal than a lower grade coin, though its appearance can only be described as "ordinary." It will have full mint luster. It will have fewer, and fewer heavy marks than a MS61 Morgan dollar, but enough to be distracting. The critical areas on the cheek and in the field to the left of Liberty's face are still usually impaired on a MS63, just not as bad. If the coin had been against the side of the canvas mint bag, it is likely to have some scuffing.
MS63 is often considered the "average" grade when assembling a collection of Morgan Dollars. It is also the most popular Mint State grade, combining decent eye appeal with a price that is more affordable than MS64 or MS65.
Mint State 65
A Mint State MS65 Morgan dollar is usually the highest grade than a well-off collector will buy. Prices will usually double, at least, between MS63 and MS65, but that is nothing compared to the price difference between a MS65 and a MS66.
Mint State 65 used to be (and sometimes still is) referred to as a "Gem Uncirculated" coin. When comparing it to lower grade Mint State coins, it's obvious why. The MS 65 Morgan dollar will have a sharp strike and full luster, compared to other coins of the same mintage. There will be only a very few, light bag marks. Liberty's cheek and the eagle's breast may show light signs of friction, from rubbing against other coins in the mint bag.