1902-O Morgan Silver Dollar Value
Mintage: 8,636,000
Finest Known: MS67+ (NGC) MS67+ (PCGS)
Auction Record: $33,600 (MS67+)
NOTE: PCGS has determined that all 1896-O, 1900-O and 1902-O Silver Dollars with so-called "Micro o" mintmarks were counterfeit.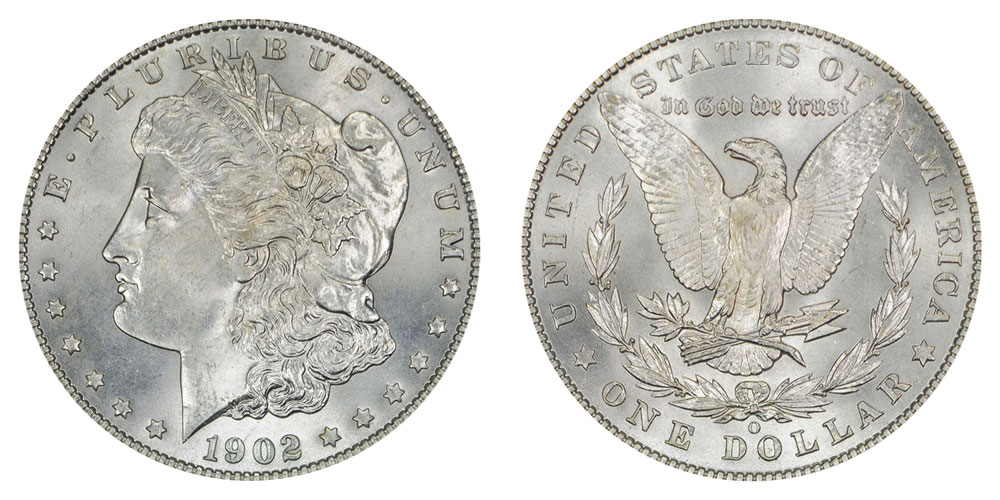 Image: USA CoinBook
Like many other dates from the New Orleans Mint, the strike on the 1902-O Morgan dollar is nothing to write home about. It has a generally flat strike, often with a grey-ish color.
The Value of A 1902-O Morgan Dollar
Circulated grades of the 1902-O Morgan dollar are less than common, but the vast number of Mint State coins keeps their prices depressed. A virtual tsunami of Mint State 1902-O Morgans poured from Treasury vaults in late 1962 and 1963, making even MS65 grades readily available.
Due to the significant number of uncirculated coins, the market for 1902-O Morgan dollars is only slightly better than other common date coins.
1902-O Morgan Dollar Price Guide
Circulated Grades
| Very Fine | Extremely Fine | About Uncirculated |
| --- | --- | --- |
| $30 | $34 | $40 |
Uncirculated (Mint State) Grades
| Mint State 61 | Mint State 63 | Mint State 65 | Auction Record (MS67) |
| --- | --- | --- | --- |
| $50 | $55 | $140 | $19,388 |
The information on this page does not constitute an offer to buy or sell the coin(s) referred to. Statistics are for Mint State coins only. Proof and prooflike examples of this issue may have greater or lesser "finest known" and different record auction prices.
Grading Morgan Dollars
The guidelines below will apply to all Morgan dollars, not just the 1902-O.
Coins are graded on a scale of 1 to 70, with 1 being barely recognizable, and 70 being flawless. The higher a coin grades, the more expensive it is. Prices escalate drastically between one grade and the next when you reach the higher uncirculated grades.
Naturally, buyers of high graded coins are anxious that they are getting what they are paying for. This has led to the rise of professional coin grading services. Experts at these companies are considered impartial coin graders that can accurately discern a coin's condition. Two of the largest of these third-party grading services are NGC and PCGS.
A coin that has been authenticated and grading by a coin grading service is sealed in a clear plastic tamper-proof shell called a slab. A label with the coin's identity and grade is placed in the slab with the coin. Buyers feel more reassured purchasing a slabbed coin than one that hasn't been submitted to a grading service.
If you have a rare or valuable coin, paying to have it professionally graded is strongly advised.
THE HIGH POINTS WHERE SIGNS OF WEAR FIRST APPEAR ON MORGAN DOLLARS:
Top of cheek
Brow
Hairline
Hair over ear
Curls over date
Top of cap
Eagle's breast
Eagle's legs
Eagle's head
Right wingtip
PRIME FOCAL AREAS ON MORGAN DOLLARS
Face and neck of Liberty
The field in front of Liberty's face
Body and wings of the eagle
Fields to sides of wings and above eagle's head
Very Fine
Very Fine Morgan dollars will display light wear overall, with light to moderate wear on the high points. All major details and some minor details will be visible. Liberty's cheek may show abrasion. The high points of her hair and cap will be worn. The cotton balls in her hairband will have fine details worn away. The cotton leaves will be worn at the edges.
The high points of the breast and legs of the eagle will be worn, but hints of feathers will remain. The wing feathers will all be present, but lacking fine detail. The right wingtip, being another high point, will show wear.
Extremely Fine
Extremely Fine Morgan dollars will have almost all the details present. Liberty's cheek will show less abrasion than a coin graded Very Fine. High points on Liberty's head will show light wear. Most minor details, such as on the cotton balls, will be visible. The hair will have light wear and have more detail visible.
The top of the the eagle's breast and legs will show minor wear, but most of the feathers will be present. The right wingtip will show some wear.
About Uncirculated
An About Uncirculated Morgan dollar will have very light to imperceptible wear. This coin will have greater eye appeal than lower grade circulated coins. It will often have a more pleasing appearance than even a lower-grade MS60 or MS61 Mint State coin.
Luster should be almost complete, except on the highest points of the coin like Liberty's cheek and the eagle's breast. All details will be present.
Uncirculated Morgan Dollars
Uncirculated coins are coins that have never been used to buy a good or service. Also known as Mint State coins, they occupy ranks 60 through 70 on the coin grading scale. Morgan dollars were produced at a rate of hundreds of thousands of coins per month - Sometimes over a million Morgan dollars would be minted in one month.
They would be taken from the holding bins behind each coin press and dumped into canvas bags that held 1,000 silver dollars each. These mint bags were stacked in vaults until they were sent to a bank that had order more silver dollars.
Most of these coins scratched each other or were abraded against the sides of the canvas bags. The result was uncirculated coins that had never seen the light of day but were nonetheless damaged.
Mint State 61
The appearance of an MS61 Morgan dollar is substantially impaired by the amount of damage it has sustained while in storage. Many impact marks and scratches across the face of the coin seriously detract from its eye appeal.
Mint State 63
The MS63 Morgan dollar retains its full mint luster, but might be slightly impaired on Liberty's cheek and the breast of eagle. It has few marks when compared to the MS61, but some of these occur in prime focal areas such as Liberty's face, and the open area on the left side of the coin.
Mint State 65
An MS65 Morgan dollar is very attractive. It may have a few tiny marks scattered across its surface. None of these marks will be in prime focal areas. Mint luster is full. Collectors with the means often opt for an MS65 coin over an MS63 or MS64.