1921-D Morgan Silver Dollar Value
Mintage: 20,345,000
Finest Known: MS68 (NGC) MS67+ (PCGS)
Auction Record: $44,063 (MS67)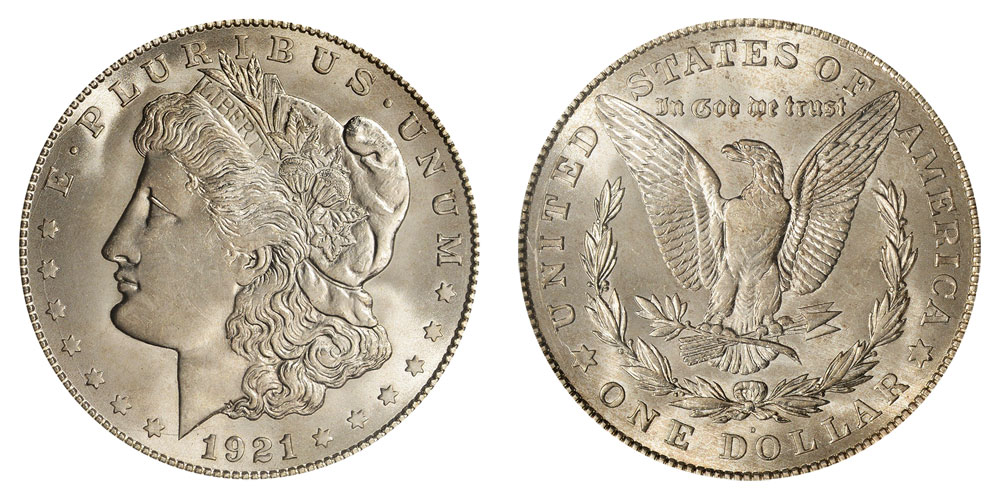 Image: USA CoinBook
The 1921-D Morgan dollar holds the distinction of being the only Morgan dollar from the Denver Mint. The Morgan dollar had ceased production in 1904, two years before the Denver Mint began operations. More powerful coin presses that could handle the striking of the large silver dollar were installed at the Denver Mint specifically for assisting in meeting the Congressional mandate of the Pittman Act.
Denver used the same shallow profile dies that had been cut for the other two U.S. Mints, but had better luck at coaxing out an acceptable strike than the San Francisco Mint.
The Value of A 1921-D Morgan Dollar
The 1921-D Morgan dollar is a common date, as the massive mintage would suggest. It is readily available in most grades. Millions were likely melted in WWII to meet the wartime silver shortage, but it's safe to assume that far fewer 1921 Morgan dollars were melted in Denver than were melted than at San Francisco and Philadelphia. San Francisco and Philadelphia were West Coast and East Coast wartime production hubs. It only made sense to melt down locally-sourced Morgan silver dollars than take up valuable rail capacity shipping silver from Denver.
1921-D Morgan Dollar Price Guide
Circulated Grades
| Very Fine | Extremely Fine | About Uncirculated |
| --- | --- | --- |
| $25 | $32 | $40 |
Uncirculated (Mint State) Grades
| Mint State 61 | Mint State 63 | Mint State 65 | Auction Record (MS67) |
| --- | --- | --- | --- |
| $50 | $60 | $250 | $44,063 |
The information on this page does not constitute an offer to buy or sell the coin(s) referred to. Statistics are for Mint State coins only. Proof and prooflike examples of this issue may have greater or lesser "finest known" and different record auction prices.
Grading Morgan Dollars
The guidelines below will apply to all Morgan dollars, not just the 1921-D.
Like anything else, the better the condition of an item, the more it is worth. The value of Morgan dollars of any given date show a substantial jump as their condition reaches the mid uncirculated values.
Determining the condition of a coin is called "grading." The coin grading scale, for reasons too lengthy to cover here, goes from 1 to 70. A Mint State 70 (MS70) is completely flawless, even when examined under 5x magnification. This was technically impossible with the coining technology of the 19th and early 20th centuries.
There are a few high points on the Morgan dollar that will be worn down first. The condition of the coin in these high places is what drives most of the value of the coin.
THE HIGH POINTS WHERE SIGNS OF WEAR FIRST APPEAR ON MORGAN DOLLARS:
Top of cheek
Brow
Hairline
Hair over ear
Curls over date
Top of cap
Eagle's breast
Eagle's legs
Eagle's head
Right wingtip
PRIME FOCAL AREAS ON MORGAN DOLLARS
Face and neck of Liberty
The field in front of Liberty's face
Body and wings of the eagle
Fields to sides of wings and above eagle's head
Very Fine
A Very Fine Morgan dollar will show light to moderate wear at the highest points of the coin, but all major details will be fully visible. Some loss of minor detail at Liberty's hairline and over her ear will be apparent. There must be strands of hair still visible over the ear to qualify for a VF grade. The cotton balls and leaves will have lost minor detail.
The feathers will be gone from the eagle's breast except at the very top. The head and neck will be worn, but not to the same extent. The very tip of the right wingtip may show wear.
Extremely Fine
There should only be light wear on the high points of both sides of the coin. The cheek may show some light wear/abrasions. 90% or so of the details should be clear. The hairline will be better defined than on a Very Fine coin, and the cotton balls and leaves should retain a moderate amount of small details.
The eagle's breast is not as flat, and traces of a few breast feathers can be seen. Wing feathers should exhibit even small details.
About Uncirculated
A high quality About Uncirculated coin can sometimes pass as a lower Mint State coin, the evidence of wear will be so slight. Only the barest of wear should be visible. Likely spots where traces of wear will appear are on Liberty's cheek, brow, and hairline, and the folded top of the cloth cap.
Feather detail on the eagle's breast should be almost completely visible. Mint luster should be nearly complete.
Uncirculated Morgan Dollars
Uncirculated coins are naturally those that remained in sealed canvas Mint bags before being acquired by a coin collector. As a rule, these coins will have complete mint luster, and no "post-Mint" damage.
That last detail is important, because while Morgan dollars often were never paid out (people preferred paper silver certificates), they could still see substantial damage from being slung around in the giant canvas bags like they were sacks of potatoes. This damage from the coins banging into one another is called "bag marks." No matter how beat up a Morgan dollar looks, if there is no circulation wear and it retains mint luster, it's likely to grade out at a low Mint State level.
Mint State 61
A heavily marked uncirculated coin, the MS61 often displays far less eye appeal than an About Uncirculated coin. In short, it's ugly. It will have numerous marks and abrasions all over, especially across Liberty's face. Some of these marks will be quite heavy. Most people will not spend the money to have such a coin graded by a professional grading service, unless it's a true rarity in any condition. Still, there's no wear at all, so it qualifies as Mint State.
Mint State 63
A MS63 Morgan dollar will have substantially more eye appeal than a MS61 or MS62. It's nothing spectacular, but a nice coin. There will be several scattered marks, but none heavy or particularly detracting. Most of the Mint State coins that collectors have professionally graded will earn a MS63 grade.
Mint State 65
A Mint State 65 Morgan dollar is also known as "Gem Uncirculated," and with good reasons. Any marks will be light, few, and far between. Mint luster will be full and attractive. The eagle's breast or Liberty's cheek may display some light contact marks from the time the coin spent in a bulk canvas bag in Treasury vaults. This coin will be only a step or two under the finest known Morgan dollar of this date and mint.