1882-CC Morgan Silver Dollar Value
Mintage: 1,133,000
Finest Known: MS67+ (NGC) MS68 (PCGS)
Auction Record: $46,000 (MS65)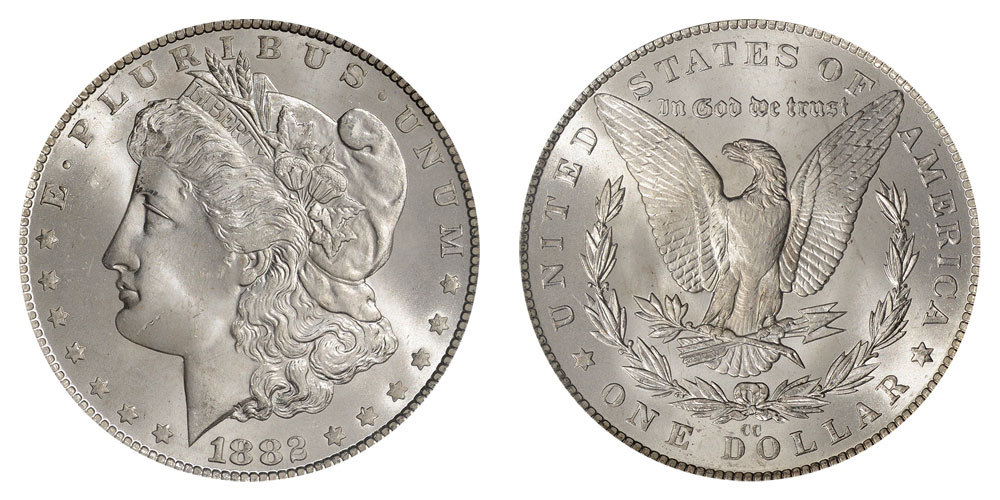 Image: USA CoinBook
The 1882-CC Morgan dollar is another mintage that went from very rare to attainable, thanks to the GSA Morgan dollar sales of the 1970s.
Like all Carson City coins, the 1882-CC Morgan dollar is a popular mintage. For more than 80 years, it was considered a great rarity, despite a mintage of more than 1.1 million coins. This changed drastically in the 1970s, with the GSA Morgan dollar sales.
Nearly 3 million Morgan Dollars, mostly Carson City issues, were sold individually by the General Services Agency in the 1970s. These were the last Morgan dollars left in long-term storage at Treasury Department headquarters in Washington, DC. More than 605,000 1882-CC Morgans were among them—just over half the total mintage of 1.13 million.
The large number of Mint State 1882-CC Morgan dollars sold through the GSA transformed the date from one of the rarest dates, to only a scarce one. In terms of Carson City Morgan dollar rarity, it is one of the more available dates.
The Value of a 1882-CC Morgan Dollar
The 1882-CC Morgan dollar is not an exceptionally expensive coin through Mint State 65. It is known for good strikes and luster, but excessive abrasions from 80 years in large canvas bags limit the number of high Mint State grades.
That said, examples of 1882-CC Morgan dollars with good eye appeal are not too difficult to find.
1882-CC Morgan Dollar Price Guide
Circulated Grades
| Very Fine 25 | Extremely Fine 45 | About Uncirculated 55 |
| --- | --- | --- |
| $162 | $176 | $188 |
Uncirculated (Mint State) Grades
| Mint State 61 | Mint State 63 | Mint State 65 | Auction Record (MS65) |
| --- | --- | --- | --- |
| $273 | $286 | $410 | $46,000 |
The information on this page does not constitute an offer to buy or sell the coin(s) referred to. Statistics are for Mint State coins only. Proof and prooflike examples of this issue may have greater or lesser "finest known" and different record auction prices.