1885-O Morgan Silver Dollar Value
Mintage: 9,185,000
Finest Known: MS68 (NGC) MS68 (PCGS)
Auction Record: $37,600 (MS68)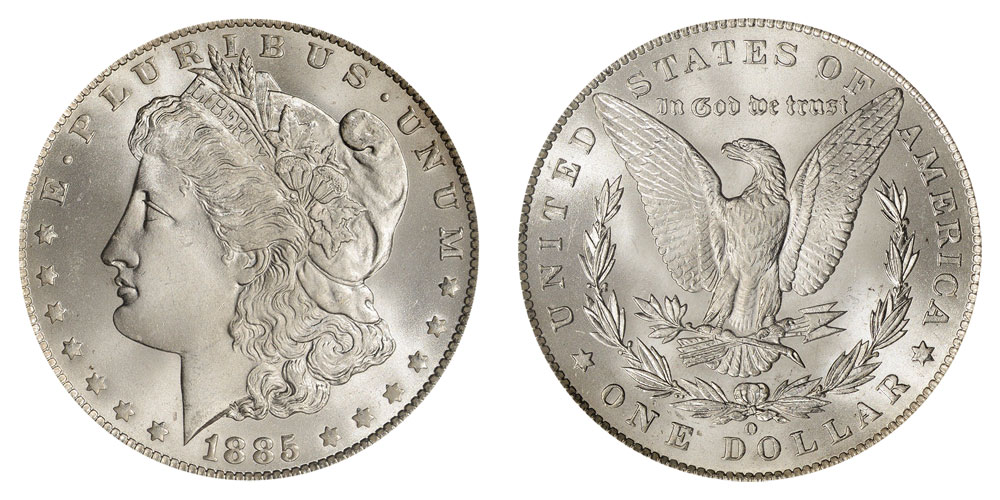 Image: USA CoinBook
The New Orleans Mint did nothing but make Morgan dollars in 1885. Over 9 million, in fact. But as it ended up, almost none went into circulation at the time.
This exercise in silver dollar futility was to keep up with the 1878 Bland-Allison Act's requirement to turn $2 million worth of silver bullion into silver dollars every month. It was decided that the New Orleans Mint had nothing better to do, so it was ordered to make Morgan dollars.
The Value of an 1885-O Morgan Dollar
Millions upon millions of 1885-O Morgan dollars were still sitting in the vaults of the New Orleans Mint when it was shut down in 1909. Most of those uncirculated Morgan dollars ended up in storage vaults at the Philadelphia Mint. The US Treasury vaults in Washington also received many thousands of 1885-O Morgans in the bulk shipments of coins from New Orleans.
Large numbers of 1885-O Morgan dollars were paid out to banks at face value from the 1930s through the 1950s for use in commerce. This is where most of the circulated examples of the mintage come from. However, prices for Mint State 1885-O Morgan dollars are so low, that circulated versions are mostly ignored. With MS63 coins going for less than $75, why buy a worn one?
Millions of 1885-O Morgans (among other dates) poured out of Philadelphia Mint vaults from October 1962 through 1963.This was in addition to the disbursements in Washington by the Treasury.
As a result, the 1885-O Morgan dollars is one of the most common Morgan dollars in Mint State, and is THE most common uncirculated New Orleans Morgan dollar. Even though large numbers were melted in the 1970s for their silver value, it is estimated that approximately 5 million 1885-O Morgan dollars out of the 9.1 million mintage survive today..
The 1885-O Morgan dollar has variable strike quality. While many are flat in the center, sharply struck examples exist (at a premium). With so many available, take your time to cherry pick a nice one. This date is common through MS66, due to the millions that spent their entire existence in bank bags.
1885-O Morgan Dollar Price Guide
Circulated Grades
| Very Fine 25 | Extremely Fine 45 | About Uncirculated 55 |
| --- | --- | --- |
| $36 | $38 | $45 |
Uncirculated (Mint State) Grades
| Mint State 61 | Mint State 63 | Mint State 65 | Auction Record (MS68) |
| --- | --- | --- | --- |
| $59 | $68 | $159 | $37,600 |
The information on this page does not constitute an offer to buy or sell the coin(s) referred to. Statistics are for Mint State coins only. Proof and prooflike examples of this issue may have greater or lesser "finest known" and different record auction prices.